Wedding Planner
If you're looking for a professional wedding planner in Phuket to create a tailor-made dream wedding experience for you and your Bride-to-be then contact Unique Phuket wedding planners. We'll do everything possible to provide the highest level of satisfaction by providing the best personalized wedding and organization services. The last thing you need to worry about is making all the arrangements and reservations which can quickly become chaotic.
Don't let your picture-perfect plans fall apart when you can have a beautiful and unforgettable wedding ceremony. We won't let a single detail go overlooked regardless of whether your wedding is elaborate and sophisticated or simple and casual. We will carefully prepare everything from the food, photographers and even your flights! We've helped make the most memorable experiences for hundreds of newly weds and now it's your turn to make the most amazing memories which you and your family can cherish for the rest of your lives.
Why Unique Phuket Wedding Planners?
"We only work from the heart"
The owners Paul & Supparin will create an absolutely fantastic and totally unique experience completely customized to your preferences. They have both been working as professional local wedding planners for over 5 years and have built relationships with local florists, resorts, and photographers to provide you with all the best options. This means we can arrange everything ourselves while also managing costs extremely well to provide you with a phenomenal results at very reasonable prices. This also means that we have a collections of venues that are as beautiful and unique as your love story. You can count on us for a truly wonderful wedding day without compromising on quality in any way.
The wedding flowers, location and set up is all handled by Supparin. She can also help arrange tours for you and your guests while you're visiting and any other special events or attractions you're interested in.Supparin is a talented, professionally-trained florist and certified tour guide from Phang Nga, Thailand.
Paul is an experienced event planner and wedding celebrant who is originally from the UK. He supports Supparin in all your wedding day arrangements and has been living in Thailand for over 10 years. We as your Phuket wedding planners promise to provide a beautiful and well organized wedding anywhere in Thailand that meets or exceeds your expectations.
We are Unique Phuket Wedding Planners based on the exotic island of Phuket Thailand.
---
Wedding Planning in Thailand
If you've ever tried to help arrange a wedding for a family or friend then you're well aware of how complicated and chaotic it can be, let alone trying to do it in a foreign country! If you want a picture perfect wedding in Phuket or anywhere else in Thailand then you can trust Paul and Supparin with Unique Phuket Wedding Planners and the list of highly recommended local professionals we work with.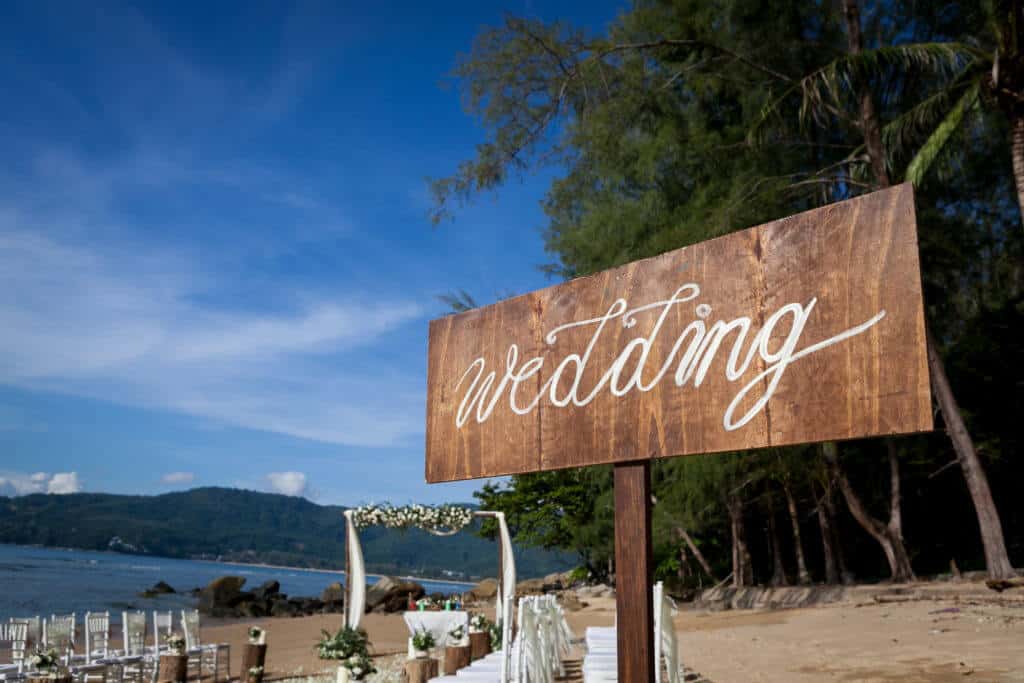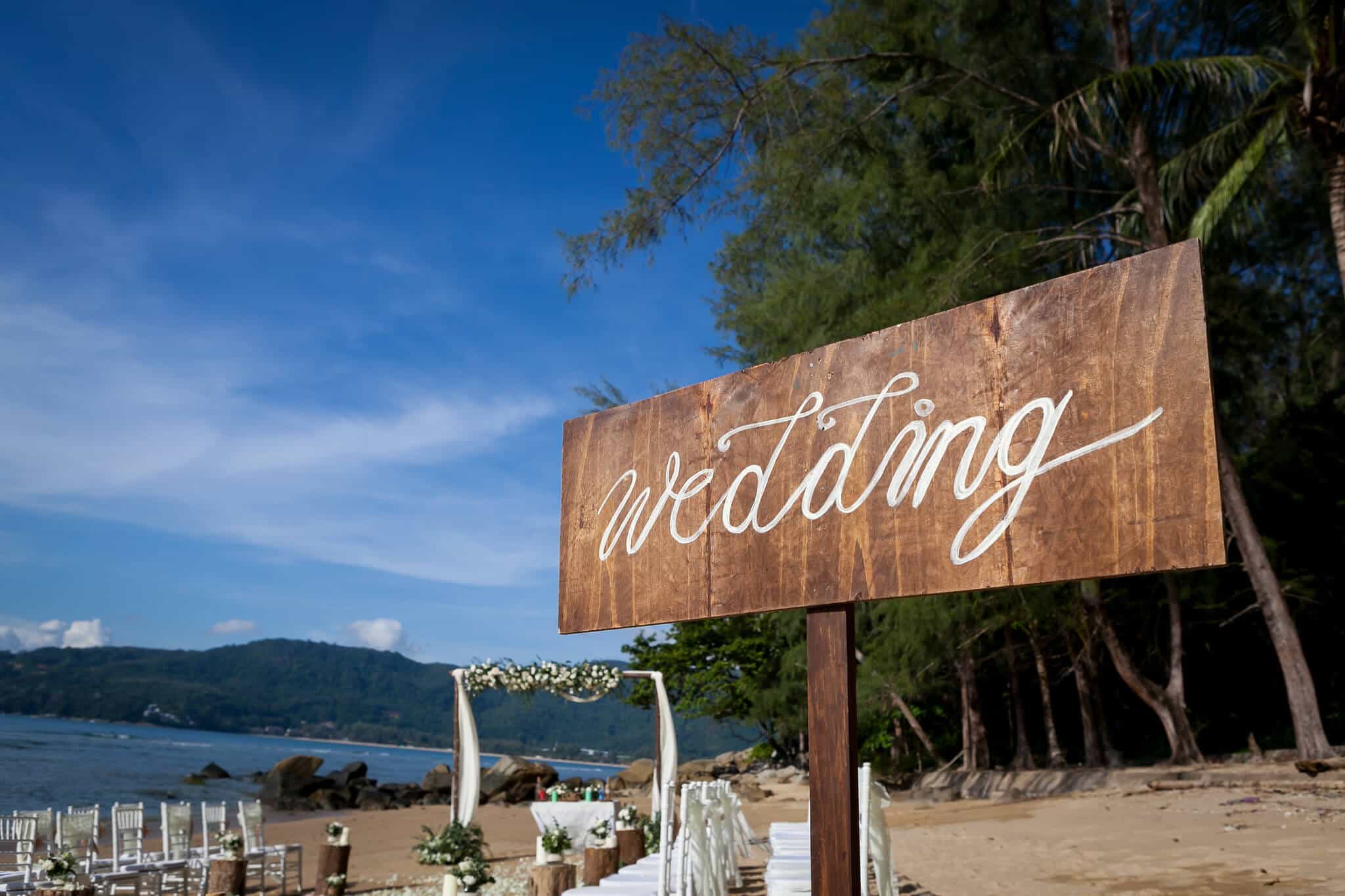 We can arrange all the best settings and facilities to make your wedding as unique and romantic as possible at reasonable rates. Whether you want a villa with fantastic views, first-class catering, and fireworks or a more peaceful and natural venue in a more exclusive setting our team will make it happen. With our extensive experience and attention to detail we will deliver an unforgettable experience and service for your ceremony. Whether you want to have a modest and more intimate experience or invite your entire family we can create a package customized to your exact needs and desires.
Our in-depth knowledge of Phuket's wedding industry allows us to connect you with the best wedding suppliers Phuket has to offer.You can entrust your wedding planning needs to the very capable hands of Paul and Supparin.
Wedding Services
Get hitched without a hitch with our unparalleled Phuket wedding services. We provide an exceptional array of personalized services that will surely bring fun and excitement to your wedding or can easily arrange the ideal solution for the following:
Venue choice and Accommodation

Wedding Invitations

Wedding menus

Reception Name Cards

Catering and Wedding Reception Menus

Wedding Flowers

Hair & Makeup

Wedding Officiant or Celebrant

Flights & Transfers

Guided Phuket Private Tours with a registered Tour Guide (

Angel Phuket Tours

)
As a Unique Phuket Wedding Planner, we can help also help with a special Beach Wedding, Vow Renewal, Elopement or luxury Villa Wedding ceremony for your special day.
---
Wedding Planning Questions
There are countless questions to consider not only for the wedding planner but also for the bride and groom as well. For us to be able to create a truly custom tailored wedding for you while also answering some of your own questions in the process we will need you to provide some information. Through our years of experience, we have compiled a list of general wedding planning questions which we ask all our soon-to-be's to answer. Your picture perfect wedding ceremony in Phuket, Thailand starts with a good plan. As your experienced local Phuket wedding planner team, we look forward to ensuring everything goes according to plan for your special day.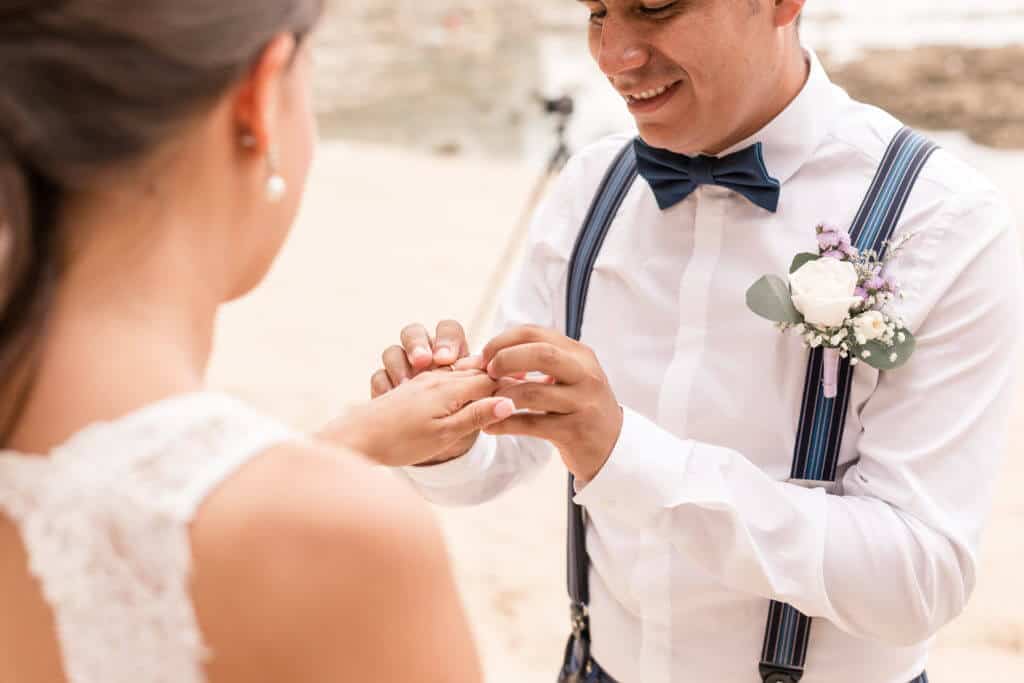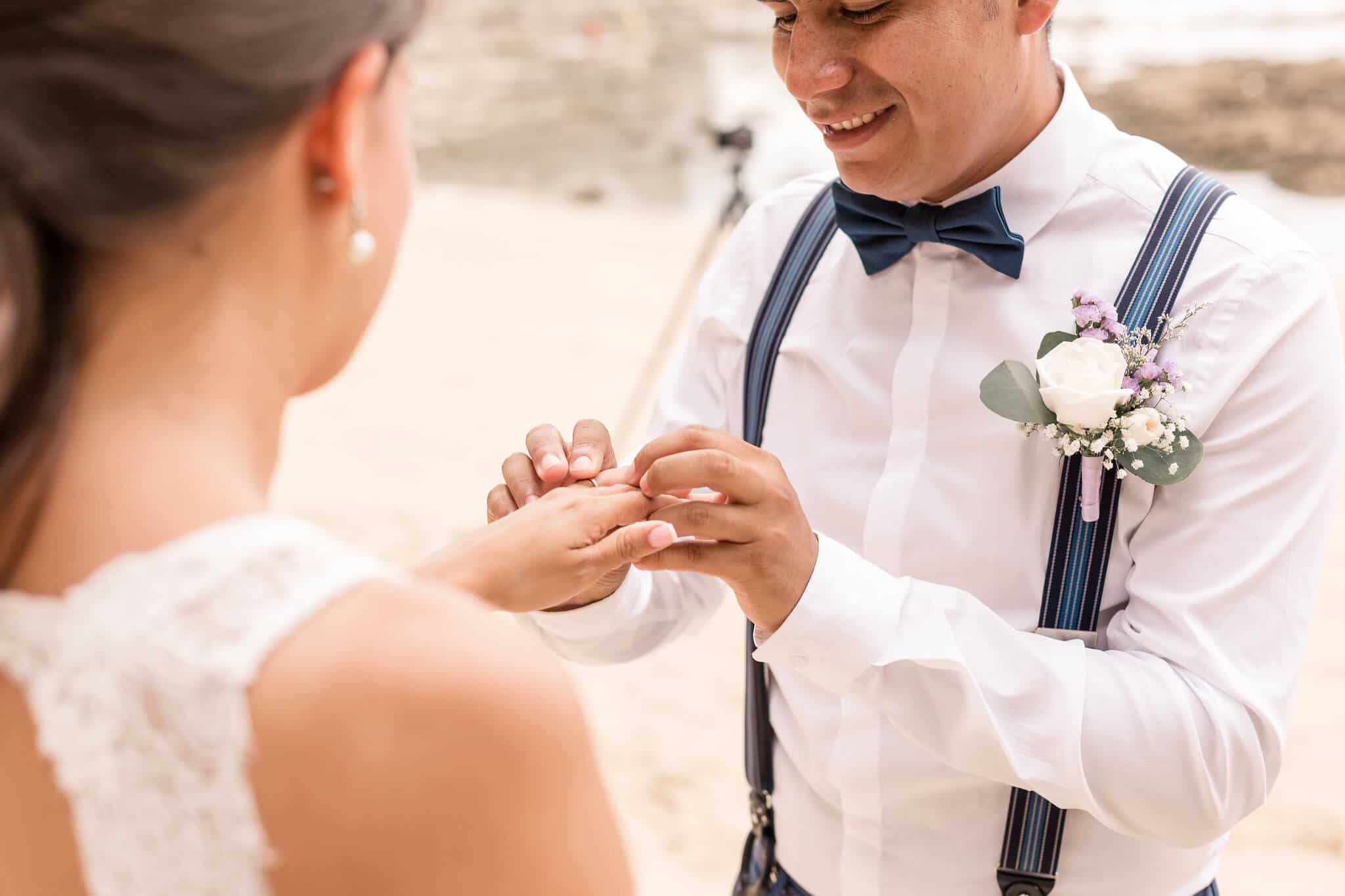 Therefore, if you could please answer the following initial wedding planning questions then we will have a better idea of the options you can consider for you ideal day. These are the initial wedding planning questions we ask so we can start properly arranging everything your ceremony to go beautifully. The Wedding Planning questions are below and you can also download a copy of the questionnaire – PRESS HERE.
After reviewing the Wedding Planning questions, we have prepared a simple Wedding Inquiry Form for you to complete with the key information required so that we can reply in return with a very good budgetary estimate for your Wedding.
General Wedding Questions:
What date are you planning for your wedding?

Do you require a marriage license?

Do you want a minister of your faith to reside over the exchanging of vows?

How many guests will you have?

What Nationality (s) are you?

What are your arrival and departure dates to Thailand?

Do you have travel insurance?
Wedding Ceremony Questions:
What location would you like the ceremony to take place in? Villa, Hotel or Beach etc.

Do you have a preference in which area of Phuket and surrounding area you want to have the ceremony?

What type of ceremony would you like? Colours and themes, Simple or elegant. Please let us know your ideas.

Do you have any special requests?

Do you need help with Wedding dress or Grooms attire etc.

Do you need help with a hairdresser or make up person?

Do you need a photographer?

Do you need a florist?

Do you want a Wedding Cake?
Post Wedding Ceremony Questions:
What type of post ceremony celebration would you like? Traditional (seated – formal) or

something different (BBQ – causal)?

What location would you like the celebration to take place in? Villa, Hotel or Restaurant etc.

How many guests will attend?

Do you want any entertainment post celebration dinner? Live music, disco etc

What type of Bar service do you want?

Do you need a photographer for the evening?
Travel:
Do you require Air Tickets or transfer from the Airport?

Do you need a hotel for your stay in Thailand?

Do you need transport during your stay in Thailand?
Our Phuket Wedding Gallery
A picture speaks a thousand words! Have a look at our photo gallery or videos of past wedding celebrations to get a better idea of how perfect yours can be!
Wedding Prices
The price for a typical 3 day wedding ceremony in Phuket can range from as little as $3,000 to as much as $30,000 or more. One of the most important factors that play into the overall price of your wedding is the location or venue you choose or is possible in your budget. We strive to get everything our clients need for their special day and will always go above and beyond to arrange whatever you and your guests want.
We have created a simple set of initial questions to get your Wedding Planning started; we can give you a quick budgetary estimate based on the answers you provide and will respond to you via email for your Wedding. The Wedding Questionnaire is on our Wedding Planning page and can also be accessed here.
---
Wedding Venues
Paul and Supparin of Unique Phuket Wedding Planner are professional creators of beautiful, tropical weddings in the destination wedding hotspot of Phuket. We know that choosing the correct venue for your wedding is one of the most important decisions you can make for your special day. The views, convenience, and accommodations for you are your guests will be dictated by the budget and locations you choose. Fortunately, We have you covered with a wide range of wedding venues to choose from with many offering unique opportunities for those who want a truly unforgettable experience.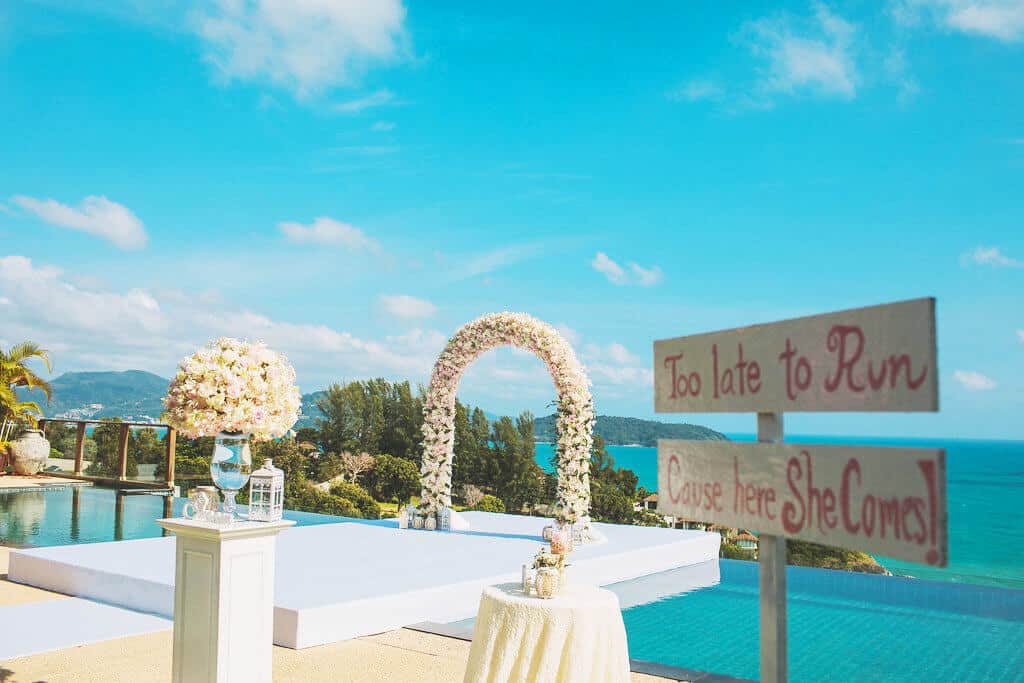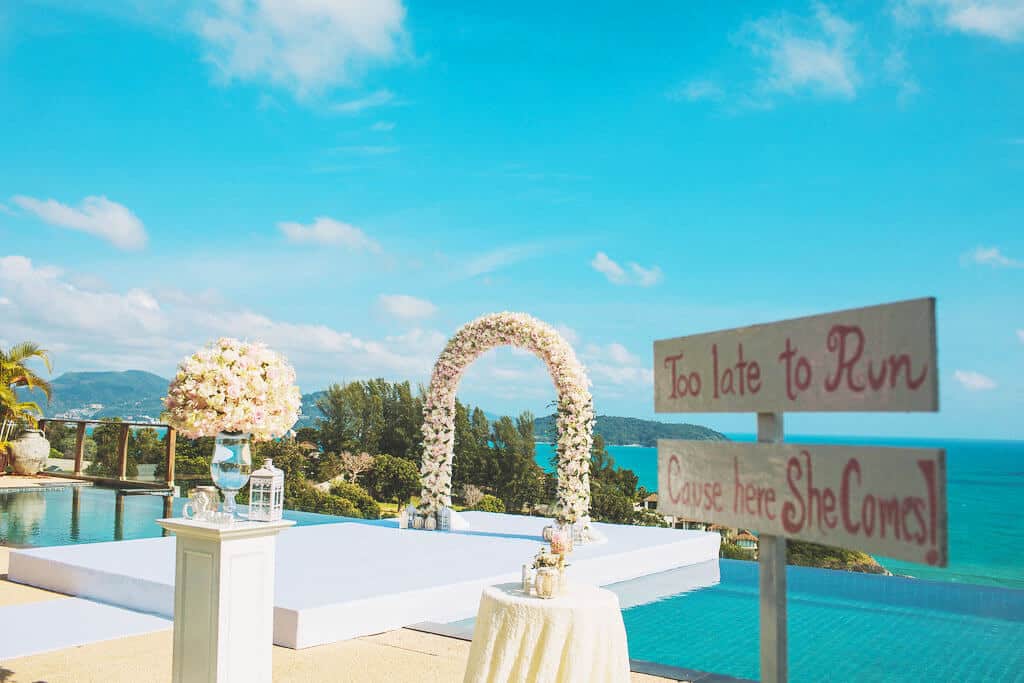 Villa Wedding: Villa Weddings in Phuket are always the largest and most extravagant which means they will require a much higher budget compared to our smaller beach weddings. Not only will you have to compensate for a large number of guests, but we will invariably need to include the Luxury Villa Management team as well. There are a number of excellent small villa options for those of you who want a villa wedding on a smaller budget than a customary villa wedding ceremony, just contact us so we can work out some options for you.
To plan your perfect villa destination wedding we would recommend at least 3 months for planning to organize everything. We recommend beginning your Phuket wedding destination plans at least 1 year in advance to give everyone time to get organized and enough notice for you guests. We will also help you communicate with the Villa Management whom will require a 20% deposit to book and the final payment 1 month before the wedding. We are experienced, competent and can guide you all the way through the process to ensure a stress-free Wedding Planning process.
Resort or Hotel Wedding: A resort or hotel can also be the perfect place for a unique and romantic wedding ceremony. This can be all inclusive where they provide room for your guest, location for the ceremony and even all the food/beverages can be included for a 20-80k resort venue fee. We can also arrange one on the beach so you have the best of both worlds. Resort and hotel weddings can be organized on a mid-range budget and are an excellent alternative to a villa but aren't as private. If you're having more than 20 people then it's also a great option since restrooms and other facilities are on-site. With plenty of natural, contemporary or Thai-Style locations to choose from, we can arrange the perfect wedding package for you. If you're looking for an intimate and exotic destination to exchange your vows then Phuket is the perfect place.
Beach Wedding: Beach weddings are by far the easiest to organize and also the most affordable. A wedding on the beach can be organized quickly and customized to match any budget. Whether you want a private elopement or a large and elaborate wedding ceremony we will all the necessary arrangements. Although beach weddings are easier to arrange we still recommend providing at least a 3 month window for planning. If you have something very small and simple in mind then it's completely possible that we may be able to arrange it all within a matter of a few days.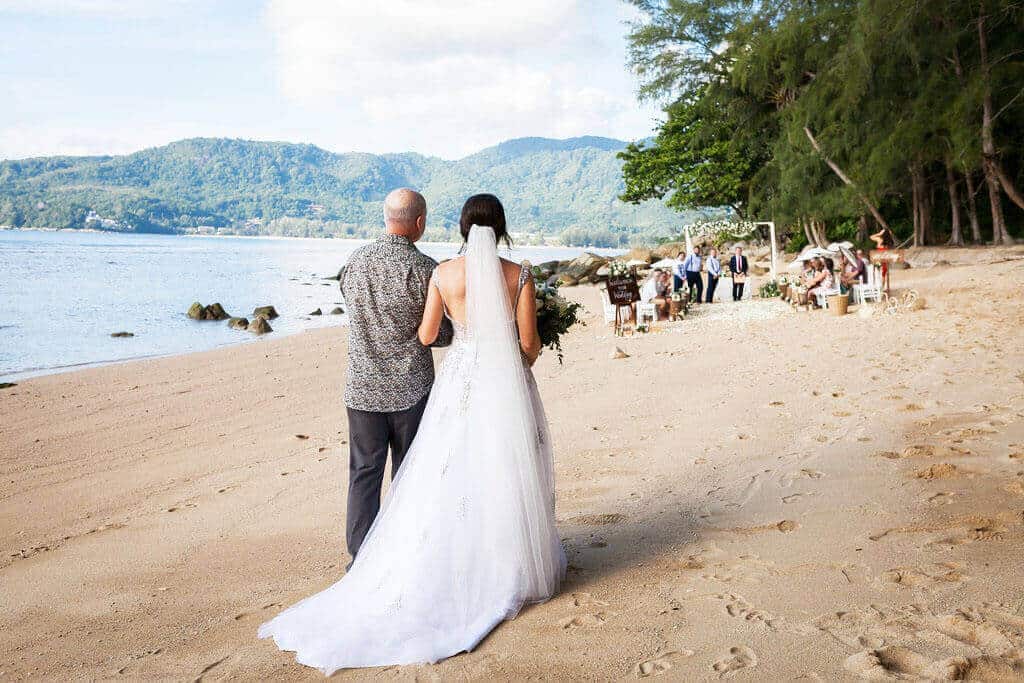 Just give us a call, email or fill in the Inquiry form and we will get back to you within 24 hours with your personalized Beach Wedding quote.
Island Wedding: Phuket is the perfect place for an Island wedding and offers all the perfect places you envision when you close your eyes. Picture you and your special one hand in hand walking barefoot in the sand with turquoise waves gently washing ashore while you walk on white sand beaches. As your personal wedding planner we will make sure you have the most romantic and memorable island wedding experience. If you want a smaller island wedding then we can also find you a more private and secluded island for you to exchange your vows. When you work with us, we'll make sure to arrange the most magical moments on your couple's new journey together.
Luxury Wedding: A luxury wedding event can be arranged with all the bells and whistles arranged perfectly at one of Phuket's priciest and most exclusive venues. These weddings often include high end professionals and designers to come in and help turn your wedding into an event of monumental proportions. We always cater our services to fit or match our clients budget so with, There's no limit for a luxury wedding in Phuket when you're working with the professionals at Unique Phuket Wedding Planners. We'll help make your extravagant dream ceremony a reality.
Other Thailand Wedding Locations: Based on years of expertise and demand for other destination wedding locations we can make your wedding arrangements anywhere in some of the most beautiful areas in Thailand. The locations we recommend outside of Phuket include Koh Samui, Krabi, Koh Phang Ngan, Hua Hin, Chiang Mai and Bangkok. Just contact us with a plan for your special day and we'll get everything organized with all the necessary local professionals to cater to your requests.

Phuket Wedding Planner
Paul and Supparin of Unique Phuket Wedding Planners are professional creators of beautiful, tropical weddings in the destination wedding hotspot Phuket. Paul is an event planner and wedding celebrant while Supparin is a talented, professionally-trained florist and certified tour guide.
Together, they help couples from all over the world plan the destination wedding of their dreams.
We are affordable without compromising on elegance & quality as we can provide most services in house
Just contact us by phone or email us to see how we can make your special day even more unique with our tailored weddings services. We will take care of all the arrangements for you and help you make the best memories that will last a lifetime.
0878957026
+66 878957026
---
Additional Resources: