You have decided to marry in Phuket? The next priority is choosing a suitable wedding venue. There are many Phuket wedding venues that can cater for all tastes and budgets.
Planning your Wedding in Phuket can seem daunting, especially if overseas as there are so many options and choices. As you are here, we assume you have already decided to have an overseas destination wedding in Phuket. Congratulations on this important decision. The wedding venue decision is normally the next big decision as it drives your wedding budget and a number of guests' decisions. We hope that here we can at least help make this step a little easier?
We have been Wedding Planners in Phuket for over 5 years and we have worked and at least seen most of the major wedding venues in Phuket. We have below summarized our experience and views on various wedding venues in Phuket. We are also always looking and adding new wedding venues regularly. So please check back regularly.
Note: Villa Weddings normally require at least 3-nights minimum stay and if your budget is limited then we would recommend a Beach Resort Venue as this would only involve a single day venue only booking cost.
Update 2019: We now have a number of Villa Wedding Venues that outside Peak Season will consider event only or 1 or 2 overnight bookings with an event. Please see below.
We always plan to ensure a well run, luxury wedding, and the wedding venue's booking process, management, and its staff are also considered with our recommendation. Therefore, resort and villa management is a consideration when we recommend wedding venues. We have worked with most venues in Phuket and the surrounding region and we have developed strong relationships with the more progressive companies. This ensures that you as our customer received only the best support & service for your chosen wedding venue, without the incumbent restrictions and regulation imposed by some less progressive villa companies & resorts.
Beach Resort Venues
+ Single Day Venue Rental  – kinder on the wedding budget
+ Accommodation for you and all your guests together
+ Various alternative locations for weather contingency
– Not totally Private
– Curfew  at 10 pm
– Bar Prices Prohibitive
Private Villa Venues:
+ Totally Private Wedding
+ Source better value food and beverage packages (especially important for larger weddings)
+ Complete control over your wedding choices and plans
– Most cases 3-night minimal Nightly Rental and Event Fee
– Requires more planning with villa booking, insurance, etc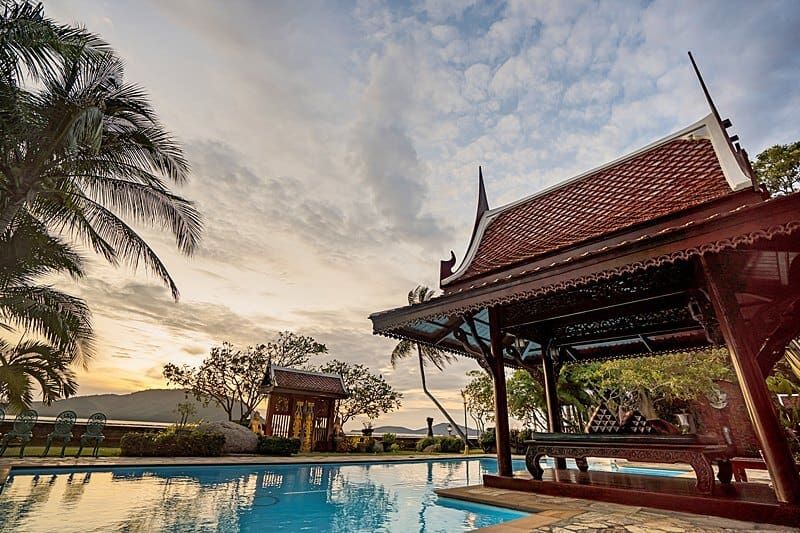 This villas is on the East side of Phuket so there is no direct Sunset. However, it is a stunning event villa, great value and you can combined villa and beach weddings with direct access to its private beach

CAPACITY: 75 | Beach Access, Traditional Thai Style
ACCOMMODATION: 7 Bedrooms
Phuket or Natai Beach Weddings
We of course do remote beach weddings and mainly for Ceremony only plans. There are very few restrictions if the beach is available.
This is ideal for smaller weddings where the couple has their wedding reception plans at a local restaurant as the finale to their special day. The beaches we normally have access to are Layan Beach, Panwa Beach, Bang Tao Beach, Hua Beach, and Kata Beach plus a number of beach resorts in Phuket.
We also use Natai Beach which has stunning sunsets and even more remote.
Your wedding budget and the number of guests, plus the type of wedding location you prefer are all factors to consider when you start your Wedding Venue search. We are quite happy to discuss and share our recommendations in such an important & pivotal decision. 
Please just email [email protected] or visit our wedding planning guide to help you get started.