The Ultimate Phuket Wedding Guide
Everything you need to know about planning a wedding and getting married in Phuket, Thailand.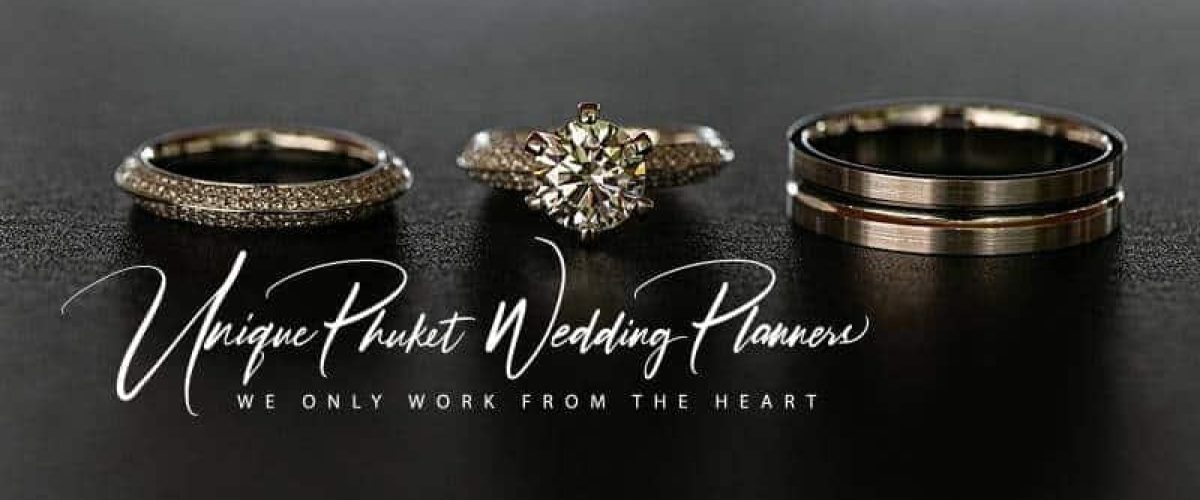 We've collected all the best advice right here for you.
So you're interested in, or have already decided to have your destination wedding in Phuket, Thailand. Having your wedding far away from home might seem daunting, but this should be a time of excitement, inspiration and joy. Typically a destination wedding means that you're in for a much more intimate ceremony with family and close friends, and that you can enjoy your honeymoon straight away. Planning a wedding from abroad should be an enjoyable experience, and it doesn't mean you need to be there when you can have us do all the organizing for you according to your specific needs and desires! So before you pack your bags, have a read through this guide to ensure you have considered all the details.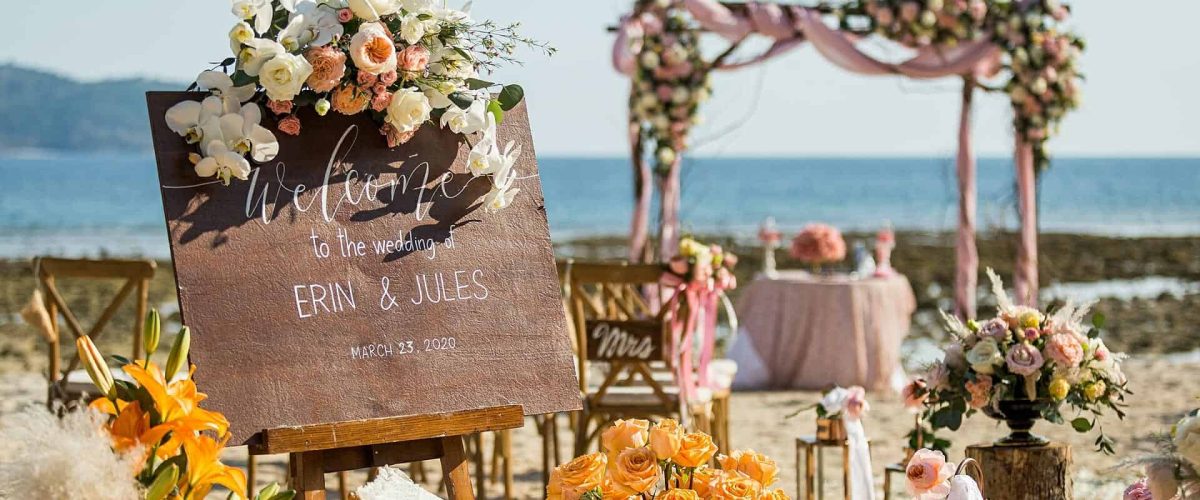 Budget is of course, an important consideration. So let's talk about what your wedding in Phuket could cost you. The key driver of any wedding budget is the wedding venue choice and more importantly the number of wedding guests. However, from our experience the average all expenses included wedding packages can come in anywhere from USD$3000 for a small modest wedding up to USD$30,000.
Depending on what you are looking for we can custom design a wedding package to suit including the basics such as wedding displays, seating, flowers, food, drinks, and lights, etc. If you want a photographer or videographer we have several highly recommended professionals we work with. Maybe you want something more special like an elephant or monks to bless your wedding, all these things can easily be arranged.
By far the most affordable wedding option in Phuket is the Beach Wedding option which can range from USD$1500-$2000 and up depending on the options you select. With this option we organize and reserve a beachside venue for the ceremony.
Resort and hotel weddings can be organized on a mid-range budget from around USD$3000 and up, depending on your selections.. This option is quite flexible and can be all-inclusive where they provide a room for your guests, a location for the ceremony and even all the food/beverages.
Private luxury villa weddings can be organized on a budget from USD$10,000 and up, depending on your selections. When it comes to managing your wedding costs, a luxury villa is going to be your most expensive but also most private and exclusive option. Get more detailed information about Phuket Wedding Costs in our blog or request a quote (obligation free) to get a detailed breakdown around what your dream wedding will cost you.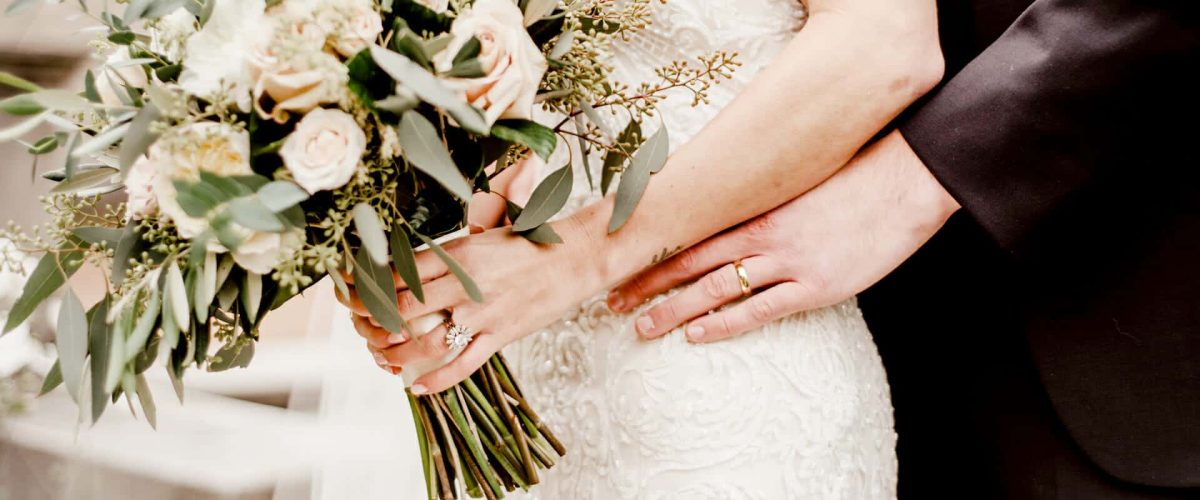 Phuket is a beautiful location perfect for weddings, and depending on what you are looking for – a beach wedding or something more private we can suggest venues and locations based on your vision and number of guests.
For beach weddings that are ceremony only, we typically have access to include Layan Beach, Panwa Beach, Bang Tao Beach, Hua Beach, and Kata Beach plus a number of beach resorts in Phuket. We also use Natai Beach which is a bit more remote but has stunning sunsets.
For private luxury villa weddings we work with Villa Aye, Villa Aquila, Villa Santisuk and Royal Thai Villas.
Get more information about a few of the venues we recommend here, or speak to us and we can recommend specific venues for you.
Have a browse through our different galleries to get some inspiration and ideas on the locations: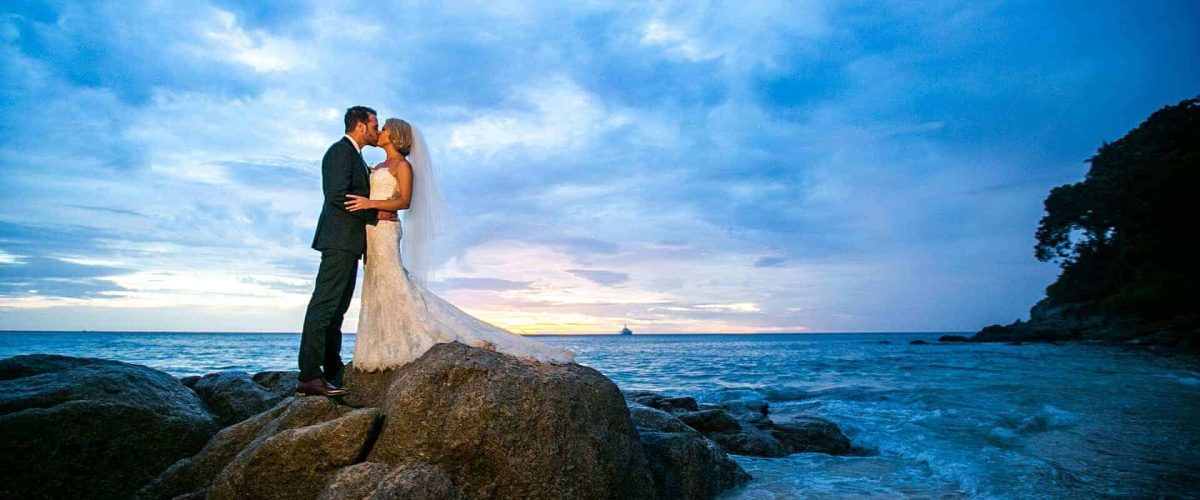 Climate is an important consideration when planning your wedding and can help you to decide when you would like to get married in Phuket and help you decide your wedding design and dress/suits.
Phuket is warm all year round with temperatures ranging between 25 – 34°C (77 – 93°F). The weather is divided into two distinct seasons, dry and rainy, with transitional periods in between.
The dry season begins in December and usually lasts into March. This is typically the high season for tourism in Phuket. The climate is at its best, characterized by gentle breezes, calm seas and clear blue skies. It is also the coolest time of year.
Transitional periods usually last around a month or so and the weather at these times are often hard to predict. April-May is the period before the rainy season and is the hottest time of the year. During this time there may be a lot of rain or none at all. The October-November period is usually coller and typically quite wet.
The rainy season begins in June and lasts until October where it is hot, humid and wet! You can expect rain and rough seas during this time. This is Phuket's low season for tourism, so whilst the weather may not be perfect the volume of tourists is lower, meaning that prices drop and there are bargains to be had. The weather during the rainy season is by no means unpleasant, there can be periods of several days that are dry, and when it does rain it is very unusual for it to rain all day.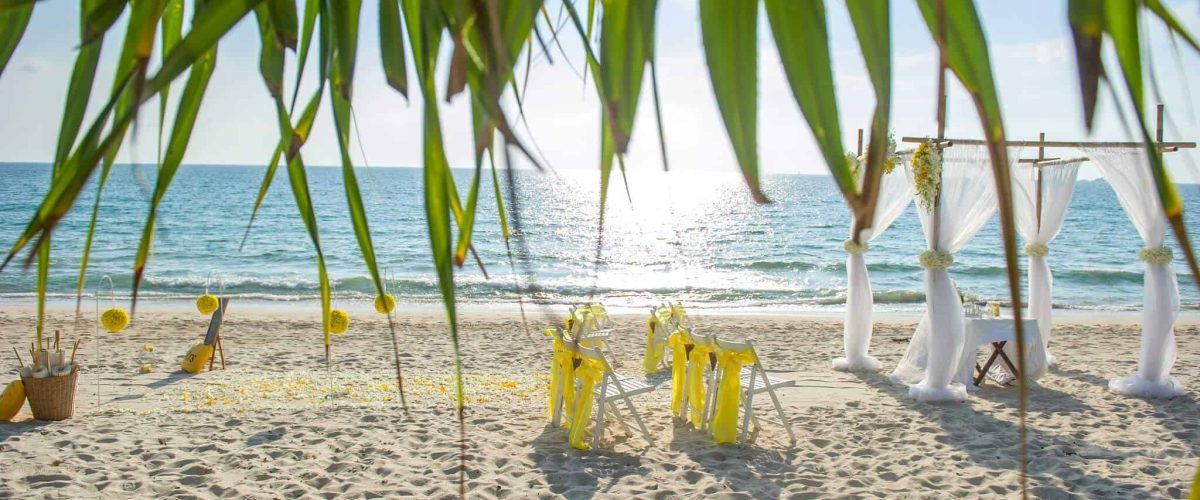 "Hire a planner", yes you probably expected that but it is 100% worth looking into a wedding planner or coordinator that specializes in destination weddings. You'll need feet on the ground before you arrive to finalize all those last minute details so that you and your guests can arrive stress free. Working with a local wedding planner helps to take away the stress from finding and liaising with local vendors who may not have English as their first language. A local planner will also understand the nuances of dealing with vendors and have existing relationships that you can take advantage of. A wedding planner will often have knowledge of locations, venues and vendors that you can take advantage of before you lock in your venue.
If a wedding planner isn't within your budget, try looking for a resort that has on site coordination.
At Unique Phuket Weddings we offer a number of services in house allowing you to take advantage of our inhouse expertise, experience as well as the cost savings that comes from that. Paul is an experienced Wedding Celebrant in his own right and works for a number of Wedding planners and Hotel/Resorts in Phuket. While using Paul as your celebrant is not mandatory, these services are available for you. In addition, Supparin is an experienced and established wedding designer and florist in Phuket.
Are you interested in what the process is like working with us? Learn more about our wedding planning services here.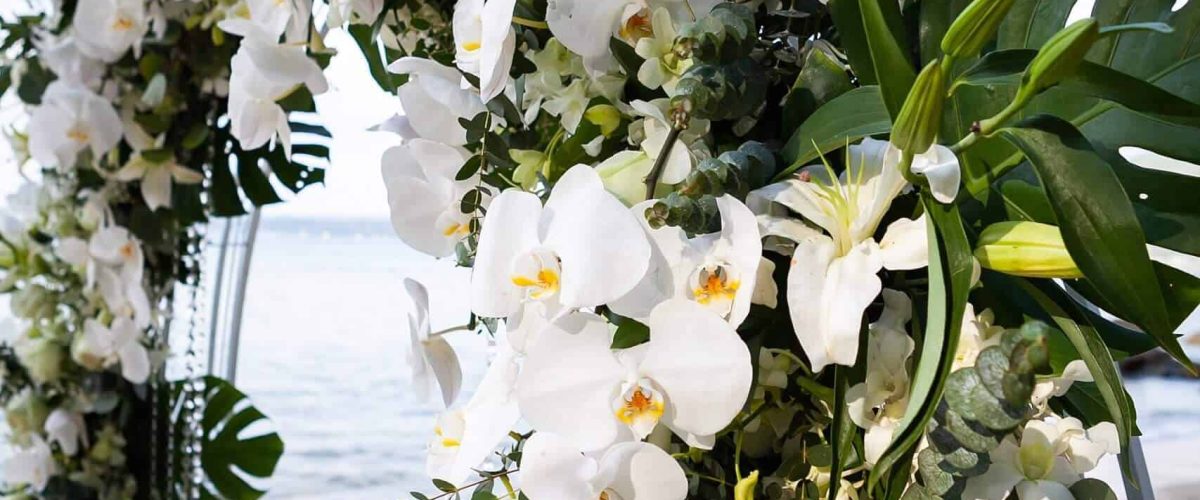 A pre-wedding trip is a great way to check out the location, meet with suppliers and make decisions if your budget and schedule allows. However, this isn't essential as you can scour the interest for trusted reviews and work with your chosen wedding planner to choose a destination, location and venue suited to your needs.
Even if you are unable to get on a plane and visit before your big day, it's important to meet with your wedding planners at least via zoom meeting. This will give you the opportunity to ask them all your questions and make sure they are right for you.
This is such an important part of our process at Unique Phuket Weddings and we always make sure to speak with you via a zoom call prior to confirming any bookings. Feel free to contact us to arrange a time to connect, or submit a quote request and we will get back to you with a quote and propose a time to meet.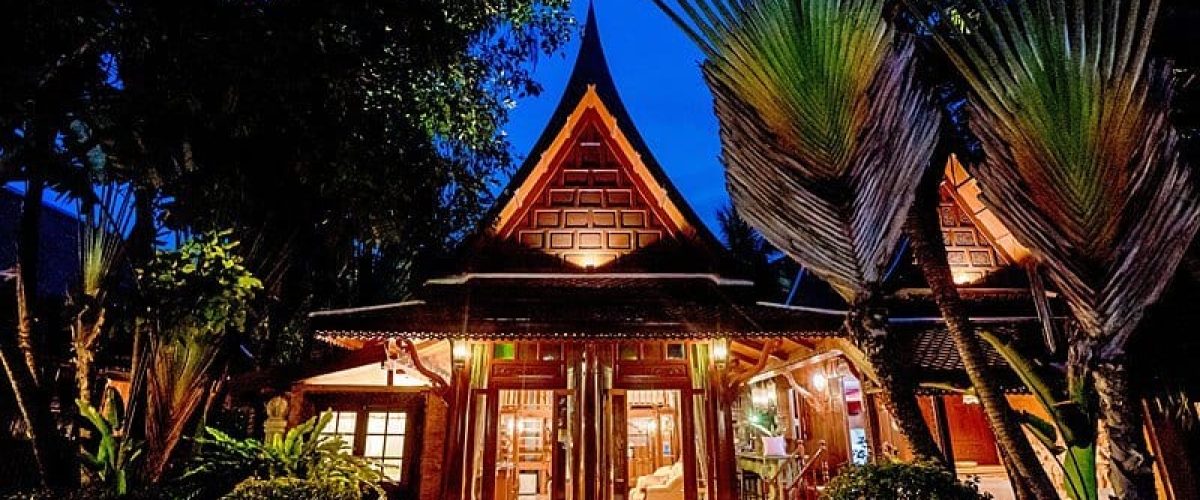 Secure your Passports and Travel Documents
An important step in the process, make sure you and your fiancé have all your travel documents ready including your passports. Check the expiry date, once, twice, three times – just to make sure!
Foreigners may travel Thailand without a visa. There are 64 countries eligible to enter Thailand visa-free under the Visa Exemption program, 19 countries eligible to enter Thailand without visa under the Visa On Arrival program. The traveler must possess a passport validity for 6 months or in some cases, it must be valid for at least 30 days after the trip. For the most up-to-date and accurate information about traveling to Thailand, please visit the Thai Embassy Website.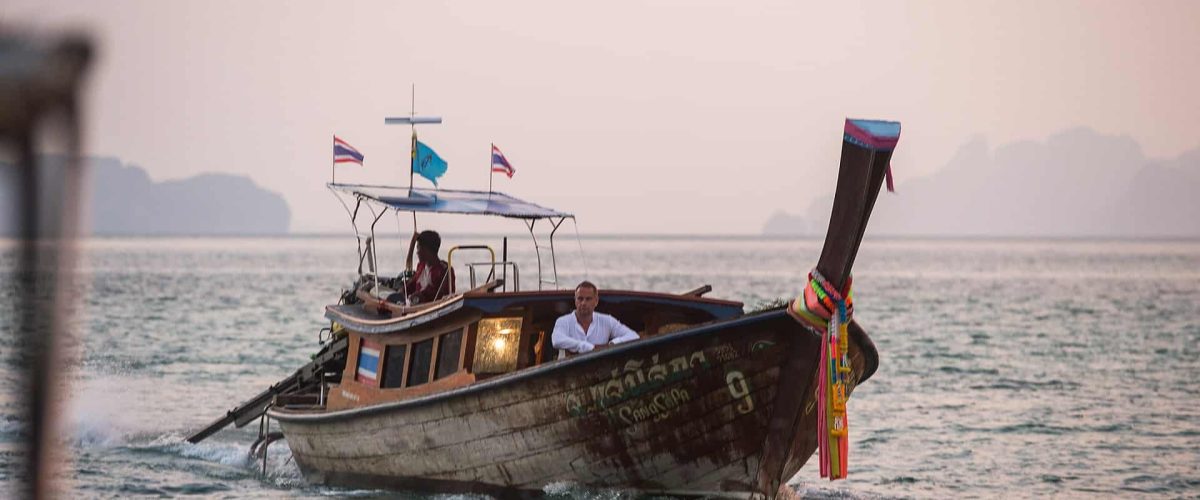 Local Marriage Requirements
Different countries have different laws in place for official wedding ceremonies (with some even requiring blood tests!), so be sure to confirm these legalities in your hometown early. Don't forget, you can always get married legally in your hometown before or after your trip, and host a non-legal ceremony for your destination wedding.
In Thailand to be legally married does require you visiting your own Embassy in Bangkok for most countries and then you are able to continue on with the ceremony in your chosen destination. We can help with the selection of Translation companies in Bangkok and then help you complete the process in Phuket. Ideally, we always plan to compliment your Ceremonial Wedding ceremony with the signing of the Legal Paperwork which is recognized in most countries and after translation it recognizes your Marriage in Thailand without any further action. If you are interested in having a legal wedding in Thailand feel free to contact us for more information or find out more on legal weddings here.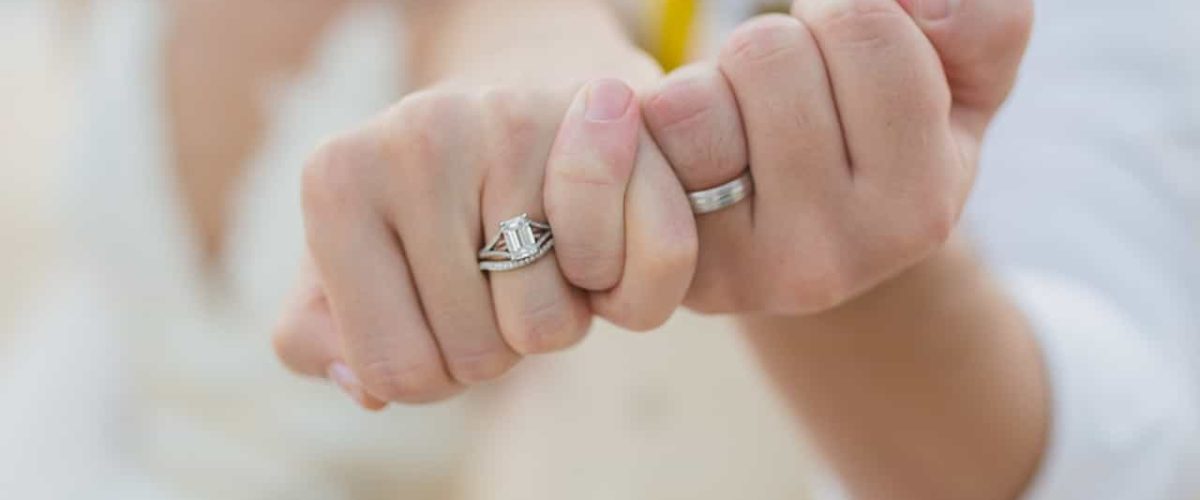 When planning for your wedding abroad, you may need to consider accommodation for your guests. Whilst etiquette doesn't require you to cover the cost of accommodations, it is a thoughtful gesture to provide recommendations that satisfy a range of budgets. Additionally you may want to consider keeping hotel suggestions within a 10-15 minute radius.
In addition to our other services Unique Phuket can work with you to suggest accommodation. Often if you are planning your wedding at a resort they will offer you and your guests a discounted rate for accommodation.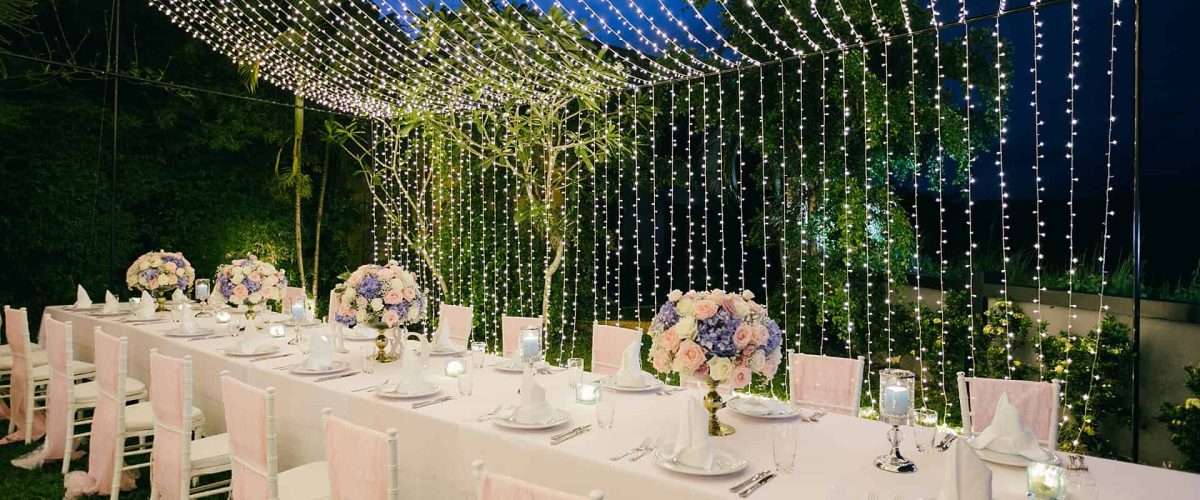 Create an Immersive Experience
You're having your wedding in an exotic destination, consider creating an immersive experience for your guests. Things like a reception menu with local Thai Cuisine, local exotic flowers and foliage to dial up the "tropical vibe". You're making a significant time and money investment into your destination wedding so embrace all it has to offer.We can help you with organizing a special blessing with Thai Monks, a baby elephant to bless your marriage, and even fireworks. If you're interested in a immersive experience then we can also arrange a Thai-style wedding ceremony with Ram Klong Yao ( Drums & Thai Dancers) and short Traditional Thai Ceremony.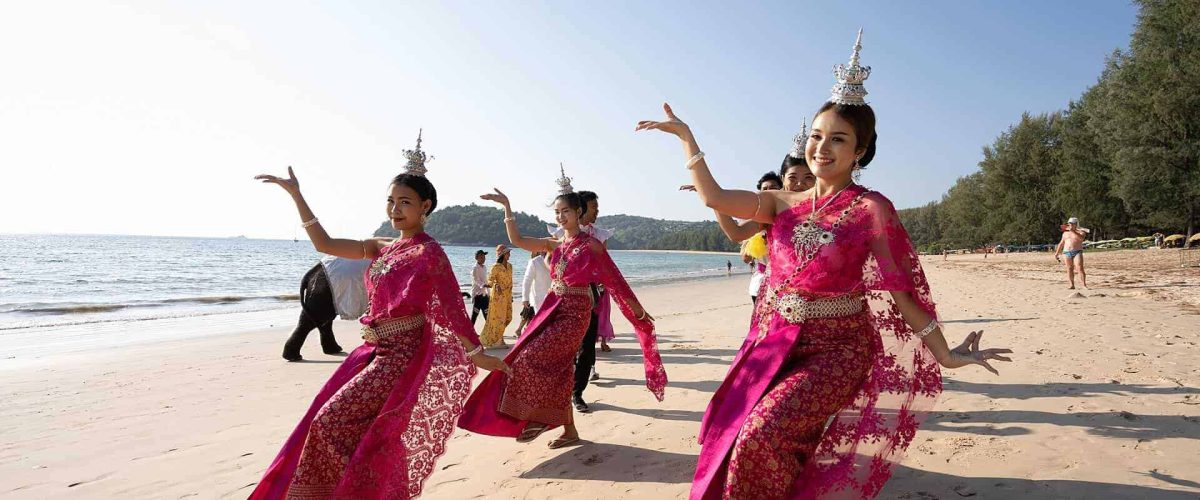 Consider Unexpected Expenses
Be sure to include a bit of a buffer in your budget for unexpected expenses such as tips, airport transfers, any shipping costs, extra baggage fees etc. If you are planning welcome parties, lunches or dinners then this may add up as well. 
Make sure to let your bank know that you will be traveling so you don't get hit with foreign transaction fees or worse a declined card when you need it. You'll want to carry some cash with you (in the local currency) as well just in case.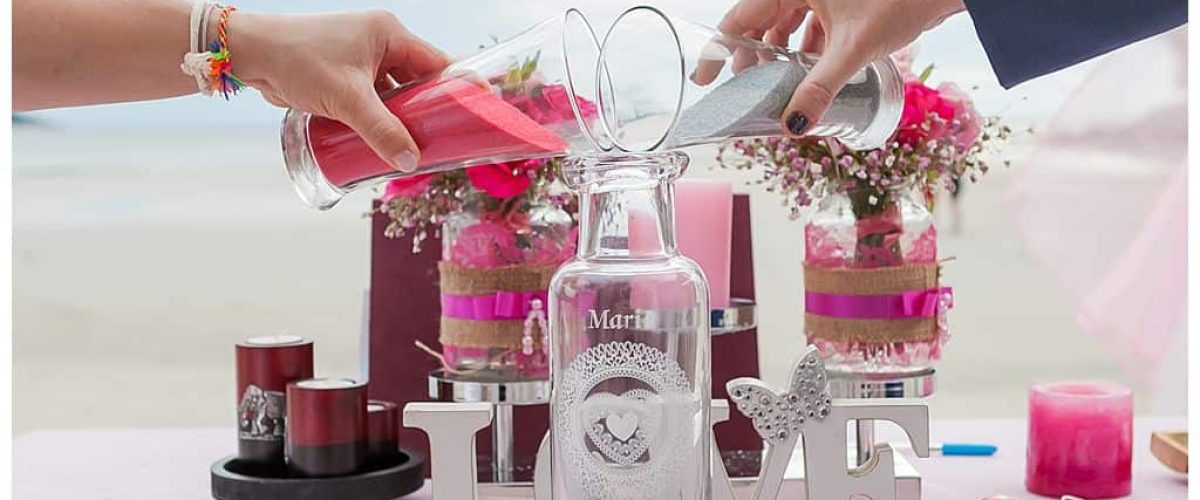 Choosing an Appropriate Dress or Suit
If you're not planning on having your dress custom made here in Thailand then you'll want to make sure the fabric and materials are breathable for the hotter, more humid climate here in the Land of Smiles. Another thing, if you're planning on bringing your dress with you, then we recommend carrying it in your carry-on luggage so you don't run the risk of it being lost or damaged.
Additionally we can help you source your wedding dress or suit right here in Phuket to either buy or rent.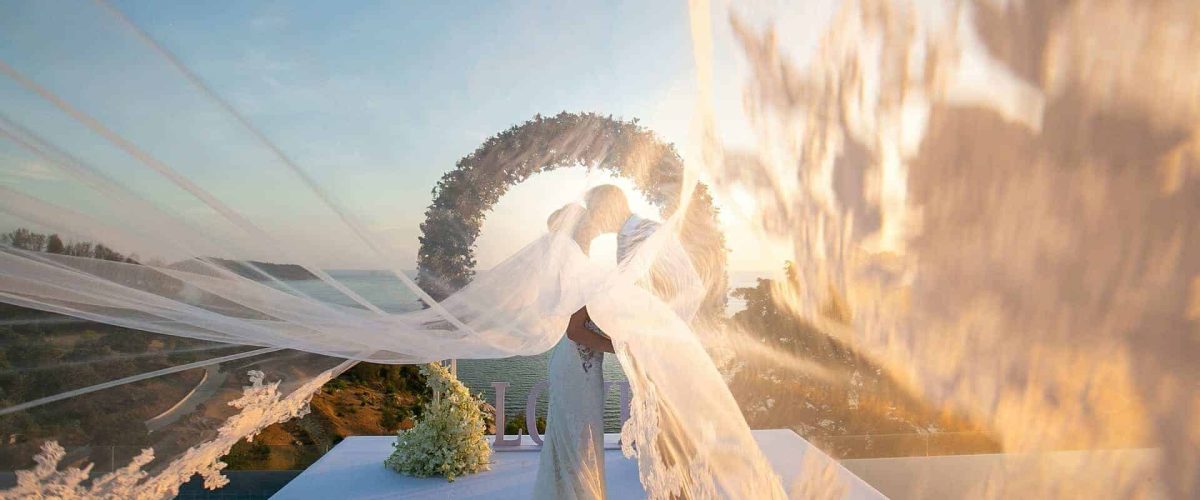 Welcome Bags and Thank You Gifts
If you would like to and have the budget you can show your guests some hospitality and offer some welcome bags or gifts when they arrive. Phuket is warm and sunny so you could include things like water bottles (as tap water isn't drinkable in Thailand), snacks, maps, aspirin, sunscreen or aloe vera. You can also provide your guests with wedding favors as a thank you for attending, some ideas for this include hand fans with the date of your wedding engraved on it, maybe a local herb or spice such as kaffir lime leaves, chillies, lemongrass or butterfly pea.
While lots of couples choose to give a little gift it isn't mandatory and you should do what is best for you.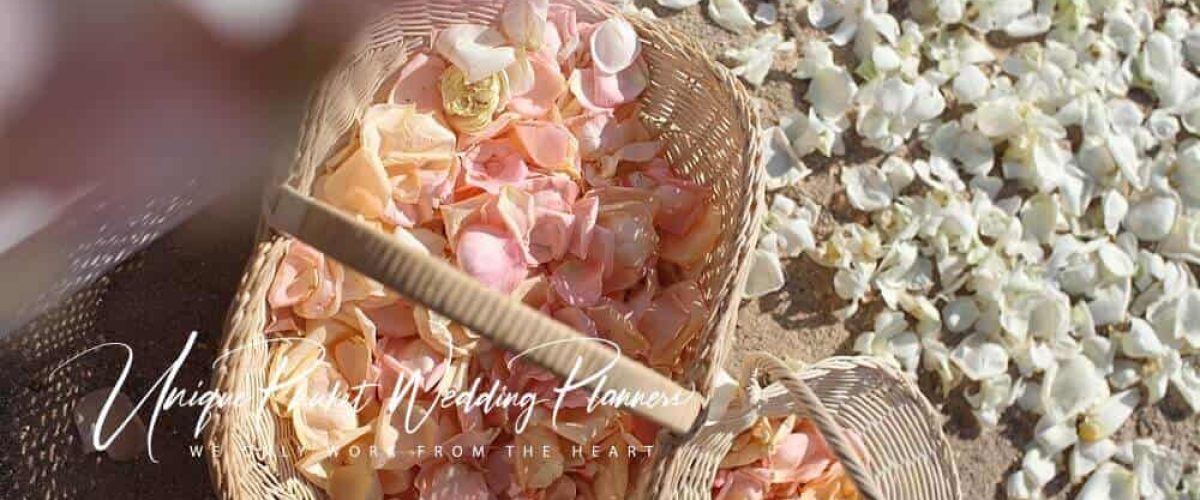 Additional Activities or Events
You can always extend your celebration by planning additional events around your big day. Some ideas include:
Welcome brunch, lunch or dinner

Welcome party

Local tours or tastings

Cooking class

Post wedding brunch or lunch
Some couples like to go all out and host a weekend or week's worth of activities, but some couples prefer to keep it simple. So you should do what works for you as there is no right or wrong way to plan your wedding.
If you are interested in booking some tours though, Supparin is a local tour guide who hosts tours specifically for Unique Phuket Clients. If you are interested in organising something visit the Angel Phuket Tours website or get in touch with us.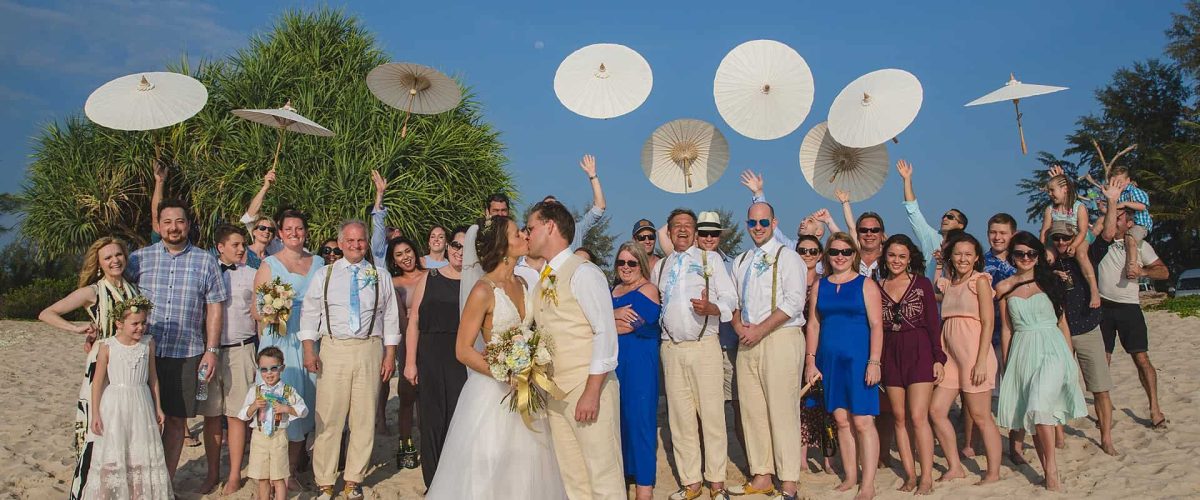 Transitioning into your Honeymoon
Getting away gracefully and transitioning to your honeymoon is an important consideration for destination weddings, especially if you are staying in the same resort as guests who may have extended their trips as well.
Make sure to be clear about your departure date, make sure to say your goodbyes, and if you are worried about privacy and don't want to offend any loved ones, see if you can move a more secluded part of the hotel or resort you are staying at like a luxury suite or over-water villa. Alternatively, you can transition to another resort or location to kick start your honeymoon.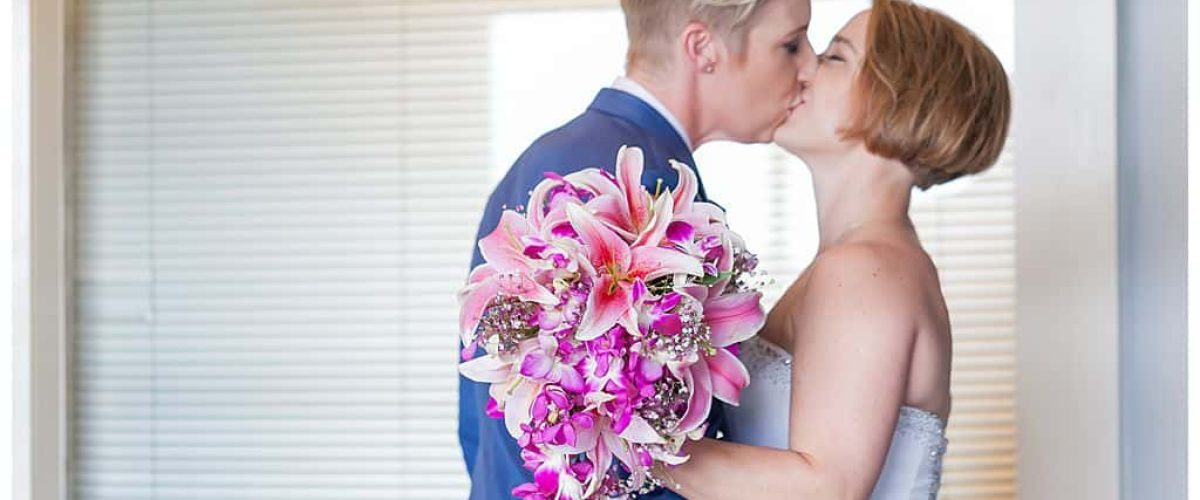 Paul and Supparin of Unique Phuket Wedding Planners are professional creators of a beautiful, tropical Destination wedding in Phuket. Paul is an event planner and wedding celebrant while Supparin is a talented, professionally-trained florist and certified tour guide. Together, we help couples from all over the world plan the destination wedding of their dreams. We are affordable without compromising on elegance & quality as we can provide most services in house.
We have created a simple set of initial questions to get your Phuket Destination Wedding started; we can give you a quick budgetary estimate based on the answers you provide and will respond to you via email for your Wedding. The Wedding Questionnaire can be accessed here to help us plan your Phuket wedding costs. It's our ultimate goal to help you get everything you want to be arranged at the best Phuket wedding packages prices available.
Just contact us by phone or email us to see how we can make your special day even more unique with our tailored wedding services. We will take care of all the arrangements for you and help you make the best memories that will last a lifetime.