Phuket Beach Wedding
For a phenomenal Phuket beach wedding, we can arrange all the perfect settings and facilities for your special day. We can help you select from the best west coast beachfront locations for a truly unique destination beach wedding in Phuket. When you work with Paul and Toom at Unique Phuket Wedding Planners you won't have to worry about a thing! Whether you want palm beach lined white sandy beaches or a more dramatic sunset landscape we know all the best places for a truly unforgettable experience.
Not only that but the prices for beach weddings are far more affordable than any resort or private villa wedding options. With our extensive experience and local professional connections, we'll be sure to create your ideal dream beach wedding in Phuket.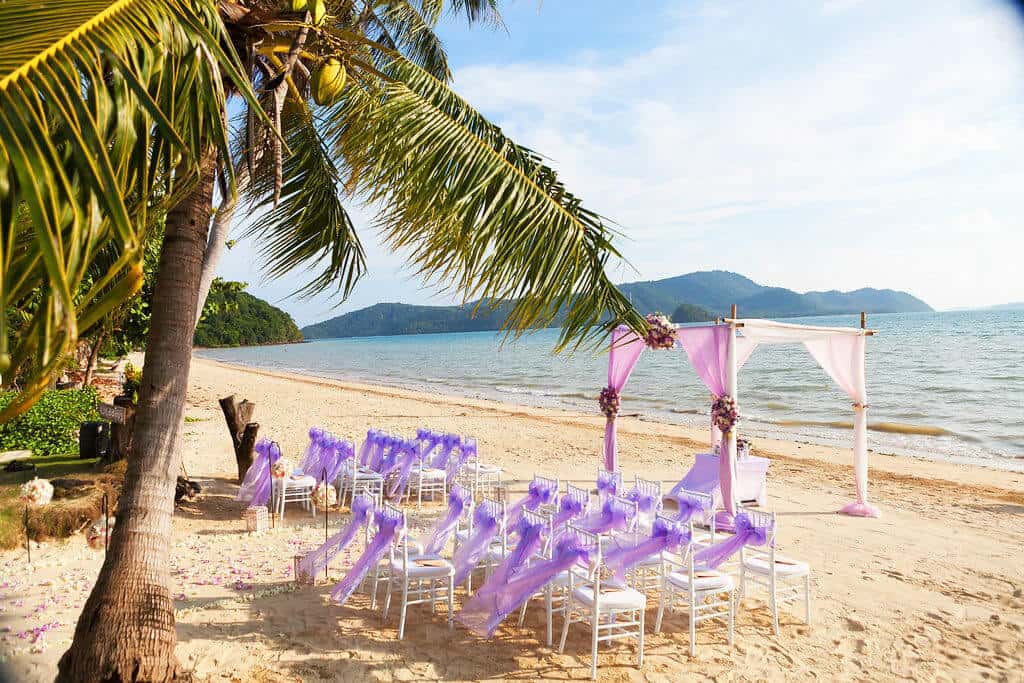 Wedding Services
We can arrange and organize everything for a truly customized beach wedding ceremony from the decorations to the desert we are a full-range wedding planning service. Depending on how modest or elaborate you want your beach wedding, we can sometimes be ready to go within a matter of days (subject to our availability). So whether you want a private elopement or a large fancy wedding ceremony we will make all the necessary arrangements.
We provide an exceptional array of personalized services that will surely bring fun and excitement to your beach wedding! Although beach weddings are easier to arrange we still recommend providing at least a 3-month window for planning. If you have something very small and simple in mind then it's completely possible that we may be able to arrange it all within a matter of a few days.
Wedding On A Beach in Phuket
When it comes to having a variety of beautiful beaches to choose from, Phuket does not disappoint. We have at least 7 beaches we would recommend for your special wedding ceremony location, but you'll want to take some things into consideration before we move ahead. Each beach has its own uniqueness about it and some have their limitations when it comes to comfortably seat a large number of people in a secluded strip of sand. Of course, this doesn't mean it will be difficult with so many stunning locations to select from. So for our beach enthusiast bride and groom, Unique Phuket Wedding Planners will help you choose the absolute best place to exchange your vows.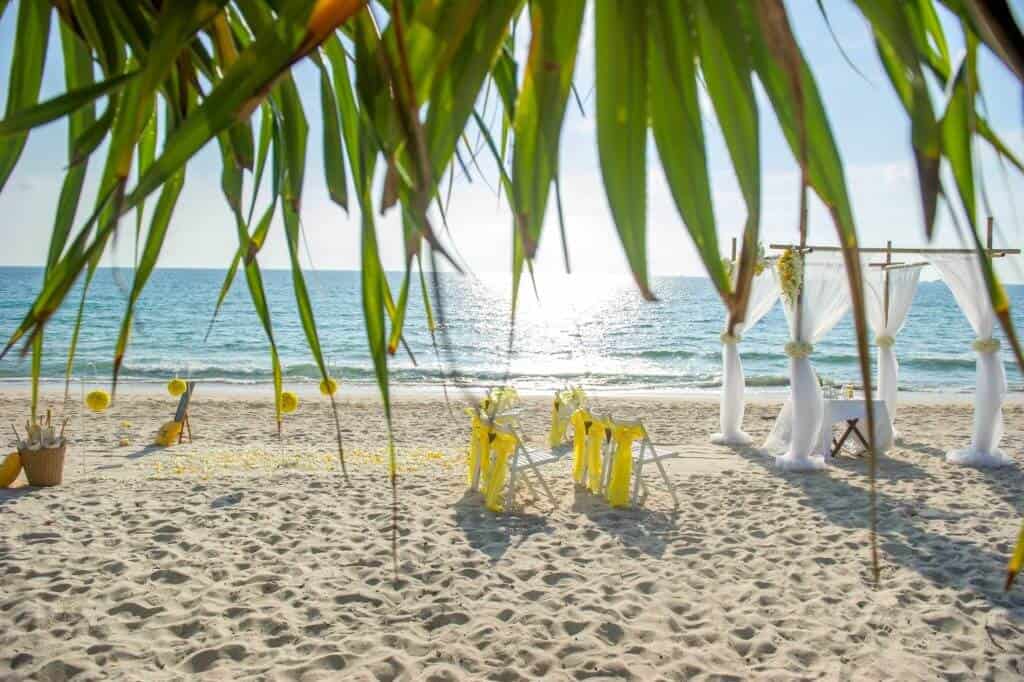 Let us focus on the fine details of your wedding while you plan on finding the best beach for your personal preference and accommodations. Below are some recommendations for beach weddings in Phuket.
Phuket Beach Wedding Locations
Bang Tao Beach – Bangtao is a long 6km stretch of white sandy beach along the Northwestern coast of Phuket. With luxurious Laguna resorts and villas conveniently located nearby, it can be a perfect place for the bride and groom to stay near where the reception will be held. This beach is still mostly untouched by development, and with how long it can make for a more private beach wedding location. With a spacious stretch of white sand with waves gently washing ashore you can also enjoy a full reception dinner in a wedding gazebo with first-class catering. Bangtao is a perfect place in Phuket to get hitched and celebrate with your loved one.
Kata Beach – For a pleasant wedding reception we would recommend Kata Beach with its white sand, clear waters and beautiful bay view. This beach is very popular for weddings with its spectacular palm-lined beaches, great restaurants, and local charm. Depending on where we set up on the beach there are also nice rocky areas for a more dramatic look.
Layan Beach – A Layan Beach wedding is far from the crowds, but still easily accessible for the perfect paradise wedding ceremony. This beach has many trees providing shade for larger wedding groups and is a hidden gem in the Northwestern coast of Phuket near Bangtao. This tranquil area of the island makes it easier to have a more private reception and you can even go on a romantic horseback ride together as newlyweds. The trees lining this beach are mostly pine trees, unlike most of the rest of the beaches in Phuket which mostly have only palm trees.
Mai Khao Beach – Mai Khao beach is another top recommendation, especially for a special sunset wedding reception. This is another beach located on the northwestern side of the island of Phuket. This blessed beach is 11km long and surprisingly undeveloped. This location can often be practically deserted, making it possible to take a romantic walk with your loved one with almost nobody else around. The sand is more coarse than some other locations but the views of the Andaman Sea as well as the level of privacy this beach provides for weddings is unparalleled.
Surin Beach – Surin is one of the nicest beaches on the island and provides an excellent soft sand and sea views for the perfect wedding pictures. You simply can't go wrong with Surin beach as the location to celebrate your special day. This flawless tree-lined beachfront location is a favorite for weddings and photographers alike. If you want spectacular destination wedding photos then Surin is a top choice.
Laem Singh – This small and secluded white sand beach has a nice mix of sand, sea, rocks, and trees which will add texture to your photos and a more natural feel for the reception. Although small, Laem Singh is one of the most picturesque places in Phuket. It should come as no surprise that you can also capture some of the best sunsets on this side of the island.
Nai Harn – Nai Harn Beach is one of the island's more popular destinations but it's a great location if you plan on staying in the south of the island.
Other Thailand Beach Wedding Locations:
Based on years of expertise and demand for other destination wedding locations we can make your wedding arrangements anywhere in some of the most beautiful areas in Thailand. The locations we recommend outside of Phuket include Koh Samui, Krabi, Koh Phang Ngan, Hua Hin, Chiang Mai, and Bangkok. Just contact us with a plan for your special day and we'll get everything organized with all the necessary local professionals to cater to your requests.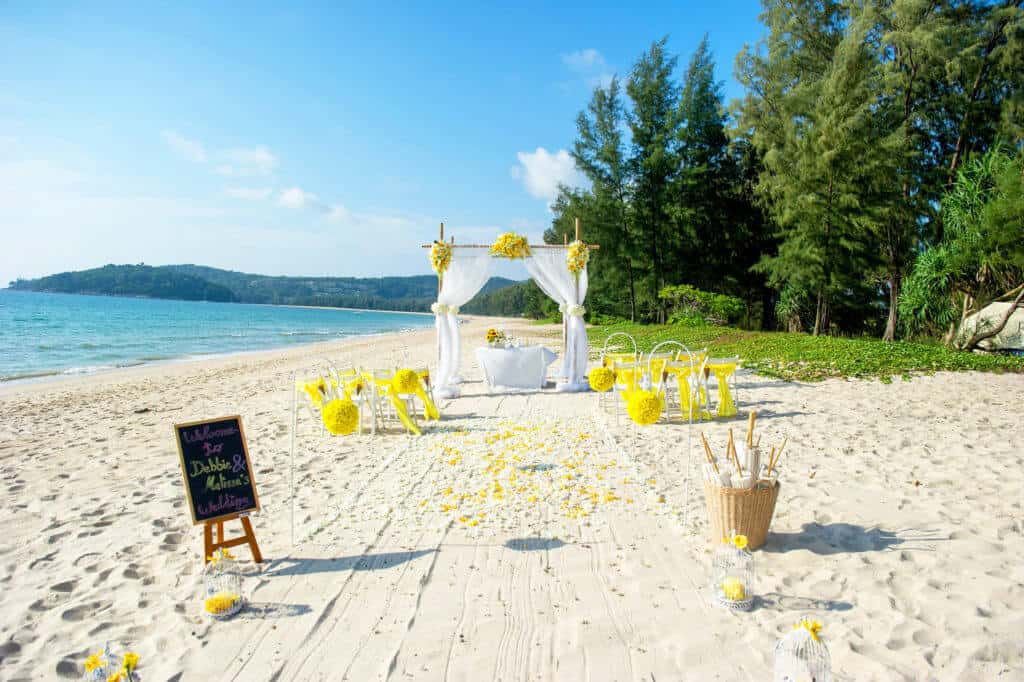 Beach Wedding Services
Get hitched without a hitch with our unparalleled Phuket wedding services. We provide an exceptional array of personalized services that will surely bring fun and excitement to your wedding or can easily arrange the ideal solution for the following:
Venue choice and Accommodation
Wedding Invitations
Wedding menus
Reception Name Cards
Catering and Wedding Reception Menus
Wedding Flowers
Hair & Makeup
Wedding Officiant or Celebrant
Flights & Transfers
Guided Phuket Private Tours with a registered Tour Guide (Angel Phuket Tours)
Let Unique Phuket Wedding Planners make all the arrangements from your beach wedding, we can easily arrange everything from the decorations to a wonderful menu and more.
Phuket Beach Wedding Prices
The price for a typical Beach wedding in Phuket can be arranged for around $3000. We can also scale the price down for a smaller, more private and simple wedding or scale up for a more extravagant one. We strive to get everything our clients need for their special day and choosing the perfect beach wedding location is a top priority. We'll make all the arrangements for you and your guest at the beach you want and reserve a day and time that works best.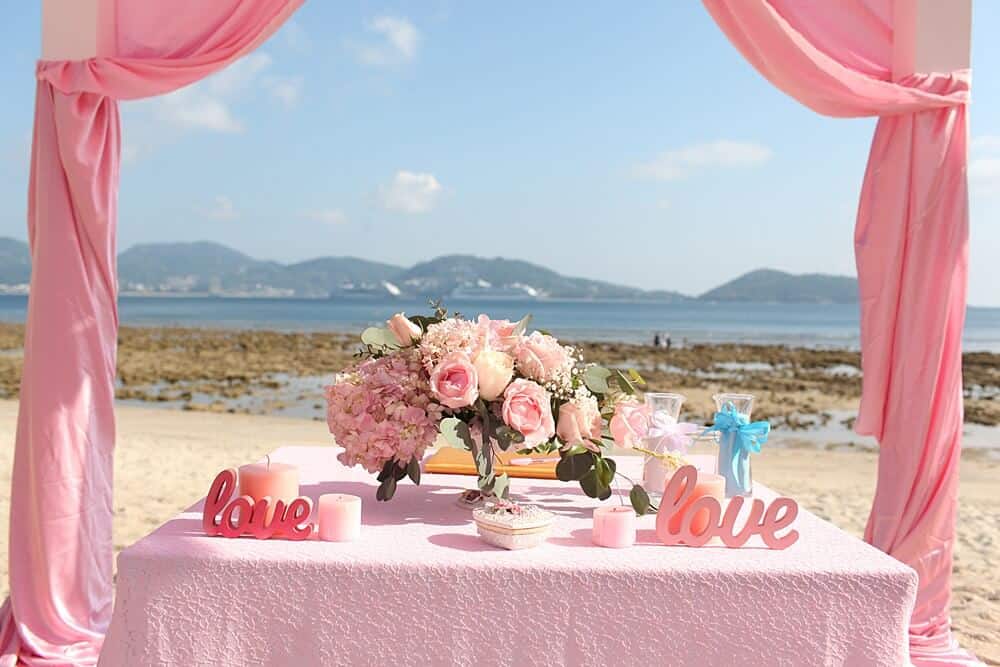 Unique Phuket Wedding Planners
Paul and Supparin of Unique Phuket Wedding Planners are professional creators of beautiful, tropical weddings in the destination wedding hotspot Phuket. Paul is an event planner and wedding celebrant while Supparin is a talented, professionally-trained florist and certified tour guide. Together, we help couples from all over the world plan the destination wedding of their dreams. We are affordable without compromising on elegance & quality as we can provide most services in house.
We have created a simple set of initial questions to get your Beach Wedding Plan started; we can give you a quick budgetary estimate based on the answers you provide and will respond to you via email for your Wedding. The Wedding Questionnaire is on our Wedding Planning page and can also be accessed here.
Just contact us by phone or email us to see how we can make your special day even more unique with our tailored weddings services. We will take care of all the arrangements for you and help you make the best memories that will last a lifetime.
0878957026
________________________________

Additional Wedding Resources: