Eloping in Thailand
Have you ever dreamed of running away to a magical faraway land with your loved one and getting married on a beautiful beach somewhere? If the answer is yes then your dream really isn't as far fetched or impossible as one might initially realize. If you want to have a more private and unique wedding experience with the love of your life and forgo a big wedding ceremony then you should consider eloping in Thailand!
If you've never been to the land of smiles then you probably still think of the country of Thailand as some faraway mythical land and you wouldn't be too far off. With countless incredible wedding locations and venues to choose from it's honestly one of the best places on the planet to elope! You have your choice of beautiful beaches, lush tropical jungles or luxurious Villas to choose from scattered throughout the Kingdom of Siam.
We totally understand how intimidating planning such an adventure may seem but what better way to start your new life together as a married couple than with a once in a lifetime secret wedding trip to Thailand? We are professional wedding planners with years of experience marrying countless happy couples all in places all over the country who have come here from all over the world! So don't sweat the logistics when you can leave all the planning up to us at Unique Phuket Wedding Planners. With Paul and Supparin teaming up with their talents from the UK and Thailand, we have all the right connections and knowhow to ensure your plans of eloping in Thailand are a dream come true.
Define Eloping
To secretly run away in order to get married, especially without parental consent.
What's the difference between eloping and getting married?
Eloping is basically "running away" to get married in secrecy or without telling anyone, especially your parents. Now you can technically do this in your own town but there's absolutely nothing romantic about that at all and would quite frankly be wasting a once in a lifetime moment. The entire idea and history behind eloping is basically taking off with your loved one to a faraway land and getting married without telling anyone including your family and friends until you've already said your I Do's. To elope may also suggest forgoing a formal wedding and elope for the just a small ceremony instead. So the main indisputable purpose of eloping is to get married without having a big wedding or telling anybody about your plans until after the fact whereas a normal wedding requires sometimes years of planning, organizing and inviting everyone and their mom to attend.
Is it a good idea to elope?
Eloping can actually be the perfect way to ease into a marriage without all the complications and stress involved with planning a traditional formal wedding. Wedding planning can put a lot of unwanted stress and expectations on newlyweds and has become especially popular with couples who have already been married in the past. For newlyweds, eloping allows you to have an opportunity to really focus on the more intimate details of your relationship without all the hassle and pressures involved with a big wedding. So it's definitely a good option to elope if you want to have a more low-key celebration or already had a big wedding when you were younger and are now looking for a more unique and meaningful wedding experience.
Can I still have a wedding if I'm eloping in Thailand?
What many couples do nowadays is use their eloping in Thailand trip AS their wedding. This typically turns a wedding from all the boring traditional formalities and bureaucratic procedures involved in a classic wedding ceremony into an adventure for just the two of you! So the answer is yes, you can definitely still have a wedding while eloping in Thailand, you just need to understand that once you get back home you'll already be officially married and therefore cannot have a big formal wedding anymore where you exchange your vows in front of everyone you know. You can still have a casual non-wedding party celebration with your loved ones back home, they just won't be there to catch a bouquet toss or walk you down the aisle.
Is it Romantic to elope?
There's quite honestly nothing more romantic than choosing to elope for your wedding. The idea of going somewhere new with the person you plan on spending the rest of your life with is already exciting enough, but when you plan to do so by going abroad it literally opens up a world of possibilities! We've married couples who either started their wedding trip in Thailand, got married and then spend a few months traveling around Asia together or in the reverse order.
Either way, eloping can be a far more exciting and fulfilling experience rather than spending $10,000 on a wedding, why not travel around Asia with the love of your life for 6 months instead? There are few places on this planet more ideal for this scenario than eloping in Thailand with its combination of beaches, jungles, luxury and incredible culture it's sure to make for an unforgettably romantic wedding experience. Traveling with your loved one and sharing the most intimate experiences is quite possibly the most romantic idea imaginable.
Is eloping cheaper than having a wedding?
The short answer to this question is undoubtably YES! Eloping is, on average, significantly cheaper than a traditional wedding with 100-300 people. This goes without saying, you can still rack up a huge bill if you choose to stay at a luxury villa for a week and have a private and romantic wedding with just the two of you, but this is not usually the idea behind most couples' decision to elope. Usually, when people are eloping to Thailand or anywhere in Southeast Asia for that matter, they're looking for a combination of adventure, affordability, and romance. When you choose to have a large traditional wedding, you're basically forgoing the first two benefits of eloping and settling for a romantic experience shared with your family and friends instead.
Wedding Venues for Eloping in Thailand
Eloping in Thailand really doesn't have to be as scary or difficult as you may initially imagine, especially if you enlist the help of the professional wedding planners at Unique Phuket. We quite literally speak the local language and transcend any possible communication issues that may transpire if you try to plan something like this on your own. We have
We know that planning your Wedding in Thailand can seem daunting, especially since there are so many options and choices to choose from while still overseas. Since you're here reading this then we assume you've already decided on having a destination wedding abroad and have likely narrowed down your options to include the incredible and diverse options Thailand has to offer engaged couples looking for a special experience.
Outside of deciding to get married and also agreeing to have a destination wedding instead of a boring normal wedding back home, the next important decision is choosing a wedding venue. Based on our 5+ years of wedding planning experience, we know all the best wedding venues in the country and will highlight some of the most common venues below for you to consider for eloping in Thailand. We provide an exceptional array of personalized services that will surely bring fun and excitement to your wedding or we can easily arrange the ideal solution for you and your soulmate. To request a free wedding quote to get some ideas on prices and available venues then please fill out this form and we'll get back to you as soon as possible.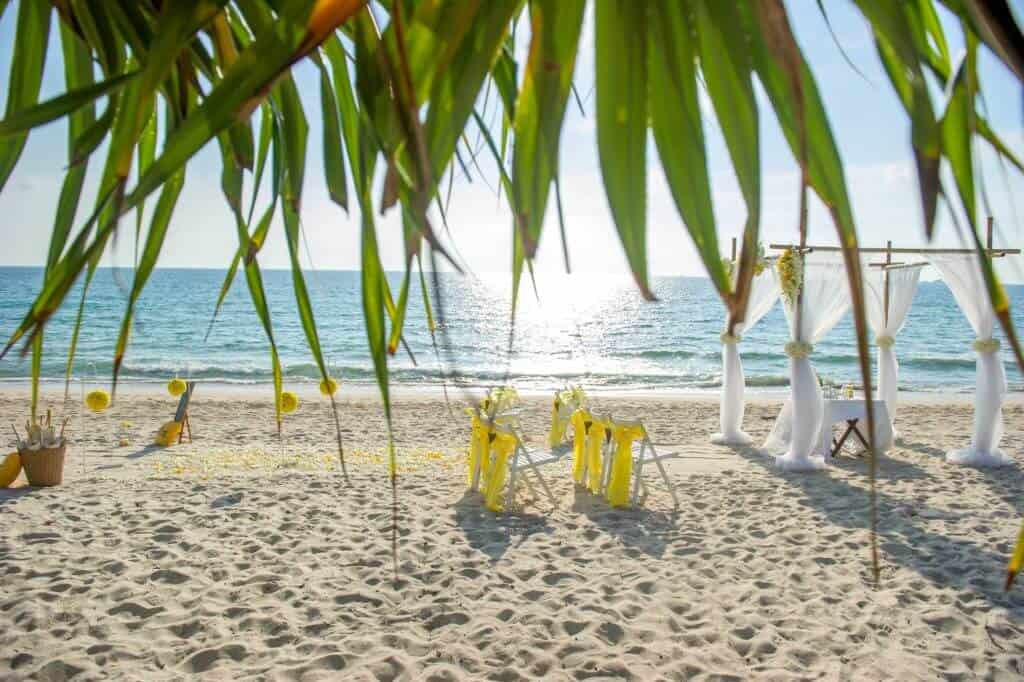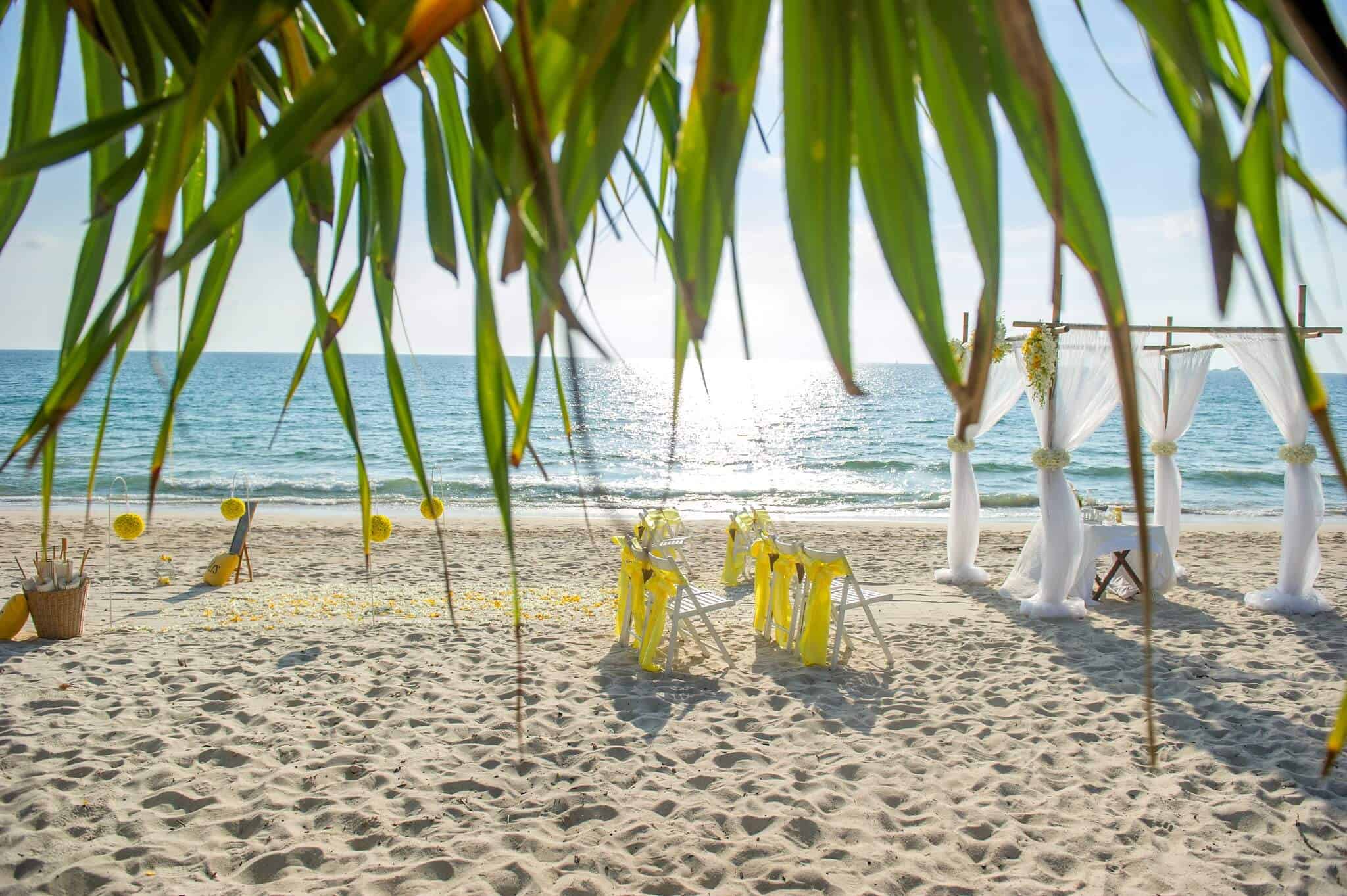 Beach Wedding
A beach wedding is by far one of the most popular options for couples eloping in Thailand. It combines the natural beauty of our tropical beaches with some of the most affordable and easy to plan wedding ceremonies available. Each beach in Thailand has its own unique characteristics and it will be important to narrow down your choices before coming so you aren't flying all over the country trying to find the perfect place. We already know all the best beaches in Thailand to get married so you just need to tell us what you want and we'll provide you with all the best options available.
Resort or Hotel Wedding:
If you're planning on eloping to Thailand and have a little more budget in mind than staying in cheap hostels the entire time then you may want to consider the wide variety of hotel and resort venues available. The affordability and options available in Thailand make it a longtime contender as one of the best places for a destination wedding. If you want to spend a few days on a romantic beachfront resort or some quirky hotel, we can go over a variety of options, locations and prices available for eloping in Thailand for a secret wedding at a resort or hotel of your choosing. While this option will typically always be more expensive than just a beach wedding ceremony alone, having a resort or hotel with a pool, staff and amenities at your disposal are all important things to consider. Having so many hotels and resorts to choose from also allows for better photo opportunities with both contemporary or traditional Thai style settings. So if you're looking for an intimate and exotic destination to exchange your vows then eloping in Thailand may be the perfect place.
Villa Wedding
Villa weddings are by far the most lavish and expensive ways to celebrate your wedding. These are also typically reserved for large parties but can also be for a romantic couple who aren't afraid to shell out some extra baht for a once in a lifetime wedding venue. We have a large selection of luxurious villas to consider throughout the country and some have special niche options available for those with discriminating tastes. We can arrange a villa wedding at locations that cater specifically to your interest such as holistic care, yoga, vegan and other lifestyle choices. Just let us know what you have in mind and any special requests or preferences you have and we'll be happy to provide you with all the best options. Once we narrow down the Villas you want to consider, we can then start going through the reservation procedures and procuring a date on their calendar.
Understand there are a number of excellent small villa options for those of you who want a villa wedding on a smaller budget than a customary villa wedding ceremony, just contact us so we can work out some options for you. To plan your perfect villa destination wedding we recommend at least 3 months for planning to organize everything. We would also recommend beginning your wedding destination plans at least 1 year in advance to give everyone time to get organized and for us to find available dates that work with your schedule. Eloping to Thailand and planning an incredible private villa wedding doesn't have to be a big deal when you have us taking care of everything for you.
We'll even help with all the communications with the Villa Management team. When it comes to a Villa wedding, almost everyone requires a 20% deposit to book and the final payment 1 month before the wedding. We are experienced, competent and can guide you all the way through the process to ensure a stress-free Wedding Planning process.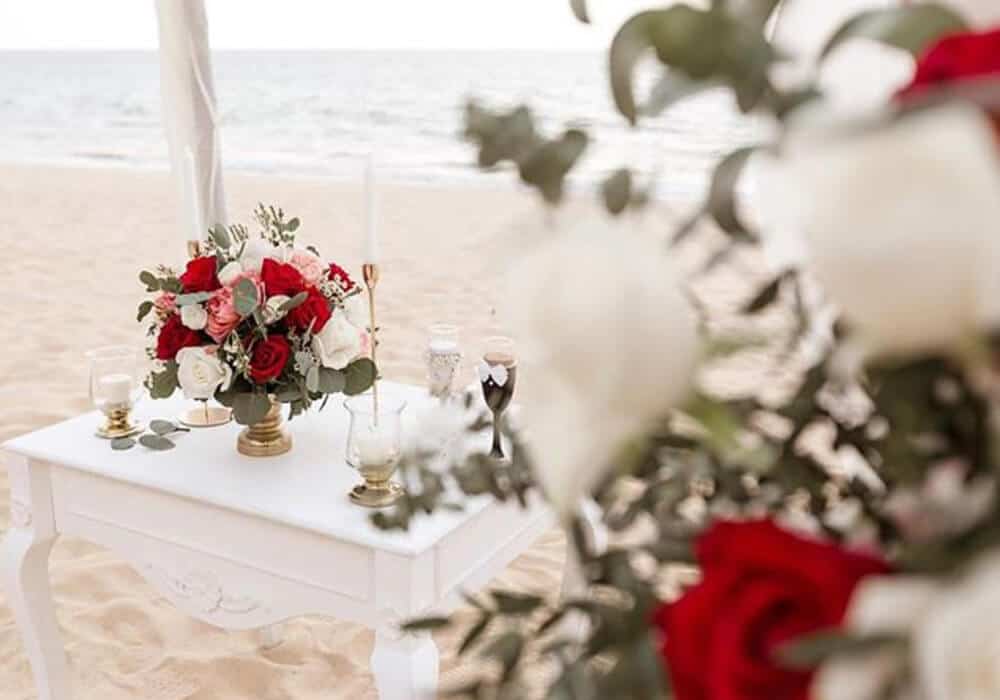 Additional Wedding Services
Just because you're considering eloping in Thailand without all your friends and family doesn't mean you have to go without the fun and professional service options available back in your home country. We can recommend and arrange all the top professionals for other wedding services you may be interested in. If you need photography, hair and make-up, live musicians and DJs, spa and massage services, horse and carriage rides, help with travel plans or sightseeing or any other special extras just let us know what you're looking for and we will help make all the arrangements.
Eloping in Thailand Wedding Planners
Paul and Supparin, from Unique Phuket Wedding Planners, are professional creators of beautiful tropical weddings in Thailand. Paul is the event planner and celebration of the wedding, while Supparin is a talented and professionally trained flower shop tour guide. Unique Phuket Wedding Planners is a well-known local company and experts at helping couples eloping in Thailand pull off the private wedding of their dreams.
With years of experience helping hundreds of couples make their dream wedding come true, from small gatherings to large and extravagant events in Thailand. Passionate about what we do, we strive to ensure that all of our celebrations are wonderful. We work with the best in the business and set trends, instead of following them. What sets us apart is our planning and design services. Right from the selection of the best venue for floral decorations, flowers or entertainment, we can handle it all with your best expectations. We strive for perfection for the days that you and your family will remember for many more years.
Together, they help couples from all over the world plan their dream destination wedding.
เรามีราคาไม่แพงโดยไม่สูญเสียความสง่างามและคุณภาพเพราะเราสามารถให้บริการส่วนใหญ่ในบ้าน
Just call or email us to see how we can make your special day stand out with our wedding services. We will arrange everything for you and help you create the best memories that will last forever.
[email protected] 0878957026 or +66 878957026
---
Eloping in Thailand
อีเมล: [email protected]
อีเมล: [email protected]
Facebook: @uniquephuket
อีเมล: [email protected]
Facebook: @phuketflowers
โทรศัพท์: + 66 817288269 หรือ + 66 878957026
Skype id: @uniquephuket
Twitter: @UniquePhuket
________________________________
Additional Eloping in Thailand Resources: