Persian Wedding Theme Video
Mozhgan & Farshad wanted a beach front full wedding in Phuket. Therefore , we recommend a beach club wedding. This would be better suited for serving a reception dinner and have amenities like restrooms for the wedding guests. Plus there would be more options if the weather turned wet.
If a full beach wedding is requested and not just beach wedding ceremony, then we do try to find a beach club wedding venue or a sea front restaurant that we know.
The beach club is private and has cover so as wedding designers and planners we have more scope and flexibility in the overall wedding plan and design. Please note that most clubs will not be totally private unless you wedding is large enough to "buy-out" the venue (if possible). We can advise on this when a suitable venue has been chosen.
The beach club also has a cost advantages with only a single event fee to be paid, compared to a villa with it minimum 3-night stay booking requirement.
We hope you enjoy the wedding video below and gives you some ideas if you are planning or thinking of a Beach Club Wedding?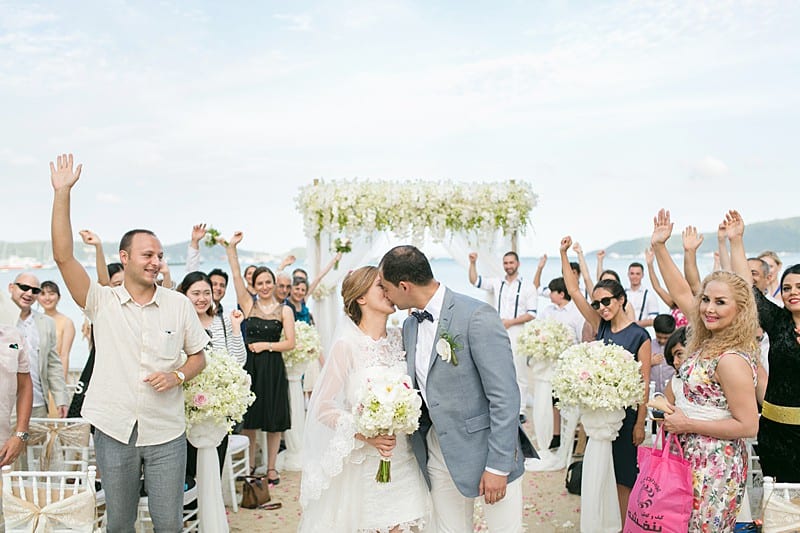 Beach Front wedding with lots of beautiful wedding flowers. Our wedding setups are designed to your brief whether is is a beach or villa wedding venue.
Another advantage of a beach club is we have more options and time for Wedding Reception set. Ideal for couples that want the elegance of a villa wedding but at beach front location.