Layan Beach Wedding & Video
Layan Beach Wedding – Patrycja & Jochem and thank you to them for for letting us share your Special Day.
This is still a remote beach on the North West side of Phuket. It is long and as it is so large – it always seem remote. However, it is is just a short drive from the large Laguna complex and Bang Tao.
If you are staying in Patong, it is about a 40 minute drive but the drive is worth it for the quiet and isolation.
Unique Phuket Wedding planners haa a small Team and beach wedding packages always ready for a beach wedding – and we all enjoy a Layan Beach wedding.
If a remote beach Wedding in Phuket is something you are looking for, please do not hesitate to contact us.
We have a number of beach wedding packages we use at Layan Beach. All our packages are customizable but below are some standard details.
When you contact us, we discuss the basic wedding package and then tailor it to your exact needs. In most cases we can keep within the originally quoted price for any reasonable upgrades.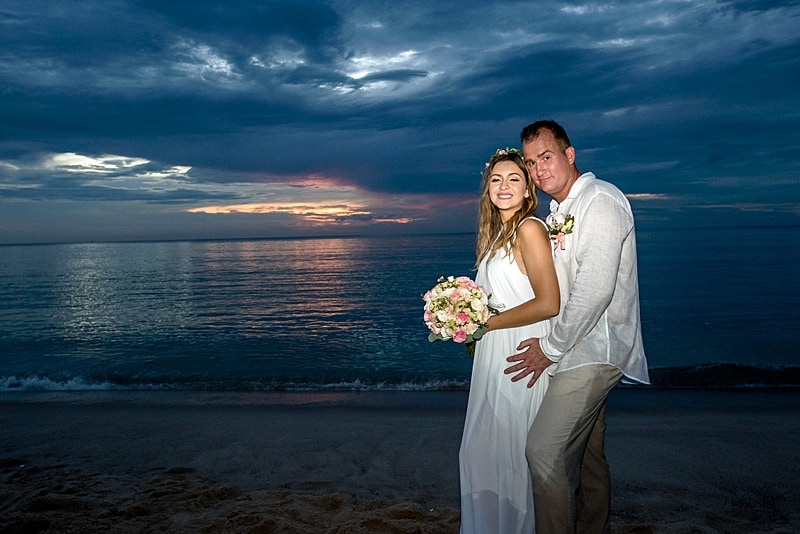 Our Typical Beach Wedding Package for up 10 guests
THIS INCLUDES:
Western Celebrant to run ceremony
Make Up & Hair for Bride (come to service at your hotel room)
Professional Photographer for 2 hours with edit photos sent by drop box link
Flower Arch/bamboo gazebo with fresh flower decoration
Petals on the aisle
Petals for shower (to throw on bride & groom when walk out the aisle)
Ceremony Table & Decoration
Colored Sand for Unity Sand Ceremony
Beach Chair
Ceremonial Beach Wedding Certificate
Round Trip Transportation from hotel to beach and back – 1 minivan
Venue Fee (private beach section) at Hua Beach or Layan Beach & Bangtao Beach
Music Speaker
Of course, if there is a part of this package you do not want, or you want to add to the package we can accommodate you with this.