Wedding Coordinator Checklist
What does a wedding coordinator provide?
From aesthetic designs to executing orders, there's a long list of things an experienced wedding planner should have to offer their clients. A skilled wedding organizer will not only help you with management and budget advice but they should also be prepared to help with contract negotiation, timeline creation, location or venue selections and vetting recommended vendors. Any planner worth their salt in the game will have a detailed wedding coordinator checklist to go over to make sure that every detail is covered. Unique Phuket Wedding Planners will hold your hand every step of the way and also attend every wedding so we are on hand and available to make any last-minute requests a reality.
Now you may be thinking a wedding planner is too expensive or outside of your budget but when you break it down into the steps listed below you'll quickly realize how much time and money they'll actually save you. Not only are you paying for them to plan and organize everything on your behalf, but having the local knowledge, connections and language skills are priceless, particularly for an incredible destination wedding in a far away land.
Step 1 Creating a Wedding Plan and Booking Your Wedding Venue
The first step involves deciding on important details like location, budget and dates
Narrowing Down the Dates
Before we can book any venues or villas we need to officially "set the date" for your wedding. You may be pretty flexible with your date or you may already have one in mind but either way, we can go over what your options are. We usually recommend to begin planning a year in advance but can always accommodate requests with a shorter time frame, however, this can limit your options depending on the season. In Thailand for instance, High Season is typically from October-March so some locations and services may already be booked for certain dates.
So one of the first and most important steps to planning a wedding is narrowing down a few dates that you know will work for you, your partner, and your closest loved ones.
While saying "We're getting married in Spring" sounds nice and all, the reality is we need to give adequate time and planning for everything to go smoothly. This is why we created our wedding coordinator checklist to go over the normal wedding milestones in a more organized and comprehensive manner. While we recommend just picking some dates to start with so we can then start contacting venues to request availability and pricing for you, it's also common for couples to simply decide their wedding date around when their dream venue is available.
Decide the Location of Your Wedding
Unlike the "good ol' days" when it was a common practice to have the wedding in the bride's hometown, fast forward to now and we can arrange a wedding almost anywhere in the world. Now that might make it more difficult for your family and friends to visit but unless your family lives on a tropical island the allure and natural beauty a wedding in Phuket, Thailand has to offer is irreplaceable. Sometimes we have to convince ourselves to get outside of our comfort zone or spend a little extra but when it comes to your special wedding day we always suggest to listen to your heart and don't hold back on making this the most memorable and important day of your life. A destination wedding can come with a whole slew of options and benefits not available in your typical town where the average person lives.
Figuring Out a Budget
Whether you want an incredibly luxurious private villa wedding or a more modest beach wedding, we can help present your range of options that fit within your budget and expectations. One of the most important decisions you'll make is how much you can spend on choosing a wedding venue within your budget but that also has what you have in mind. If you plan on having a large wedding and providing food, catering for the average reception alone can eat up half your budget. We can help you work out all the details and provide the most reasonable and modest options like a small private beach wedding or an extravagant all-out one.
Determine Approximate Attendance
Considering that every wedding venue has a capacity, it's important to take into consideration a location that can comfortably fit the number of people you're expecting to attend. Keeping an accurate wedding coordinator checklist backed by some sort of online wedding list registry will help you keep a more accurate estimate leading up to the big day. Although this number is flexible and you aren't expected to know the precise number of people who can actually make it, there's still only so much sand at the beach or seats at a resort so plan accordingly. If you have us make arrangements for 100 people but then 300 end up showing up then there's going to be complications. It's important to keep an accurate estimate to avoid any unwanted problems or overspending if we're paying for more seats and foot than we need.
________________________________________________________________________
After deciding your wedding date then venue choice is the priority with a parallel decision on a wedding planner ideally. Please see the outline of the next steps and our normal Wedding Coordinator Checklist for you. ##Suggested actions for you.
We are agents for many venues in Phuket and in most cases, your venue and wedding can be booked directly with us – to save time and save on bank charges. Please, can you confirm your venue choice and dates? We will reconfirm availability and rates and advise you accordingly.
Villa booking – the villas normally asked for a 50% deposit to book and confirm.
Wedding Planner – we asked for a 20% deposit of the current Wedding Spreadsheet balance. Your wedding spreadsheet a living document and it can change all the way to your wedding day. This is a summary of your wedding plan with cost and we never change your Wedding Spreadsheet without your email consent.
Both deposits can be paid direct to us and we take care of all the bookings. Our cancellation policy and other important information are here at this link: https://uniquephuket.com/wedding-planners-phuket/
## Agree on venue and wedding planner and make booking deposits.
## Design your RSVP invitations, create a MASTER GUEST LIST in Excel. Ceremony time at 5 pm, arrival time with refreshments at 4:15 pm. On the RSVP, ask guests for any dietary requirements, allergies, etc.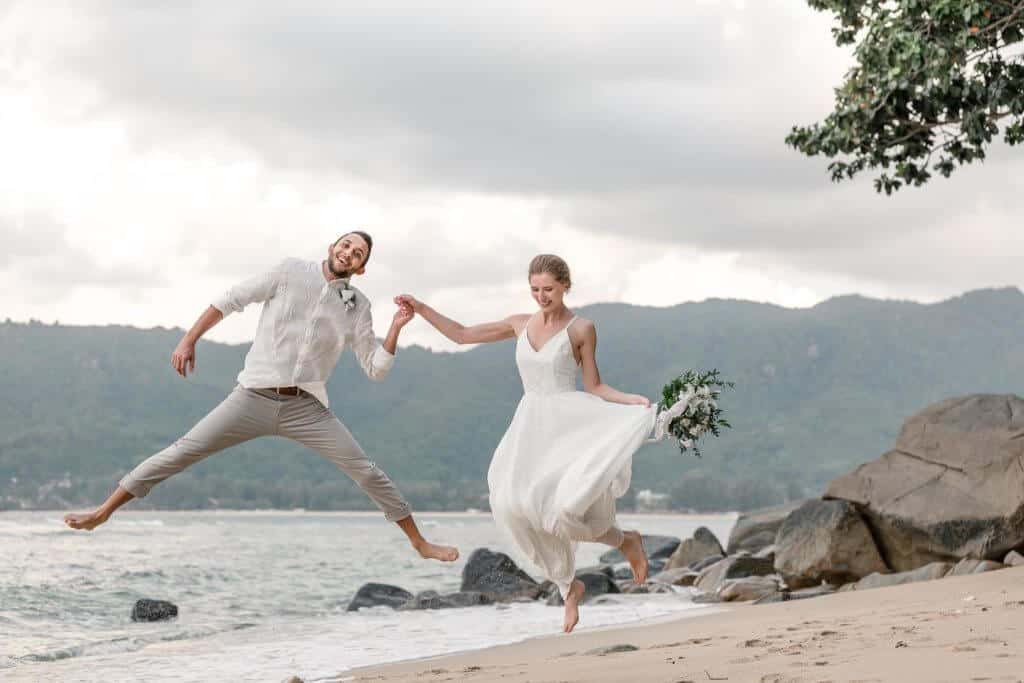 Step 2 – Wedding Photography, Videographer, and Hair & Makeup Selection & Booking
On booking, we send you an extensive list of our recommended wedding vendors in Phuket for you to review and select. On selection, we confirm their availability and rates. If there is an artist that you like that is not on the wedding coordinator checklist, we can contact for you or you can book direct.

Choosing Your Photographer, Videographer and Makeup
With all of the excitement and anticipation that comes with planning your wedding, the day finally comes and passes more quickly than you'd imagine. While you should savor each moment, one thing is for sure: you'll want to relive it forever. The best way to draw value out of all you put into your wedding day is to make these moments tangible. So we've asked a handful of our favorite pros for their best advice on choosing a wedding photographer to document this day.
Land on a budget
There are several things to consider when coming up with your number, and once you have it set, many ways to apply it toward the services you need most.
Know your style
Find not only what appeals to you now, but will for generations to come. Looking beyond photography trends will lead you to discover your true taste.
Look beyond portfolio highlights
Viewing a full gallery or two of real weddings a photographer has shot will allow you to see a more comprehensive range, from family portraits to reception detail shots.
##Review Wedding Photography, Videographer, and Hair & Makeup vendors and make your selection
Step 3 – Wedding Design
We will collect your wedding design ideas by email, Skype call. We deliver a Wedding Design Document for review and revision until correct.
We create a private Pinterest Board for you in addition to our wedding coordinator checklist and other resources we will provide as well as 24/7 phone and chat support..
## add your wedding design ideas to your private Pinterest Board. You can also email your designs ideally with reference pictures.
Wedding Design Theme
Long gone are the days when wedding design was standard when you topped white tablecloths with soft pink centerpieces and called it a day. With a huge range of venues, nearly endless rental options, and inspiration running the gamut from soft and timeless to eclectic and edgy, deciding which style works for you might seem like a huge challenge. But don't let having too many ideas get you down!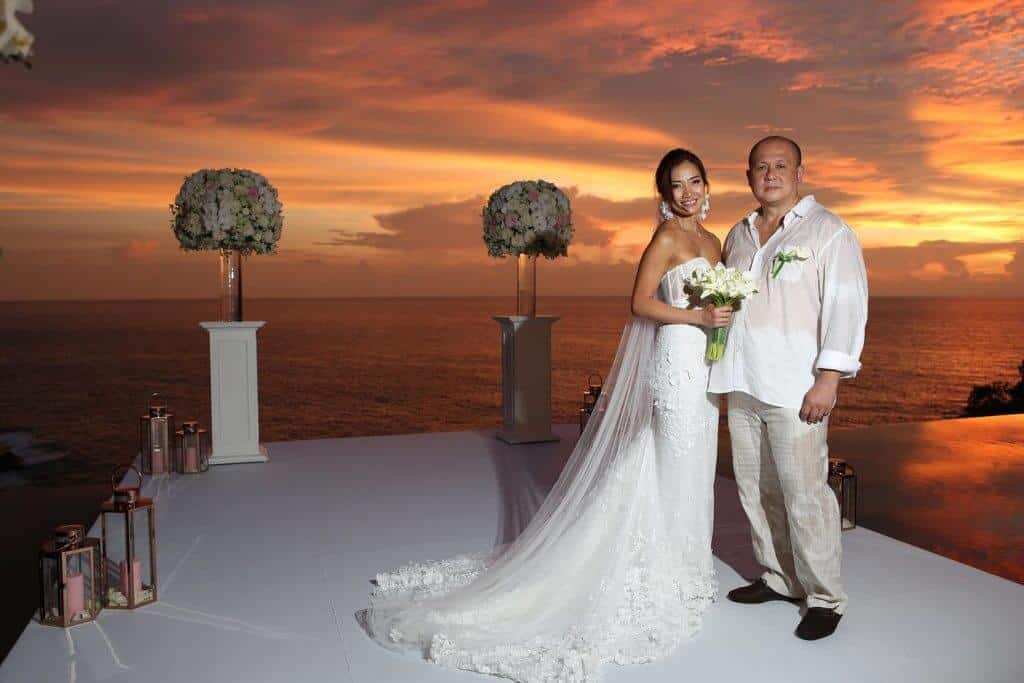 Step 4 – Menu Design
We send example menus for you to review (Thai and/or Western) and answer any questions request you have on the menu and bars. It's also very important to take your guests dietary needs or special requests into consideration. If anyone has an allergy or restriction we need to know about it so they don't go hungry. Whether you have Vegan or some other form of diet we can help accommodate the needs of your guests as long as we know what they can or can't eat.

## You send us your ideal Menu – we check with our Chef on balance and cost then advise.
Your reception food and drinks not only fuel the party (literally), they also provide another chance to infuse personality and style into your unique celebration. From aesthetics to flavor, these expert tips and suggestions will help you choose the perfect sips and plates.
Nail Down a Budget
From the serving style and the number of guests to the appetizers at cocktail hour, every decision you make will impact the cost. Establishing a budget early on will help you stay on track.
Step 5 – Wedding Day Schedule & Layout Plan
For the last two months leading up to the wedding, we put all the plans and decisions together from the wedding coordinator checklist and create a Wedding Schedule with a Wedding Layout at the venue – for your review.
##Review and agree Wedding Day Schedule and Layout.
## Confirm and update MASTER GUEST LIST with your guest's Accommodation so a Transport Plan can be finalized. Make sure and add this to the wedding coordinator checklist.
## Confirm Final Guest numbers 2 weeks before the wedding.
Choosing the Wedding Reception Layout and Schedule
Getting started
Deciding who's going to sit where can be overwhelming, but we can help make the entire process workout as smooth as silk. We'll help you set up a floor plan, seat your guests and share the chart with your VIPs.
Creating your Stage
It's important to decide where you'll have the altar first and then building out the seating and decorations around that. Will your guest have a good view of the sea and sky or will there be obstructions? Plan on making your arrangements from the various viewpoints of your guests as well as the bride and groom.
Reception Seating plan
How do you make sure all your guests have seats? Assigned seating is highly recommended but you also want to make sure to sit certain people close to each other. We can accomplish this without seating arrangement tools to take care of everything for you.
Let People Know
Most people will want to have a look at your wedding guest seating plan. We can help you design, print, email everything to your partner, venue, or anyone else who may need it.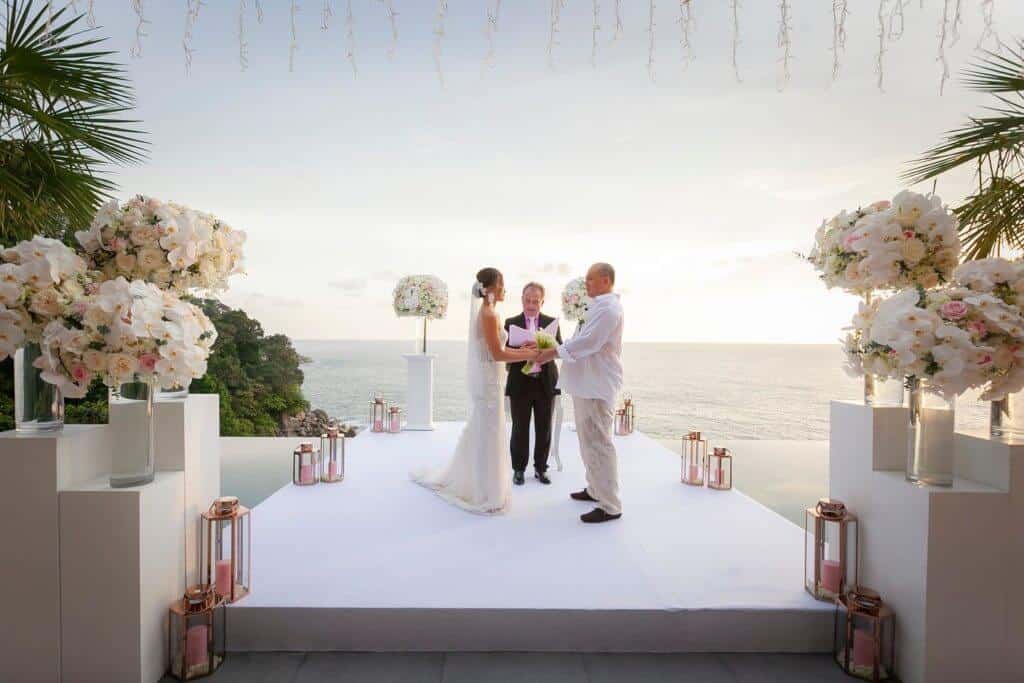 Step 6 – Wedding Day
The planning is now complete and Paul & Supparin just monitor all is going to plan and adapt accordingly. We stay until your wedding is complete.
##Wedding Rehearsal with Bridal Party ideally the day before or on the morning of the wedding.
##Delegate wedding day tasks to your Bridal Party as part of the planning.
## Remember to eat a good breakfast and a light lunch.
## Wedding Coordinator Checklist – Get Married!!!
##Enjoy your Special Day!
Wedding Coordinator Checklist by Unique Phuket
Paul and Supparin from Phuket's unique wedding planners can help you arrange the perfect destination wedding in Thailand for your special day. Paul is the event planner and celebration of the wedding, while Supparin is a talented and professionally trained flower shop guide. We help couples from all over the world plan their dream wedding with weddings in Phuket. We are inexpensive, without compromising elegance and quality because we can provide the most.
We've created a simple question for your Phuket wedding to begin. We can estimate your budget quickly based on the answers you provided and will respond by email for your wedding. The wedding questionnaire can be accessed here to help us plan your wedding expenses in Phuket. It is our ultimate goal to help you get everything you need at the best wedding package price in Phuket.
Just contact us by phone or email us to inquire about how we can help you marry in Phuket amazingly. We will do everything to help make your special day more special with wedding services. We will handle everything for you and help you create the best memories that will last forever.
________________________________
Wedding Coordinator Checklist Resources: