Thai Wedding Dress Styles
If you're looking for a truly unforgettable wedding experience then you may want to consider a Thai traditional wedding with its own unique clothing, rituals, and ceremony. One of the most appealing parts of any wedding is selecting the dress for your special day. When it comes to selecting a Thai wedding dress, there's a large variety of colors, styles, and designs to choose from. Regardless of whether you're getting married for the first time or renewing your vows, a traditional Thai wedding in Phuket Thailand with all its tropical charm is a highly recommended option for anyone looking for their wedding to stand out.
With exceptional world-class Thai Lanna style resorts like Villa Aye, you simply can't go wrong selecting Phuket for your destination wedding and Unique Phuket Wedding Planners are here to help you make your dreams come true. Phuket comes with endless beaches and island activities for you and your friends to enjoy doubling it as a perfect wedding and holiday destination wrapped in one.
Thai Wedding Clothes Origins
Before we address what to wear or more details about the different Thai wedding dress styles, we want to first cover some background on the origins of the Chut Thai or "Thai Outfit". In the past, men and women of Thailand would wear a silk or cotton wrap-around called a Chong Kraben. Women usually covered most of their body down to their shins whereas men typically would wear them higher even up to their thighs. This colorful and relaxed style of clothing is carried over into a more sophisticated fashion when it comes to wedding attire as will be discussed below.
What to Wear to a Thai Wedding
Some more contemporary high society weddings in Bangkok may require a black suit and tie but it's entirely up to the bride and groom. It's perfectly understandable if your guests are farang, or "foreigners", that it may be difficult or even impractical to own a traditional Thai wedding dress or suit. Unique Phuket can easily help arrange custom-tailored Thai style suits and dresses for your bridesmaids and best men, just let us know the measurements and we'll make the arrangements.
If you plan on being the only ones in traditional Thai wedding clothes and your venue is a more informal location like a beach or in a village then it will probably make sense for the rest of the guests to dress down according to the occasion. Considering that some of the traditional Thai wedding ceremonies take place early in the morning and can go for hours into the hot and humid weather, you may want to allow your guests the flexibility to dress more comfortably.
What Not to Wear
As a general rule for a wedding in Thailand or even most temples or government offices, it's highly recommended to avoid wearing t-shirts, vests, shorts, thongs or flip-flops. Being that Thai people tend to be highly superstitious, it's also highly recommended to avoid wearing the color black at a wedding with the exception of a black jacket, black shoes or black trousers.
Custom Order Thai dress
Unique Phuket can order your custom Thai wedding dress and suits to be tailored according to your requirements regarding measurements, color, etc. We usually recommend visiting a week before your wedding date to get all the fittings and other last-minute details dialed in. We can also provide several dress price quotes with a breakdown of different materials, styles, and designs.
What to Wear for Female Wedding Guests
Thailand isn't quite as strict about women's wardrobes as some places in the Middle East or elsewhere but it is commonly expected for women to not show too much skin, particularly cleavage or their shoulders in special places like temples. The same can be expected at a traditional Thai Buddhist ceremony but not applying to the bride in her Thai wedding dress because the way the traditional clothing is worn covers the woman while still looking breathtaking and beautiful. Female guests should plan on wearing a dress or pants past the knees and a shirt that covers the shoulders or use a sarong, scarf or jacket for cover. Closed-toed shoes are best but basically anything other than flip-flops will usually be considered appropriate.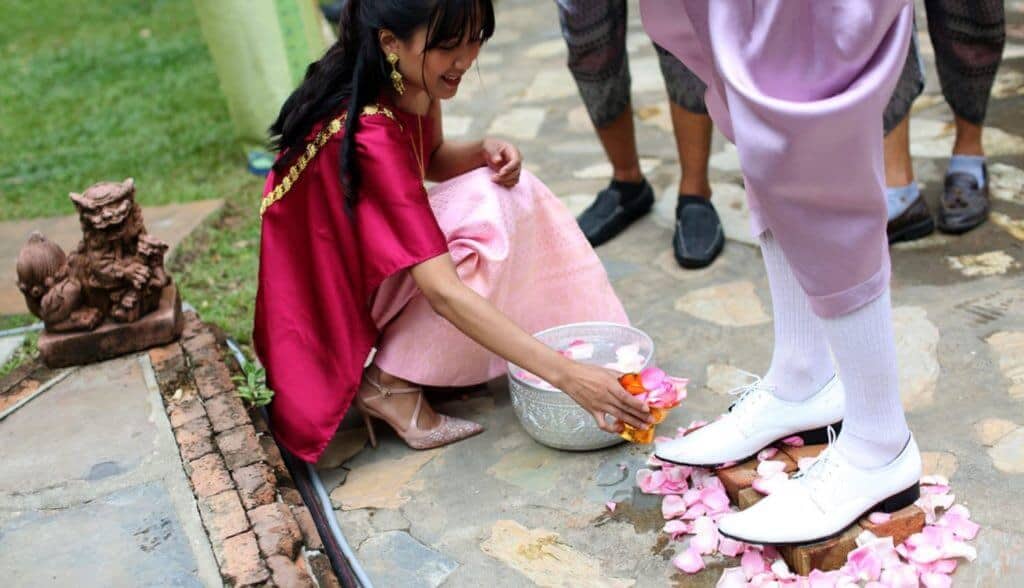 Official Thai Wedding Dress or Chut Thai for women
There are several types of traditional chut Thai wedding dress styles for women, each comprised of different ensembles of various garments, jewelry, and accessories rooted in the past. Most of these variations can be worn for a formal or wedding occasion, while others are typically more associated with particular events in Thai society.
Chakkri: Chakkri Thai formal wear is created using a traditional weaving technique called yok, which weaves fine threads of silver and gold into the luscious clothing and results in a thicker finish. This long tube dress style has two front pleats and uses an upper garment called a sabai to cover the shoulders. These elegant garments combine to make an excellent option for most Thai wedding dress preferences.
Siwalai: If you want to go for more royal attire for your ceremony then you may want to consider a Siwalai style Thai wedding dress. This is a one-piece gown sewn together with two separate pieces of clothing using the tube skirt design and accompanying articles of clothing. It's common to even add brocades for an additional air of sophistication and high-class appearance.
Boromphiman: A Boromphiman style Thai wedding dress is very similar to siwalai except it uses the sabai more like a sabai and is acceptable for both formal and less formal occasions.
Chitlada: If you're planning a Thai wedding ceremony during the day then a Chitlada Thai style wedding dress and formal wear may be a good selection. This traditional daytime wear is used as formal ceremonial wear for daytime events is comprised of an embroidered bottom, a long-sleeved silk blouse, and decorated front.
Amarin: Amarin style Thai attire usually makes an appearance at more formal evening events. This more modest style features an almost square-like, long-sleeved blouse with a round neck and buttons all the way up the front. This is not a particularly popular style of formal wear as the garments and clothing are not particularly fitted and therefore do not show the shape of the body very much.
Chakkraphat: The Chakkraphat style Thai formal wear is more modest than its Chakkri counterpart is is primarily worn for royal events and ceremonies. As with other Chut Thai style clothing for women, this features a tube style lower garment with an upper body wrapped in a luxurious shawl, sometimes with one shoulder exposed. This style also features a lot of embroidered details making it one of the more elegant formal Chut Thai wedding dress styles for women.
Dusit: The Dusit style Thai wedding dress formal wear is a fairly Westernised style of national Thai dress. This is often worn at international events and can be worn for either a traditional Thai style wedding or one with more foreign themes. This dress is usually made of silk and goes all the way down to the ankles and is often coupled with a belt to add greater definition to the torso. This style incorporates the common pleated Thai Yokonnang front along with the pransind Sarong bottom with the top being covered in a silk shawl and wrap.
Thai Dress Options in Phuket
Formal chut Thai is used for a variety of occasions ranging from royalty to weddings, we can put in the work to provide you with the best options for a truly unique and traditional Thai wedding dress and ceremony in Phuket. It's highly recommended that you get your fittings done in advance so that your wedding day can go off without a hitch. We will do everything possible to make sure you get all your affairs in order for an absolutely incredible wedding in Phuket Thailand.
Wedding Planners in Phuket
Paul and Supparin from Phuket's unique wedding planners can help you arrange the perfect traditional Thai wedding and custom Thai wedding dress for your special day. Paul is the event planner and celebration of the wedding, while Supparin is a talented and professionally trained flower shop guide. We help couples from all over the world plan their dream wedding with weddings in Phuket. We are inexpensive, without compromising elegance and quality because we can provide the most.
We've created a simple question for your Phuket wedding to begin. We can estimate your budget quickly based on the answers you provided and will respond by email for your wedding. The wedding questionnaire can be accessed here to help us plan your wedding expenses in Phuket. It is our ultimate goal to help you get everything you need at the best wedding package price in Phuket.
Just contact us by phone or email us to inquire about how we can help you marry in Phuket amazingly. We will do everything to help make your special day more special with wedding services. We will handle everything for you and help you create the best memories that will last forever.
อีเมล: [email protected]
Facebook: @uniquephuket
อีเมล: [email protected]
Facebook: @phuketflowers
โทรศัพท์: + 66 817288269 หรือ + 66 878957026
Skype id: @uniquephuket
Twitter: @UniquePhuket
Thai Wedding Dress
________________________________
Traditional Thai Wedding Resources: