Investing in a professional wedding planner is totally worth it and may be one of the best investments you'll ever make considering your special day only happens once. The peace of mind a professional day-of coordinator for your wedding can provide is quite literally priceless, but you shouldn't just go hiring the first person that says they're connected and qualified. If you really want to be able to relax and leave the logistics up to someone else, you need to be able to trust they're not only creative enough but also competent to take on such an important task as organizing everything for your wedding day. That's why we've compiled this comprehensive list of questions to ask wedding planners to help you make the best possible choice for who you hire to be your designated wedding planner.
This is especially true if you plan on having a destination wedding in another country where the currencies, language, and access to supplies may vary dramatically. That makes it even more important that you select someone who is capable of navigating through every issue along the way to make sure you get to your final destination with all the necessary elements for a flawless wedding ceremony. In Phuket, Thailand where we are based and do hundreds of tropical destination weddings every year, we know how hard it can be to plan a wedding from abroad. In the checklist below we will cover things to do before you start contacting potential day of coordinators vying for your wedding planner position. We will also cover questions to ask them as well as answers or recommendations based on our experience industry experience.
Your wedding day is an extremely personal event. After all, it's about celebrating you and your partner's love and lifelong commitment to one another. So it makes sense that you'd want to hire a professional wedding planner that you not only like but also understands everything you envision for your special day. To make the process easier, we've compiled the most important questions to ask your wedding planner before hiring them from start to finish.
We hope that our list helps you make a more educated decision before deciding who to hand over the responsibilities to. This will include basic questions like if they'll be available on your wedding date if you need anything or if they even plan on attending. We will also help you cover some important logistics regarding pre- and post-wedding planning questions to ask wedding planners to makes sure they are not only experienced enough but also capable of fulfilling your expectations, regardless of how lavish they may be. Before you decide to hire a planning pro, it's important to thoroughly vet them to ensure that they're the right fit for you and your partner.
We Love A Great Love Story
We only work from the heart and are always honored when someone selects us to take care of them and help plan their special day. You can call us your wedding coordinators, wedding stylists, or wedding planners, or whatever you want but you can expect nothing but top-notch professionalism and expertise from Unique Phuket Wedding Planners to help with your wedding day.
Paul and Supparin, from a Unique Phuket Wedding Planners, are the creators of beautiful destination weddings and honeymoons in Phuket. Paul is an experienced event planner and ordained celebrant for the wedding. Supparin is a talented and professionally trained flower shop tour guide and Thai local who can help transcend language barriers you or other foreigner planners would have otherwise struggled with. We help couples from all over the world plan their dream wedding with a wedding in Phuket and know how important these questions to ask wedding planners are to making the right decisions. Not only do we have affordable rates without compromising elegance and quality but we also attend every wedding to ensure that your special day goes off flawlessly!
With that being said, here are some key questions and scenarios to consider when interviewing a potential wedding planner as well as answers you should expect to hear based on our professional experience and knowledge.
Before Interviewing
Before you even meet or reach out to any wedding planners you should ask everyone you know for recommendations. Regardless of whether you plan on having your wedding locally or a distant destination wedding, most of the answers should be relatively similar. In your local area there is likely to be a list of preferred wedding planners who you can contact and ask some of the questions below to help you get a good idea of who is capable of what and after a few interviews you'll probably pick up on planners who are more hesitant than others to commit to certain things. This is one thing we will help point out throughout the questions listed below so you can find the best planner for your expectations and budget.
The indispensable value that comes along with a professional full-service wedding planner like Unique Phuket is truly something not to be taken for granted. The last thing you want to do is have issues with your dress, venue, or anything else when you should be focused on how happily married you're going to be. It should be the main objective of any professional wedding planner to alleviate all these stressful things and take them on themselves and then making them happen with little to no impact on the bride and groom.
Depending on your budget, you may only be able to afford a Day of Coordinator who will only help with the day of events and coordinating. These type of wedding planners typically only come in to help within the final 4-6 weeks before the wedding and prior to most of the important things already being planned and organized. A full-service wedding planner, which is what these questions to ask a wedding planner post are aimed at, can be expected to help organize things as far out as a year in advance. This is especially important when it comes to popular destination weddings like Phuket where many luxury resorts and locations have a long waiting list and therefore need to be booked well in advance.
When you meet for an in-person interview, there are plenty of questions needing to be answered so you should plan on bringing a book to keep notes and maybe even a copy of this list of questions and answers. This person will be personally responsible for setting up all vendors, preparation, ceremony, photos, entertainment, food and more. They will also be your primary point of contact for any questions or concerns leading up to you exchanging your vows.
Wedding Planner Interview Questions Timeline
We've broken down the rest of our questions to ask a wedding planner post into these sections: Basics Questions, Pre-Wedding, Day-of Wedding, Post-Wedding, and Additional Wedding Planner Questions. This seems like the most logical way for us to guide you through the wedding planner hiring process and also make it easy for you to jump from one section to another based on what stage of planning you're in before and even during the process leading up to your wedding ceremony day.
Basic Wedding Planner Questions
1. Are you available on the day of our wedding?
When it comes to interviewing wedding planners this should be one of the very first questions you ask them. We can't stress enough how important it is to have your planner on site until your ceremony and festivities are finished in case of any emergencies or last-minute changes. We can't tell you how many times we've heard of horror stories about people who have already paid their wedding planner who does not attend the wedding and of course, if something goes wrong then the family is left to fend for themselves.
That's not how we operate at Unique Phuket Wedding Planners and we always make it an imperative to be there for all the weddings we plan to ensure things go smoothly for your special day. If a planner can't commit to this then we highly recommend finding someone else who can. If it's a scheduling issue and you really want to work with them, then we recommend you both agree on dates for your venue and their availability before signing any contracts. It's pretty common for popular planners to be booked out so it's ok to ask for a few options so you can take them into consideration when you're finalizing your timeline.
2. Can the planner work within your projected budget?
One of the next most important questions to ask a wedding planner is if they're able to work within your projected budget. It's extremely important to have a thorough discussion about your wedding plans well in advance to making any reservations. This is not only super important for you to have a better understanding of how realistic it is that you'll be able to have all the things you are hoping for included in your wedding but it's also a great opportunity to test the planner on their knowledge. For example, if the planner isn't able to give you simple price ranges for certain resorts or venues then perhaps they also lack the experience you're looking for and need someone to handle the rest of your plans too at prices you can afford.
3. What services can we expect from you?
Many answers aren't always clear just by visiting someone's website or reading their reviews in regards to what they can or can't offer or arrange for your special day. This is why it's particularly important to make sure that your planner has all the necessary connections and vendors to arrange everything you need. This typically includes things like having an experienced wedding photographer that knows all the best spots. It also means they may have a working relationship with many of the top local resort management staff, clothing or flowers shops etc. So when it comes to selecting a wedding planner, make sure they can not only help you create an effective and actionable timeline for your wedding but that they're also capable of putting the correct people and plans in place for it to all come together nicely.
Pre-Wedding Logistics
4. How many meetings are needed and what will we need to do ourselves?
This is when the wedding planner should be able to provide the planning process or a wedding milestone timeline of what everything will look like from start to finish. Some planners may just provide a quick draft via email or follow-up with a phone call. At Unique Phuket Wedding Planners we take every wedding very seriously so don't be surprised if we do both of these things as well as ask about other various details so we can provide you with the most accurate expectations as possible. With that being said, we always customize our wedding planning outline based on the specifics of each couple and will always tailor our services to match your described desires.
5. Will you handle the contracts, services and payment processing?
The short answer is YES. We always help with quite literally as much as possible until our couple arrives on the island for their wedding. If a wedding planner is only willing to do part of the work and not help with other important arrangements like making sure payments are processed and everything is properly reserved then you may want to reserve your spot for someone a little more hands-on. This is particularly more important when making arrangements for a destination wedding where you truly need someone in the area acting entirely on your behalf to ensure everything is locked in for your special day.
6. Can you help us pick vendors and make the arrangements?
Depending on how involved you want to be, another important question to as wedding planners is how involved you need to be in selecting and hiring the necessary vendors and local professionals. This is particularly important when it comes to fulfilling your expectations because your wedding planner really needs to understand what you want to bring your wedding to life. This involves hiring the right people, services and places necessary to make sure you get everything you were asking for without any unexpected issues.
A good wedding planner should be able to provide a detailed breakdown of how things normally go and then incorporate examples regarding your specific requests in relation to their experience. For example, if you ask what photographers and locations are ideal we will easily be able to answer this and provide multiple options and ideas without hesitation. Wondering about flowers and decorations? We can also quickly provide examples of past wedding arrangements to help you narrow down your selection with not only words but pictures from previous weddings we've planned. If a wedding planner isn't able to do the same then you may want to consider somebody more prepared.
7. Do you understand our wedding desires and will you be able to communicate this to vendors?
The wedding planner you choose is truly going to be an extension of yourself, representing you throughout the entire wedding planning process. One of the most important parts in selecting a wedding planner is that they understand you as a couple and what vision you have for your special day. Since they will be making all the arrangements for the ceremony, it's vital that they're able to convey your ideas and desires. Having someone who can turn your ideas into actionable results to provide the desired atmosphere for when exchange your vows is irreplaceable. So when it comes to selecting a wedding planner, don't accept anything less than someone who is going to be your number one advocate and is willing to work on your behalf from start to finish.
8. Will you be handling the invitations and RSVP's?
We will certainly help our clients with designing and delivering their wedding invites and more importantly, tracking and coordinating all the RSVP's. When it comes to full-service wedding planning, we will help with quite literally everything our couples ask for (within reason), so make sure you hire someone who can confidently do the same.
9. Do you handle rentals, photographers, florists, catering etc?
We most certainly can handle all of these things and more when it comes to hiring us as a full-service wedding planner company. If someone is hesitant about any of these basics things then you should be a little apprehensive. When it comes to us, we've fortunately built up relations with all the top local photographers, caterers and rental shops in our area. So when you go to hire a professional planner in your area, they should be able to do the same. If they can't confidently say they can help arrange the rentals for your best men or bridesmaids etc, or know more than one photographer that is usually a red flag that this person or business may not have the necessary experience to handle everything for your wedding.
Day-Of Wedding Logistics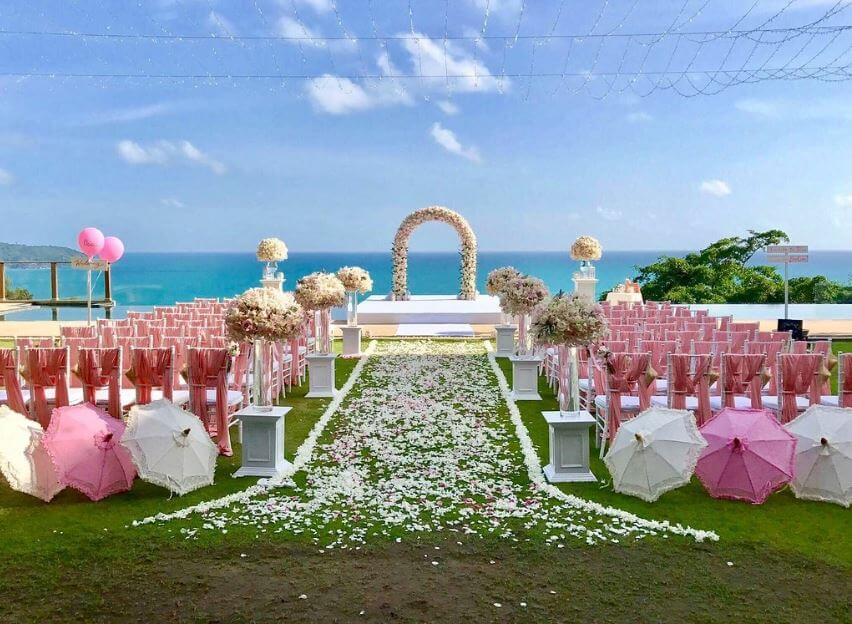 10. How many staff will be on had on the wedding day?
Asking how many staff they plan on having available the day of your wedding is important, not only to gauge their experience being able to quickly answer but also why. There is a huge difference between needing staff for a small beach wedding as compared to a large private villa wedding with 100 guests. Having a wedding planner that has experience across this broad range of needs is something that will directly dictate how smoothly things go. If a planner is set on doing everything completely on their own regardless of the size then maybe they are just trying to maximize their income which can usually end up costing you problems and complications later when they are understaffed or lack the proper planning and experience.
11. Can you provide a wedding planning process timeline so everyone involved on the same page?
Yes, we always create a custom timeline for each and every wedding we are involved in and also have created this Wedding Coordinator Checklist for our clients and vendors to work with. This comprehensive list serves as a guide for each wedding we plan from start to finish and will be customized to include all the specifics for your wedding which will then be provided to everyone involved so that things go as smooth as possible. This also helps hold anyone accountable who may be falling short of their task so we can quickly replace them before the day of the wedding. If a vendor can't make it happen based on our initial outline then we will find someone who for you who can.
12. What happens if you're sick or something else happens that you can't make it?
One of the most important questions to ask a wedding planner is what if something happens and you're not able to make it to our wedding? Well, fortunately, in our situation this has never happened since either Paul or Supparin will always be able to make a wedding. We also never overlap our weddings to ensure that we can provide all the attention and support each and every one of our couples deserve. If a wedding planner isn't able to make this commitment then you may want to select someone who is willing to make your wedding a priority.
Wedding Planner Experience
13. How many weddings have you planned?
One metric in deciding how skilled and capable a wedding planner is going to be able to handle organizing everything for your wedding is based on the experience level they're able to prove. This can be reinforced by online reviews and example weddings they've done but you should make sure they not only have years of quality experience but also quantity to go along with it. I would rather have a planner that can successfully execute 10-20 weddings a year with minimal issues over a planner who can only show 1 wedding a year going flawlessly. Hiring someone with the skills to adapt to any situation is priceless when you expect nothing but the best performance and results for your wedding.
14. How many weddings will you be working on throughout the entire process leading up to our wedding?
We understand that on the day of the wedding you want your professional planner to be on-site and available, this is something we can guarantee even while regularly coordinating events for 10 other weddings at the same time. This is part of the expertise and experience that's irreplaceable with less experienced or discount wedding planner.
15. Have you planned any other weddings at our site?
If you're hiring someone locally then it's probably ideal if they have proven working experience at the venue or location of your choice. The same can be said for anyone planning a destination wedding with us in a place like Phuket where you will be even more dependent on the planner is able to professionally handle everything in a timely manner and within budget.
16. What ideas do you have to bring our vision to life?
We often asked specifics about how we envision executing your ideal wedding while incorporating all the special intricacies that make your day unique. After years of local experience, questions like this come easy for us and should for any other seasoned professional wedding planner worth their salt in the game. If the planner is hesitant or incapable of offering specific examples when asking certain wedding planning questions then you may be taking a risk selecting someone who lacks the means to pull it off. Choosing someone that not only talks the talk but can walk the walk is monumentally important for the perfect wedding plans to work out in your favor.
17. Are you able to stay calm under pressure and how do you manage day of disasters?
Any experienced wedding planner should be able to answer this question with at least one example off the top of their heads. For example, we could say how we handled a particular resort management staff telling us last minute that we can't set off fireworks on the property and how we were able to quickly find a solution to the problem before it affected the wedding. It's simple things like this that speak volumes about a wedding planner and their ability to make your dream wedding a reality.
18. Do you have any references we can check?
Obviously, checking online reviews in this day and age is highly recommended and fortunately, Unique Phuket Wedding Planners has maintained a high level of success and satisfaction we can be proud of. So much so that we are confident that many of our reviews speak for themselves and have often lead to people choosing us before even contacting us. It's this high level of care, effort, and consideration that we put into each couple's weddings that make us a leader in our area. Having reviews on sites like Google and Trustpilot where recommendations can be especially important when planning a destination wedding because many countries outside of Europe or The United States may not be as up to date with online expectations, therefore making it tough to make a good selection. Fortunately, we have put in a lot of work building up our online image and we highly recommend working with other planners that have done the same.
Post-Wedding Logistics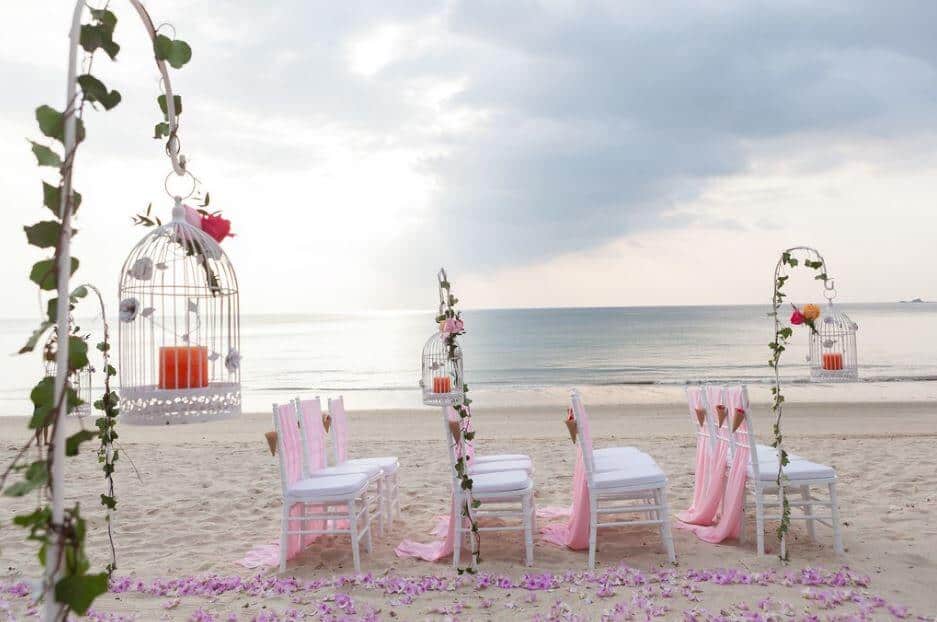 19. How do payments work and what are the initial costs for booking your wedding services and venues?
Most fees and up-front costs can be included in our initial reservation fees as described below:
Balance Payments. Our payment policy is very flexible after the 20% booking deposit but we ask for the following:
That 30% of your remaining current Wedding balance is paid at least TWO (2 ) months before the event date.
The final balance (50%) is paid at least ONE (1) month before the event date.
Under the circumstances where there are last-minute plan changes and any catering charges where applicable (see (6) above) there MAY be a final "wash-up" spreadsheet to close your Wedding file that is settled by either party within 30 days post your event date.
20. Do you have a cancellation policy?
Our cancellation policy and other important information are here at this link: https://uniquephuket.com/wedding-planners-phuket/ This information and your Wedding Spreadsheet is our Wedding Contract. PC Consulting Asia is a fully registered limited liability company in Thailand and Unique Phuket Wedding Planners runs under this company. We also follow up all payments with a full invoice and company receipt. We accept payments in THB, GBP, AUD, Euro and USD – for non-THB payments, we use TransferWise's great FX rates for calculations of equivalent amounts in a foreign currency – please advise your preferred currency?
PayPal/Credit Card with a 7% service charge
After Booking Your Wedding Planner
Enter all the vendor information in the Vendor Contact Book Note the vendor on your Budget Spreadsheet – vendor name, total, the deposit paid and date remaining payments are due (in the notes section of budget). Make sure to sign up for one of the timeline webinars approximately 2 months before your wedding so you can learn about all the options for setting up your timeline. Keep a file on your computer of all the completed contracts. Send these to the DOC at least a month prior so she can begin putting together her file for you.
Additional Questions to Ask A Wedding Planner
If you're planning on booking with us directly or want to compare our answers with other potential wedding planners to help you narrow down your selection then we hope our responses can help guide you to make the best choice.
Unique Phuket Business & Experience Questions
Is the wedding planner available on your wedding date?
Yes, both Paul & Supparin until your wedding is complete
What services does the planner offer (full-service event design and coordination, a la carte or day-of)?
Normally full service but would consider other options
If they provide full-service planning, what do they need from you?
Design ideas, review wedding spreadsheet, wedding design and wedding day schedules
Do they provide different wedding packages?
For Ceremony only we have packages. If with reception dinner we Tailor each wedding
How many weddings are they working on at the same time as yours?
It depends but around 10
Do they have another wedding or event the same weekend?
We never have more than one event per day
How long have they been in business?
We have proudly been in business since 2014.
Do they have a business license?
Yes, PC Consulting Asia is the Legal company in Thailand
Are they a certified wedding planner?
Paul MBA , certified project manager. Supparin Degree in English, Certified Florist and Tour Guide
Is wedding planning a full-time job for them?
Yes
Are weddings the main events that they plan?
Yes and birthdays special occasions etc
How many weddings have they planned?
100s
How many weddings do they plan in a year?
100
What is the average size wedding they plan?
50 Guest in Villa or Beach
Are they able to help you plan the vision for your day?
Yes
Can they help you stay within budget?
All reasonable budgets yes
Do they have a team working with them? What are the team members' qualifications?
Yes, all qualified independent florists. To keep our costs reasonable we do not have full-time staff
Will they plan the rehearsal dinner and post-wedding brunch?
Yes, done many times.
What is their back up plan for inclement weather or illness of their team?
Every event has a plan for bad weather so we aren't left scrambling at the last minute so rest assured we always have a backup plan in place.
Have they planned any weddings at your venue?
Chances are we have done a wedding at your venue whether it's a resort or a beach, we have likely already planned a wedding there in the past.
Will they be present at all vendor meetings?
Yes, we will always be present to ensure there are no misunderstandings and that everything will be ready for your wedding day.
Do they handle contracts with your vendors?
The contract is with Unique Phuket – we manage all vendors
Do they have preferred vendors?
Yes and we send lists after booking
Can you pick vendors they have not worked with before?
Yes, we are open to working with different providers.
Are they able to get discounts from certain vendors?
Yes, we actively work on behalf of our clients to get you the best prices for all aspects of your wedding.
If there are difficulties with vendors, does the planner handle them?
Yes of course
Do they have insurance coverage?
No, as there are many such policies online
What time will they arrive for the festivities and leave?
We are there for all the events.
Do they have photographs to show you of other weddings they have planned?
We also have a Portfolio website, in addition to our main sites, where you can see pictures of our recent Beach & Villa Venues at uniquephuketweddings.com.
More of our recent Wedding pictures can also be seen at https://www.flickr.com/people/phuketweddingplanners/.
Can you come back and see it set up for another wedding they are coordinating?
Yes subject to permission of the Bride & Groom
What challenges have they faced with weddings in the past and how did they deal with them?
Considering Phuket is such a tropical environment, sometimes the weather doesn't cooperate but that never stops us from improvising and having a successful wedding ceremony.
How many meetings do you need to have with the planner?
Depends on size but only what is necessary
How do they best communicate with you?
Email so all decisions are documented
How often does the wedding planner keep in touch with you?
Whenever needed, we will always provide email, phone and chat support leading up to your special day.
Will they create a timeline?
Yes of course – see our timeline pdf here or blog post here.
How do they communicate the schedule to everyone involved?
By email and Google calendar invite
What do they wear if present at your rehearsal, ceremony and/or reception?
Unique Phuket uniform
Can they provide references?
Yes, we have a large number of positive reviews on Google, Tripadvisor, and Facebook.
Our Google Wedding reviews can be seen here: http://bit.ly/2q723G4
Trustpilot reviews can be seen here.
Facebook reviews can be seen here.
What is included with their fee?
Everything itemized on the agreed Wedding Spreadsheet which we will provide.
What is the total cost and what is required for a deposit?
Balance Payments. Our payment policy is very flexible after the 20% booking deposit but we ask for the following:
That 30% of your remaining current Wedding balance is paid at least TWO (2 ) months before the event date.
The final balance (50%) is paid at least ONE (1) month before the event date.
Under the circumstances where there are last-minute plan changes and any catering charges where applicable (see (6) above) there MAY be a final "wash-up" spreadsheet to close your Wedding file that is settled by either party within 30 days post your event date.
Do they offer payment plans?
Not normally – beach ceremonial only packages just the deposit and final 1-month payment
What type of payment can they take:
We accept cash, check, and credit cards.
Questions to ask Wedding Planners
We sincerely hope that these questions to ask wedding planners will help you select the best person to help plan your special day. Please feel free to contact us by phone or email us to inquire about how we can help you marry in Phuket amazingly. We will do everything to help make your special day more special with wedding services. We will handle everything for you and help you create the best memories that will last forever.
________________________________
Additional Wedding Resources: