Gay Beach Wedding in Phuket
If you're looking for a fabulous destination for a gay beach wedding then perhaps you should consider Phuket, Thailand! Not only does Phuket offer incredible weather, beautiful beaches, and resorts, but the Thai people and culture are also very accepting of the LGBTQ community. Having a wedding in Thailand will not only be safe and fun but with the help of Unique Phuket Wedding Planners, you can have an unforgettable wedding in one of the most breathtaking places on the planet.
Don't hesitate to contact us about the many wonderful options Phuket has to offer, we can help prepare the perfect venue with all the amenities for you and your guests. We can help make all the arrangements for an absolutely stunning gay beach wedding at one of the many picturesque beaches in Phuket. You don't have to worry about anything when you work the professional team at Unique Phuket Wedding Planners. They've created spectacular weddings for hundreds of couples just like you from all over the world and from all different backgrounds.
We know all the best places for a beautiful sandy beach wedding with spectacular views and sunsets to create the perfect atmosphere for your gay beach wedding photos. Invite all your friends for a truly unforgettable once in a lifetime experience by visiting the land of smiles for your special day. Beach weddings are also far less expensive than a private resort or villa wedding making it not only visually stunning but also more financially feasible than other wedding venue options. Now let's dig into some more of the details about your potential gay beach wedding in Phuket Thailand and how we can help you make all the arrangements for a flawless ceremony.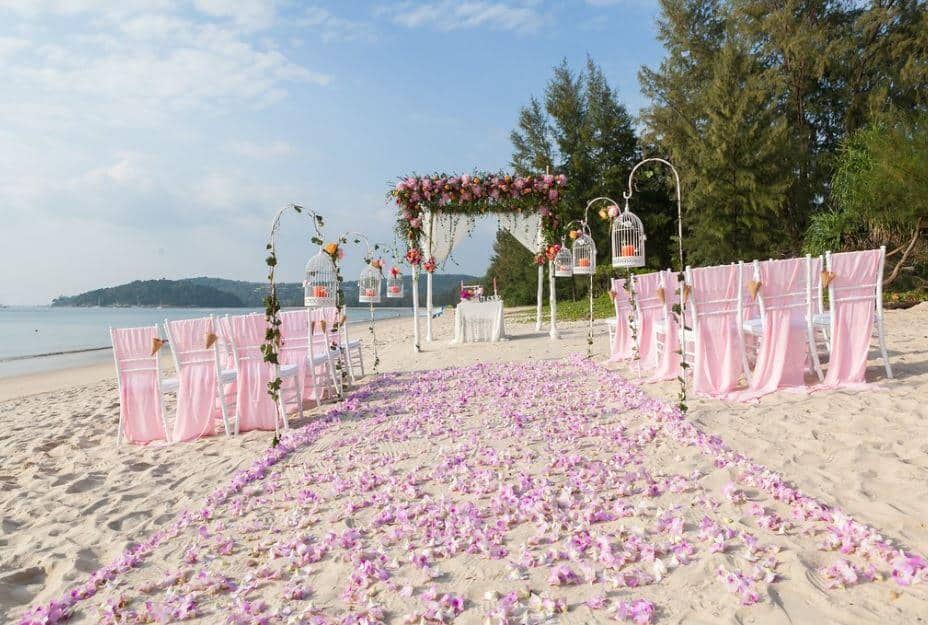 Gay Marriage in Thailand
Some of you may be wondering if you can have your gay beach wedding in Thailand with its captivating culture and remarkable locations. The answer is YES! Although same-sex marriages are officially legal quite yet, there is absolutely nothing stopping you from exchanging your vows by an internationally recognized wedding celebrant. Thailand is so accepting of people regardless of their sexual orientation, so much so that their gay marriage bill is in the last phases of being passed in the Thai Parliament. Despite its current legal status in Thailand, this shouldn't stop you from your vows being recognized in your home country so don't worry.
We've helped plan incredible weddings for the gay, lesbian, and trans community for years and would be happy to help answer any questions you may have about your potential wedding with us in Phuket. Thailand is without a doubt one of the most beautiful places in the world to have a wedding, but We help answer questions from couples within the international LGBTQ community all the time pertaining to whether they can exchange their vows in Thailand so just send us a message and let's start planning your special day! With a remarkable 63% of Thais now supporting gay marriage and the bill waiting in the Thai Parliament for approval, you can count on our country to be fully supportive of your LGBTQ love affair. Planning the perfect gay destination wedding in Phuket is just a call or message away! Visit the wonderful island of Phuket to enjoy the relaxing and casual environment our many beaches have to offer.
Why A Gay Beach Wedding in Phuket?
With plenty of sweet sugar-white sand beaches and breathtaking views to choose from, Phuket is the perfect LGBTQ wedding destination! Phuket and the surrounding area have some of the best beaches in Thailand as well as Southeast Asia. Phuket is popular for some of the cleanest and most majestic beaches in the world making it a perfect place for any same-sex wedding! Not only will you have plenty of perfect places to choose from to exchange your vows, but there are plenty of incredible tourist attractions to visit making your trip into an excellent travel opportunity as well. Our gay beach wedding packages are by far some of the most affordable options for anyone with a wide variety of LGTBQ friendly beachfront resorts and entertainment. We truly believe Phuket is one of the best places in the world for a romantic and unique wedding combined with the incredible culture and people you just can't go wrong.
Two Brides or Two Grooms
Love is love no matter what your sexual orientation or gender at birth, we treat everyone with the highest level of respect, equality, and care. Whether you are two brides, two grooms, or anything in between, we love bringing couples together and appreciate helping you celebrate your union together. We have offered our same-sex commitment ceremonies for years, bringing same-sex couples together to begin their happy life journey together as newly-weds.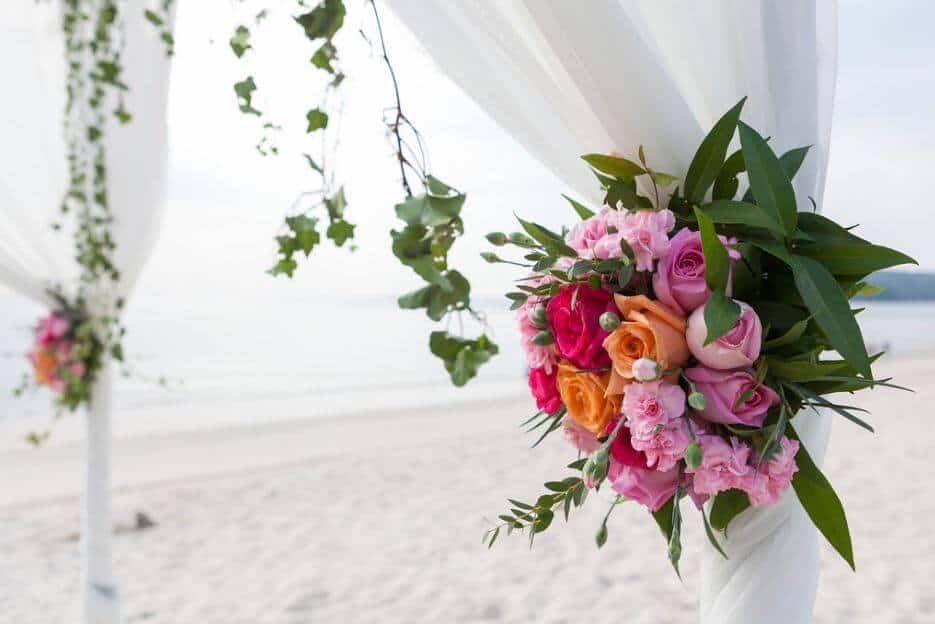 Elope to Phuket for a Same-Sex Wedding
Not everyone believes in equality and many are still against change, but fortunately, you can leave those problems behind and come elope for your wedding here in Phuket. Our same-sex wedding ceremonies are aimed to provide only the best most unique and unforgettable wedding ceremony for our LGBTQ friends from all over the world. You can check our Flickr page for many examples of incredible same-sex couples we have happily provided truly custom beautiful beach weddings all catered to bring your specific wedding desires and ideas to life.
So you and your partner have fallen in love and now you want to spend the rest of your lives together but you want to celebrate it with a ceremony as beautiful and unique as your love for each other. This is where we come in, Unique Phuket Wedding Planners will help make all the best plans for your wedding from the floral arrangements to the location and can even help with all your sightseeing plans while you're here. We have built a reputation for providing some of the best same-sex and gay beach weddings in Phuket and will arrange every detail for you and your loved one. We know all the best beach wedding locations and only work with the top local photographers, florists, videographers and resorts to provide a truly full-service and worry-free experience. Not only that, but our prices are competitive without sacrificing on quality, just let us know what you have in mind and we can go over the details and options with you.
Imagine standing barefoot on a pristine white sand beach with the warm sun on your skin, the wind blowing through the palm trees, sipping on coconuts while wading in the crystal clear warm waters. This is the kind of setting you can expect when you come to have your gay beach wedding in Phuket. We can help make your dreams come true with the most romantic wedding imaginable in one of the best places on the planet. Our beach weddings come complete with Paul as your dedicated and ordained wedding celebrant, professional local photographer, videographer, beautiful decorations from our local florists, music, and as many guests as you desire to share your special day with.
Unique Phuket specializes in beach weddings as well as vow renewals, so you and your partner can rest assured that you're in good hands. Our team will provide you with nothing less than the best service as well as a level of diversity and passion you can be proud of when celebrating your elegant and memorable wedding together.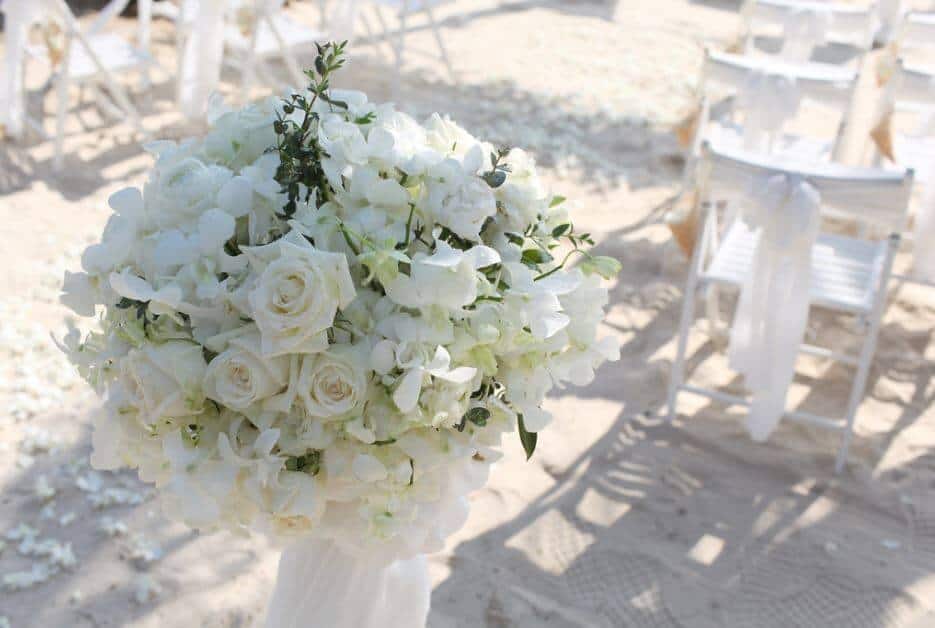 LGBTQ Street in Phuket
Not only is Thailand full of some of the most accepting and kind people on the planet, but when our LGBTQ couples come to Phuket they can also enjoy same-sex fun in the famous Paradise Complex in Patong. This short and sweet street near the popular nightlife on Bangla Walking street boasts regular drag shows, dancing, gogo bars, and massage parlors. Patong is Phuket's main tourist attractions with its wild nightlife and central location on the island with beautiful beaches in either direction. It's also full of gay bars and restaurants for you and your partner to not only enjoy but feel welcome and appreciated. All gay bars on Paradise Complex street host nightly shows which are free entry but guests are expected to buy at least one drink.
So if you're planning on having a pre or post-wedding party be sure to head down to the Paradise Complex as well as Bangla walking street. We would recommend heading down after 9 pm and enjoy the nightlife until around 2 am, although some famous night clubs like Illuzion stay open until 4 am or later. By midnight most of the gay bars are crowded and we recommend Boat Bar and Zag Bar which are two of the most popular gay party venues in Paradise Complex.
Gay Beach Wedding Services
We are able to arrange and organize everything for a truly customized gay beach wedding ceremony with all the normal arrangements as well as any other specific requests you and your partner may have in mind. We have complete wedding planning services capable of arranging everything from the flowers to ideal sunset views to exchange your vows. Another advantage of our beach weddings besides their affordability is that we are usually able to make all the necessary arrangements with just a few day's notice (Depending on our availability and seasonality). So whether you want a smaller more intimate private wedding or a big elaborate luxurious wedding, we will arrange everything necessary.

We provide a unique personal service that will bring fun and excitement to your gay beach wedding. Although arranging a wedding on the beach is relatively easy for us to arrange, easier we recommend preparing a window for at least 3 months to plan If you have something small and simple in mind, we may be able to do everything within a few days.
Wedding on the beach in Phuket
There is simply no shortage of beautiful gay beach wedding locations to choose from in Phuket but we have at least 7 beaches that we like to recommend for your special wedding day. We will happily go over the different locations as each beach has its own unique characteristics about it, and some have restrictions on things like available sitting areas for many people or different scenery. Of course, this does not mean that it will be difficult to choose from many beautiful places. So for our beach lovers, our unique wedding planning service in Phuket will help you choose the best place to exchange your vows.

Phuket Same-Sex Beach Wedding Packages
What could be more romantic than standing on a tropical beach, toes in the warm sand, cool turquoise waves lapping at your ankles, a gentle ocean breeze caressing your hair, your favorite song playing in the background, surrounded by your closest friends and family as you promise your lives, your hearts, and your futures to each other?
Whether you want a quiet and secluded gay beach wedding or a loud and bold one to proclaim your love for one another, we will work with you to design the ideal wedding of your dreams with truly customized to your wants and needs, not some recycled idea we reuse for everyone like some other wedding planners. Our wedding planners, photographers, and officiants are experienced working with both same-sex and straight couples, and we treat each of our clients' weddings as a unique experience – we take great pride in bringing your dream wedding to life and will closely with you on every detail until you've gotten hitched without a hitch!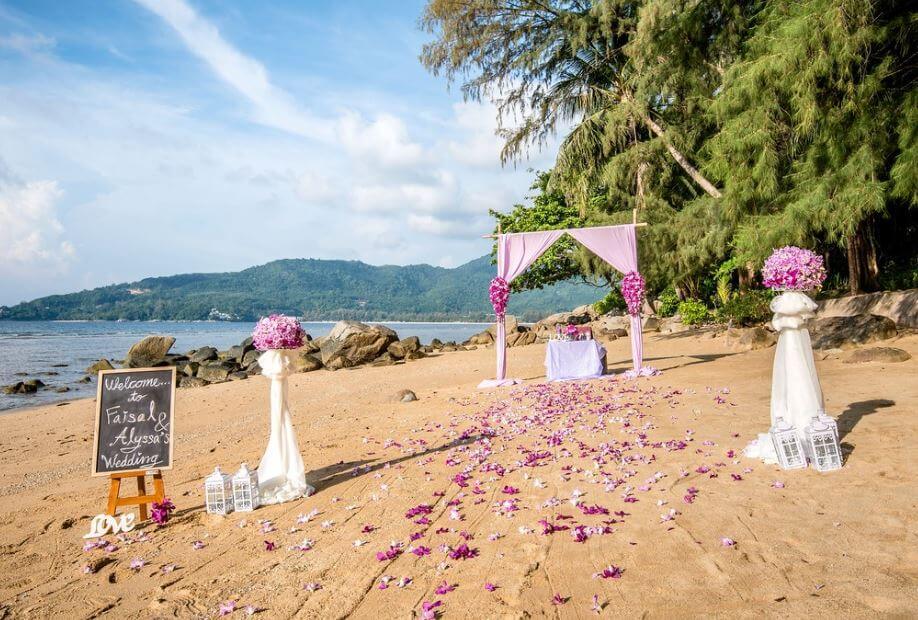 Phuket Gay Beach Wedding Venues
Bang Tao Beach – Bang Tao Beach is a 6 km long white sand beach along the northwest coast of Phuket. With luxury Laguna resorts and villas nearby, it is the perfect place for brides and grooms to be close to where to host a reception. This beach is still under development. Anyhow and how long it can take to arrange a wedding on a private beach with a wide white sand beach with gentle waves, you can still enjoy the full dinner party in the wedding pavilion with first-class catering services. Bangtao is the perfect place in Phuket to hang out and celebrate with your loved ones.
Kata Beach – For a pleasant wedding arrangement, we recommend Kata Beach with white sandy beaches, clear water, and beautiful bay views. This beach is very popular for weddings, with beaches lined with palm trees, excellent restaurants, and local charm. Depending on where we are located on the beach, there is also a beautiful rock area for a more incredible show.
Layan Beach – Layan Beach Wedding is far from the crowd. But still easily accessible for the perfect heavenly wedding ceremony This beach has many trees that provide shade for large wedding groups and is a hidden gem on the northwest coast of Phuket near Bang Tao. The tranquil area of this island makes it easy to pick up personal items and you can ride a romantic horse together as a couple. The trees that line this beach are mostly pine trees, unlike other beaches in Phuket, most of which only have palm trees.
Mai Khao Beach – Mai Khao Beach is another great tip, especially for watching the extraordinary sunset. This is another beach located on the northwest coast of Phuket Island. This happy beach is 11 km long and is not surprisingly developed. This place is often really abandoned, making it possible to walk with loved ones with love. The sandy beach is rougher than other places, but the views of the Andaman Sea and the level of privacy the beach has for the wedding are unrivaled.
Surin Beach – Surin is one of the most beautiful beaches on the island and offers soft sandy beaches and beautiful sea views for the perfect wedding photo. You can't go anywhere with Surin Beach as the venue to celebrate your special day. This tree-lined beach location is a favorite for weddings and photographers. If you want an impressive wedding photo, Surin is the top choice.
Laem Singh – This small and quiet white sand beach has a good combination of sand, sea, rocks, and trees, which will add texture to your photos and give a more natural feel for signal reception. Although small, Laem Singh is one of the most spectacular locations in Phuket. No wonder you can see the best sunset on this island.
Nai Harn – Nai Harn Beach is one of the popular destinations on the island. But it's a good place if you plan to stay in the southern part of the island.
Gay Beach Wedding Prices
Now before you get any silly ideas, we definitely charge everyone the same price regardless of their sexual orientation. That means a straight couple will pay the exact same prices for similar services as you or anyone of our straight or LGBTQ couples will because we believe inequality. The price for a typical gay beach wedding in Phuket can be arranged for around $3000. We can also reduce the price for a smaller, more private and simple wedding or a more luxurious wedding. We aim to get everything the customer needs for their special day and choosing the perfect beach wedding venue is the most important thing. We will prepare all for you and your guests at the beach that you want and book the best date and time.
What Countries Recognize Gay Marriage?
According to Wikipedia, there are 28 countries in the world that already recognize same-sex marriages. Gay or same-sex marriages are becoming widely accepted throughout the world but it can take time moving the necessary processes to legalization. Thailand and other countries are quickly adding to the already long list of forward-thinking and inclusive countries listed below. So, if you choose to have your amazing wedding with us in Phuket and you're from one of these countries then your gay wedding in Thailand will still be fully recognized.
Same-sex marriage is legally performed and recognized in Argentina, Australia, Austria, Belgium, Brazil, Canada, Colombia, Denmark, Ecuador, Finland, France, Germany, Iceland, Ireland, Luxembourg, Malta, Mexico, the Netherlands, New Zealand, Norway, Portugal, South Africa, Spain, Sweden, Taiwan, the United Kingdom, the United States, and Uruguay.
Gay Beach Wedding Planners
Unique Phuket Wedding Planners is a well-known local company and expert in perfect wedding planning. With years of experience helping hundreds of couples make their dream wedding come true, from small gatherings to large and extravagant events in Phuket, Thailand. Passionate about what we do, we strive to ensure that all of our celebrations are wonderful. We work with the best in the business and set trends, instead of following them. What sets us apart is our planning and design services.
Right from the selection of the best venue for floral decorations, flowers or entertainment, we can handle it all with your best expectations. We strive for perfection for the days that you and your family will remember for many more years.
Together, they help couples from all over the world plan their dream wedding destination.
We have affordable rates without compromising elegance and quality because we can provide the majority of services in the home.
Just call or email us to see how we can make your special day stand out with our wedding services. We will handle everything for you and help you create the best memories that will last forever.
0878957026
Phuket Wedding Arrangements
อีเมล: [email protected]
อีเมล: [email protected]
Facebook: @uniquephuket
อีเมล: [email protected]
Facebook: @phuketflowers
โทรศัพท์: + 66 817288269 หรือ + 66 878957026
Skype id: @uniquephuket
Twitter: @UniquePhuket
________________________________
Additional wedding resources: