Lesbian Beach Wedding in Thailand
For an incredible lesbian beach wedding destination, you don't have to look far in Thailand. This is particularly true for us in Phuket because we're in the top 4 most wedding-worthy beach locations in Asia, with various other local top contenders nearby. We can provide you with the perfect LGBTQ beach wedding services at all the best places around Thailand.
Phuket offers a wealth of natural beauty, crystal clear tropical waters and some of the most open-minded and caring people on the planet. Thailand is well on its way of nationally legalizing gay marriage and its people are strongly in support of the entire Lesbian, Gay, Bi-Sexual, Trans, and Queer community. You can count on Unique Phuket Wedding Planners to put together the perfect lesbian wedding-themed ceremony custom-tailored down to the small details. Having a wedding in Thailand will not only be safe and fun, for absolutely unforgettable weddings in one of the most breathtaking places on the planet.
We can help prepare the perfect venue with all the amenities for you and your guests so don't hesitate to contact us about the many wonderful options Phuket and Thailand have to offer. We can help make all the arrangements for an absolutely stunning lesbian beach wedding at one of the many picturesque places in and around Phuket. When you work with the professional team at Unique Phuket Wedding Planners, you don't have to worry about anything. We've happily married hundreds of couples just like you from all over the world and from all different backgrounds.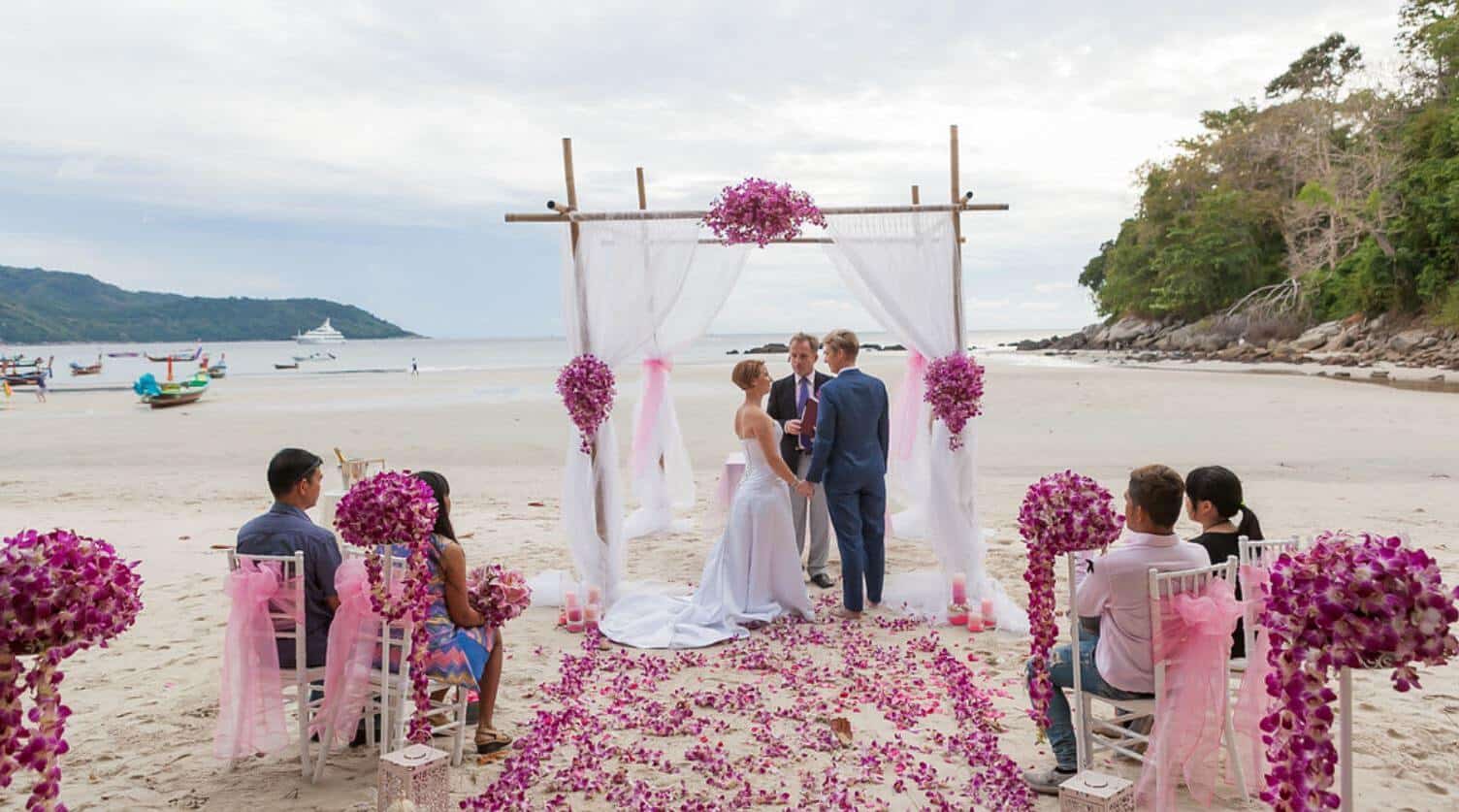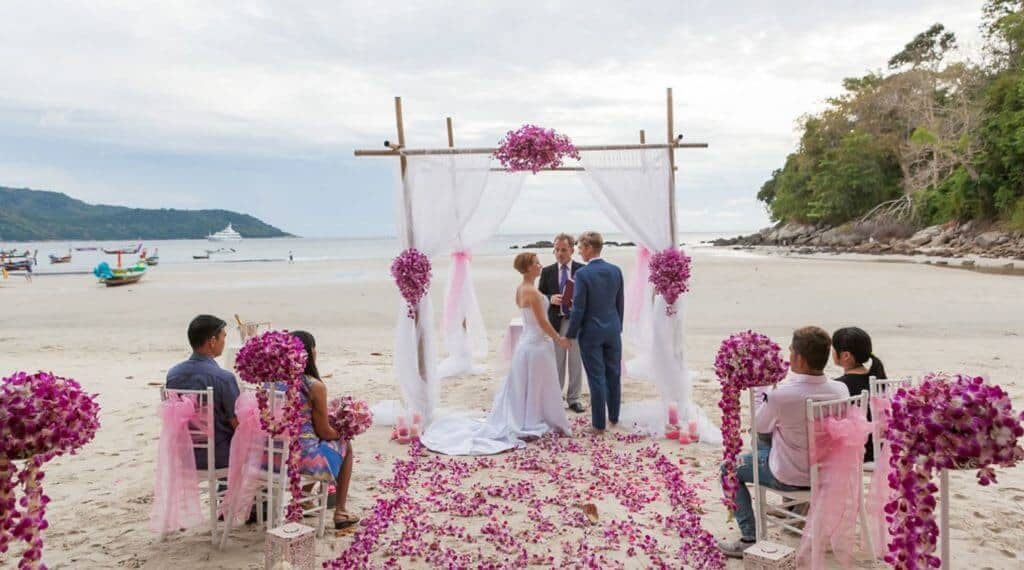 Two Brides Lesbian Wedding
There truly isn't anything stronger than the love of a woman, except perhaps the love shared between two women! It has always been some of our most favorite couples who have walked down the aisle together with us, are truly more magical than seeing two women exchanging their vows together. When you combine this unique union with beautiful beaches and the amazing Thai people will make for a most remarkable wedding. Embark on the best adventure as a newly wedded couple by starting your new lives off together in an amazing far-away land with warm weather and white sandy beaches.
Dare I say that seeing two women dating in Thailand may be even more commonplace than gay or even straight couples! You'll really just have to come to see and decide for yourself but we can guarantee that you and your partner are going to have an incredible time together. Thailand is so accepting of people regardless of their sexual orientation, so much so that their gay marriage bill is in the last phases of being passed in the Thai Parliament. They understand and respect all living things and recognize that love is love no matter what your sexual orientation or gender at birth. So if celebrating your union on a beach in Thailand with a nice sunset horse ride together afterward then get in touch with us. We've helped plan incredible weddings for the gay, lesbian, and trans community for years and would love to hear about your ideal lesbian wedding ideas and how we can help make your dreams come true.
Why A Lesbian Beach Wedding in Phuket?
It's no secret that Thailand has some of the best beaches in the world so if you're considering a romantic and tropical lesbian wedding destination then consider the island of Phuket. Phuket is the perfect LGBTQ wedding destination with plenty of beaches and views to choose from for your special day. Our Lesbian beach wedding packages are by far some of the most affordable options for anyone with a wide variety of LGTBQ friendly beachfront resorts and entertainment to choose from. We truly believe Phuket is one of the best places in the world for a romantic and unique wedding destination.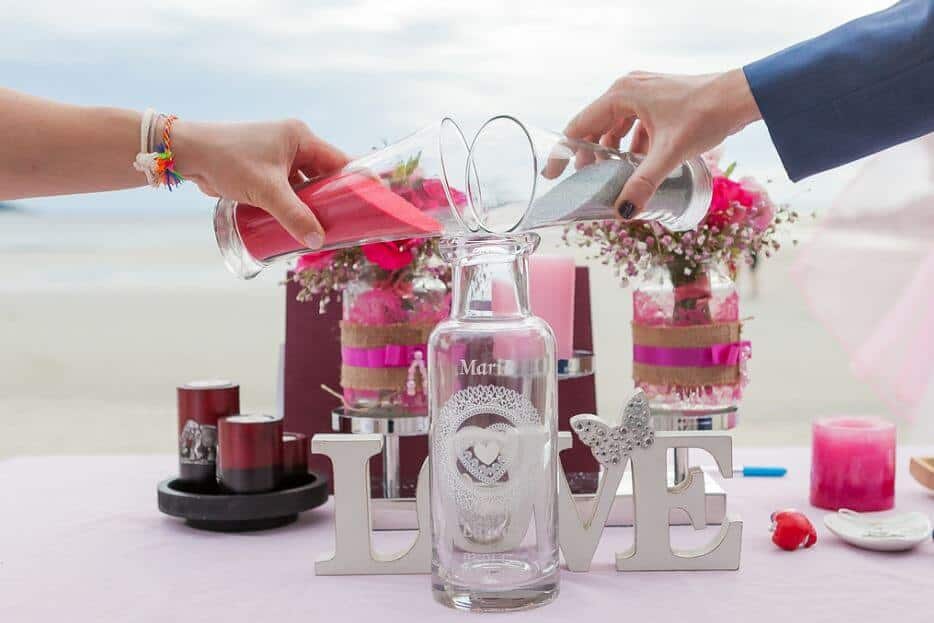 Same-Sex Wedding Ceremony in Phuket
Looking for a special place to elope for your same-sex wedding in a place that's both safe and supportive as well as unbelievably beautiful!? Then perhaps Phuket is the place. We are surrounded by beaches on all sides so it's easy to plan all the perfect places to be for your wedding photos and ceremony. Want a sunrise or sunset wedding? No problem. Our Lesbian beach wedding ceremonies are aimed at providing only the best, most unique and unforgettable experiences for our LGBTQ friends from all over the world. You can check our Flickr page for many examples of incredible same-sex couples who have been happily wed with us here in Thailand.
Imagine you and your partner holding hands and walking barefoot in the sand together with the warm wind softly blowing against your face and gentle waves washing ashore. If this is the kind of place you picture when you close your eyes and imagine your perfect wedding day then turn your wedding into a vacation. We can help make your dreams come true with some of the most romantic beach wedding venues imaginable in one of the best places on the planet. Our Lesbian beach weddings come complete with Paul as your dedicated and ordained wedding celebrant as well as your own dedicated professional local photographer, videographer, beautiful decorations from our local florists, music, and as many guests as you desire to share your special day with.
Unique Phuket specializes in beach weddings as well as vow renewals, so you and your partner can rest assured that you're in good hands. Our team will provide you with nothing less than the best service as well as a level of diversity and passion you can be proud of when celebrating your elegant and memorable wedding together.
Lesbian Beach Wedding Prices
At Unique Phuket Wedding Planners we believe in both equality and transparency, so trust that you'll be paying the same price for our services and venues as your opposite-sex wedding counterparts. Not only that, but beach weddings are by far the easiest for us to make arrangements for with the least notice and available to those with even the smallest budgets.
The average price for a standard lesbian beach wedding starts at around $3000 and up depending on how many bells and whistles you want. The price is dictated by how luxurious you want it to be as well as how many guests we need to accommodate. We will happily go over all the available options you have for your special day and then narrow down what's reasonable or realistic for your budget without compromising on quality. We aim to get everything the customer needs for their special day and choosing the perfect beach wedding venue is the most important thing. We'll prepare everything for you and your guests for the most stunning and memorable beach wedding experience.
Lesbian Beach Wedding Services
No matter how your wedding day is designed in your head, we'll make sure and go over all the finer details to ensure you have absolutely everything you dreamed of for your special day. Every gender-neutral wedding we perform has its own unique vibe and chemistry which we are more than happy to find the best recipes and combinations of things to further enhance your ceremony. Our services start as soon as your first free-consultation contact with us we can then start planning everything from the seating and cocktails, to the music and more, we give you the perfect foundation to start creating the wedding of your dreams.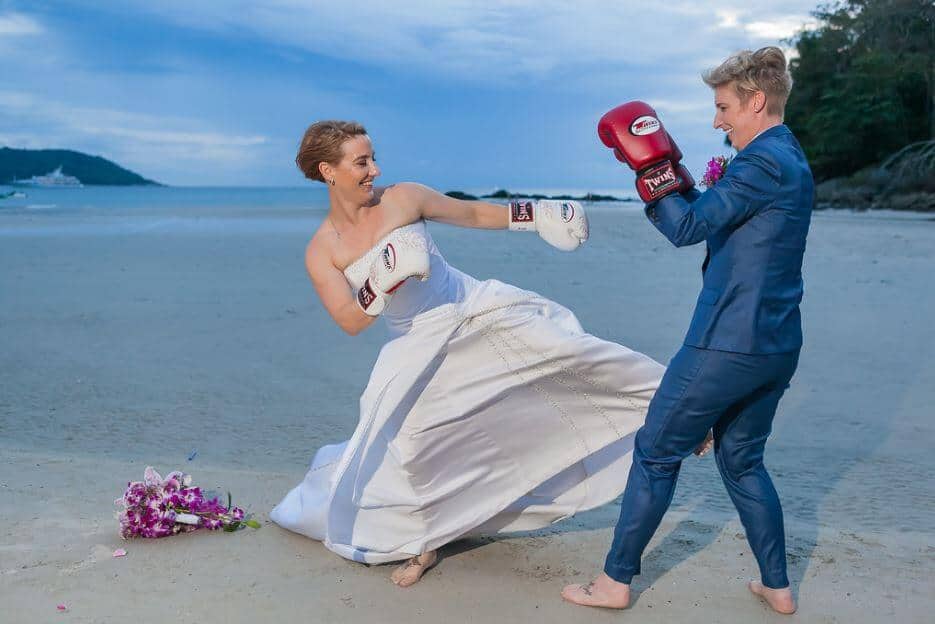 Lesbian Beach Wedding Packages in Thailand
Whether you picture a quiet and secluded ceremony or a loud and lively one, Thailand offers a wide variety of perfect places for your lesbian beach wedding. We'll listen to all the details for your ideal wedding vision and then run with it to see how much of it we can make happen within your predetermined budget. Fortunately, beach weddings are by far the easiest and most affordable wedding venues for us to work on and can sometimes even be arranged in a matter of days (depending on availability). So if you want something truly special and not just some recycled cookie-cutter ideas every other wedding planner proposes then give us a call so we can go over all the options with you. Our professional wedding planner team, photographers, and officiants are experienced working with both same-sex and straight couples, and we take great pride in making couples dream weddings come true.
Phuket Lesbian Beach Wedding Venues
Koh Samui – Samui has many stunning beaches with many upscale accommodations by the beach for us to choose from and is not too far away from Phuket where we are based. Almost all of the beaches provide some space for a beach wedding ceremony along with other services such as catering, venue decorations and many more. Choosing a venue will, of course, depend on your preference and budget. If you like your wedding to be outstanding and grand, Chaweng Beach has many high-end places to offer.
Krabi – If the picturesque limestone cliffs you've seen in postcards are what you're interested in then you may want to consider having your wedding in Krabi. Well known for its natural splendor and turquoise waters, it's no wonder Krabi is one of Thailand's best locations for a lesbian wedding. You can also choose to have your wedding on one of the small secluded islands in Krabi such as Koh Lanta, Nok or the Bamboo islands.
Bang Tao Beach – This is one of the beaches in Phuket with one of the longest stretches of sand allowing for plenty of places for a private lesbian beach wedding. Afterward, you can go on a horse ride and watch the sunset before enjoying a dinner celebration or party in Patong.
Kata Beach – With its white sandy beaches, clear water and beautiful bay views, we recommend Kata Beach. This is a very popular place for weddings due to its palm tree-lined beaches and excellent nearby restaurants. Depending on where you want to be set up on the beach, there are also nice rock formations we can incorporate into your pictures at this location.
Layan Beach – One of the biggest benefits in choosing Layan Beach for your lesbian beach wedding venue is that its far away from the crowds. Located in the Northwestern area of the island, it's still easily accessible, particularly if you decide to stay in one of the luxurious places around the Laguna Community and Bang Tao. Unlike most of the beaches in Phuket, this beach has mostly pine trees lining it and is definitely a more tranquil and romantic setting than some of the other options.
Mai Khao Beach – This surprisingly undeveloped 11km stretch of sand known as Mai Khao Beach is another great location, especially if you're interested in incorporating an extraordinary sunset into your wedding plans. This place is often abandoned, making it possible to take lone walks with your loved one. The sand on this beach is little rougher than other places, but the views of the Andaman Sea and the level of privacy the beach has to offer are unrivaled.
Surin Beach – For soft sandy beaches and beautiful views of the sea then Surin may be the perfect place. This tree-lined beach is a favorite for wedding photographers and weddings with its impressive landscape and demi-secluded location.
Laem Singh – This is a very small and quiet beach tucked away in a seemingly private and unique spot. Nestled in between a combination of sand, sea, rocks, and trees, it makes for lovely photos. Although small, Laem Singh is one of the most spectacular locations in Phuket.
Nai Harn – Nai Harn Beach is one of the most popular beach destinations on the island for both weddings and leisure. This is a particularly good option if you plan on staying toward the southern part of the island.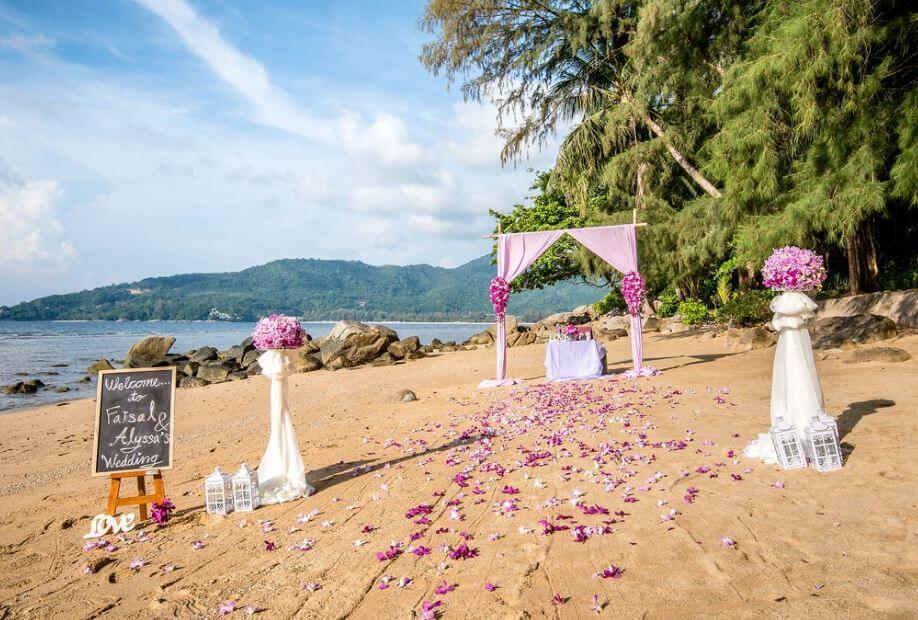 LGBTQ Street in Phuket
Interested in what the Phuket LGBTQ night scene has to offer? We always recommend our LGBTQ couples to check out the fun and famous Paradis Party Complex in Patong. Not far from the popular Bangla Walking street is the short, sweet and fun paradise street. Come here for drinks and fun including regular drag shows, dancing, gogo bars, and massage parlors. It's also full of many gay bars and restaurants. So if you're interested in showing your friends a good time either before or after your wedding, you'll certainly want to head down to the Paradise Complex as well as Bangla walking street.
Lesbian Beach Wedding Destination
Don't hesitate to contact Unique Phuket Wedding Planners for a no-obligation wedding estimate. We will happily answer any questions you have regarding availability, price ranges and the various service options we can provide or arrange. For a simply seamless lesbian wedding ceremony in one of the most picturesque places on the planet, consider Phuket Thailand as a top option. With our variety of beaches and wedding villas at competitive prices without sacrificing some of the luxuries, you wouldn't be able to get at these price points elsewhere. Exchange your vows in a meaningful and memorable way in a place that truly resonates with how amazing your new life together is going to be as newlyweds. We provide a unique and personal service that will bring both fun and excitement to your special beach wedding ceremony.
Unique Phuket Wedding Planners
Phuket Unique Wedding Planning is a famous local company and expert in perfect wedding planning. With years of experience helping hundreds of couples get married in their dreams, from small events to large and luxurious events in Phuket, Thailand. Passionate about what we do, we strive to ensure that all of our celebrations are wonderful. We work with the best in the business and set trends instead of following them. What sets us apart is our planning and design services.
Right from selecting the best venue for flower decoration, flowers or entertainment, we can handle it all with your best expectations. We strive for perfection for the days that you and your family will remember for many more years.
Together, couples from all over the world plan their dream wedding destination.
เรามีราคาไม่แพงโดยไม่สูญเสียความสง่างามและคุณภาพเพราะเราสามารถให้บริการส่วนใหญ่ในบ้าน
Just call or email us to see how we can make your special day stand out with our wedding services. We will arrange everything for you and help you create the best memories that will last forever.
0878957026
Phuket Weddings
อีเมล: [email protected]
อีเมล: [email protected]
Facebook: @uniquephuket
อีเมล: [email protected]
Facebook: @phuketflowers
โทรศัพท์: + 66 817288269 หรือ + 66 878957026
Skype id: @uniquephuket
Twitter: @UniquePhuket
Other Wedding Resources