Thailand Wedding Packages
Wonderful weather year-round, incredible local cuisine, tropical white sand beaches are just a few of the reasons for having your wedding in Thailand is never a bad idea! Even during the "rainy season" you can expect temperatures in the 30's and more passing tropical storms rather than anything remotely gloomy. Thailand is still one of the most affordable destination wedding locations with unrivaled prices on local goods and services add to its appeal as a top travel and wedding destination. Take the guesswork out of trying to organize and coordinate everything from your home country and let the local professionals at Unique Phuket Wedding Planners arrange everything for you! With so many Thailand wedding packages and options to choose from, We only work from the heart is our motto and we pride ourselves in offering the best services for affordable prices without sacrificing quality.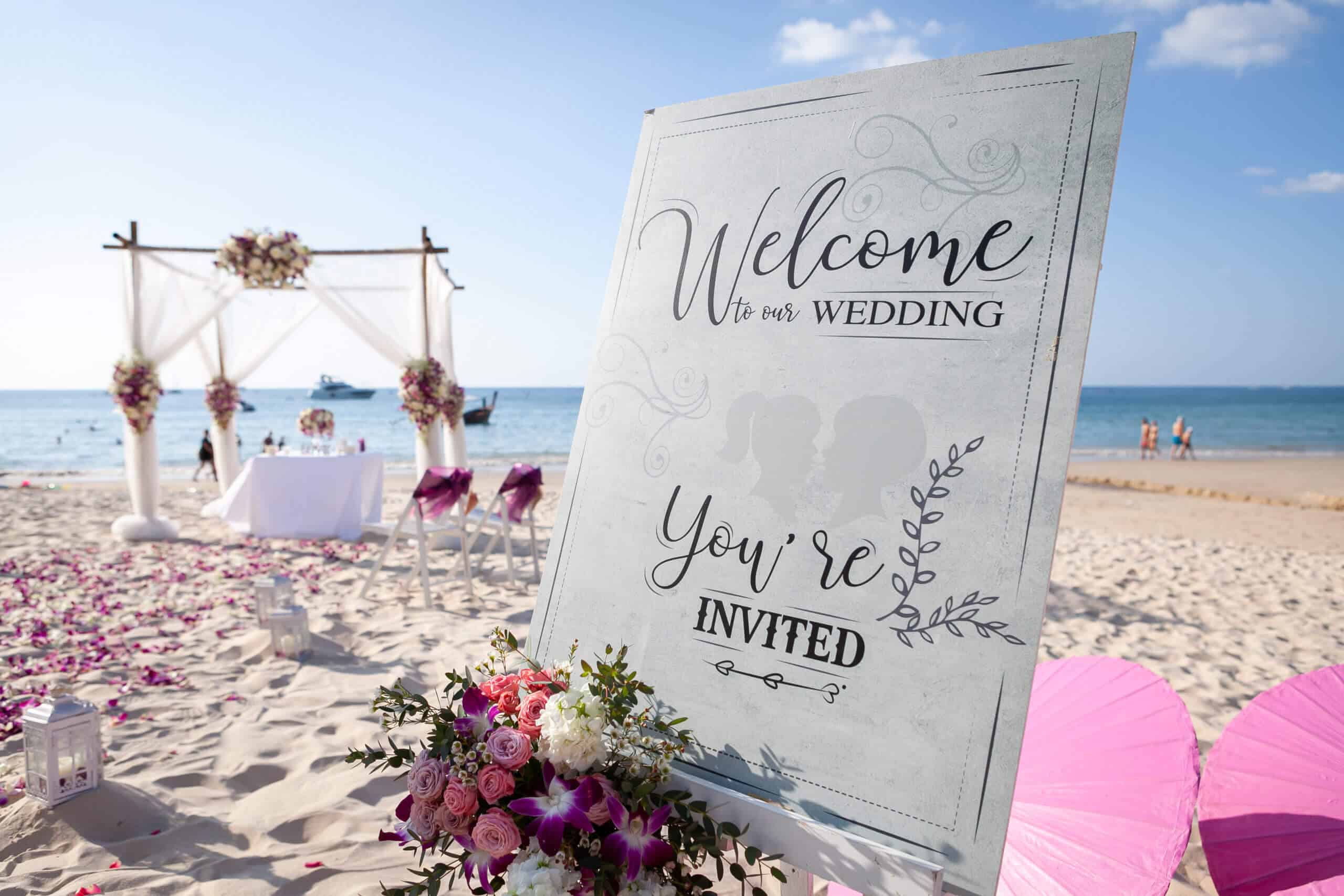 All-Inclusive Wedding in Thailand
We are truly an all-inclusive wedding package service provider in Thailand. We routinely make all the arrangements, even including flights and sending out wedding invitations. We like to be hands-on in all our activities and promise that 1 of the two owners always attend each of our weddings. After we have an initial free phone consultation we can then begin work out things like your ideas, preferred travel style, the size of your group and budget. Based on the information provided, we will then custom tailor your entire wedding and travel itinerary from form to fitting all the way down the aisle for your amazing new life together. With the level of detail, our team will go to accommodate your individual needs while ensuring you're getting maximum value out of any services we arrange like food, flowers, hair and make-up, entertainment, photography, transportation and more. We are truly your number one advocates to help fulfill your most perfect wedding in Thailand.
Unique Thailand Wedding Planners
Our Personalised Holiday & Wedding in Thailand Services have been successfully delivering dream destination weddings to couples visiting Thailand for years. This has allowed us to build up a strong network of colleagues and partners we can collaborate with throughout the country to making all the right reservations and at the best prices. The owners Paul and Toom pair up perfectly to seamlessly execute flawless weddings for countless couples looking to get hitched in the land of smiles. Not only are we dedicated and experienced, but Paul being from the UK and Toom being from Thailand allow us to transcend any barriers that might complicate things for you with other local wedding planners.
We provide a complete Flower and Wedding Planning Services for local customers and our main customer base located mainly in Europe and the USA. These clients are looking for an affordable luxury Beach Wedding or Villa Wedding in Thailand.
Thailand Wedding Packages
Unlike some wedding services that have more limited selections for their wedding services, we try not to be so one-dimensional. We go through great effort to ensure that each and every couple we get involved with have absolutely everything they envisioned (within budget). So regardless of whether you want a smaller and cheaper beach wedding or want it to be a truly premium top-tier affair then we'll work it all out. Just let us know what your heart desires and we'll begin collecting and presenting options until we narrow down exactly what you want.
We have all the basics covered in our Thailand wedding packages, we just need your input to help narrow down the options that are most appealing to you. All of our packages are fully customizable for your specific wedding size and preferences, so when it comes down to choosing what colors, materials, and designs we use will definitely reflect what you envision. Our wedding packages are certainly value-packed, we will spare no detail to ensure everything is arranged and ready for your wedding day. You can request a quote here.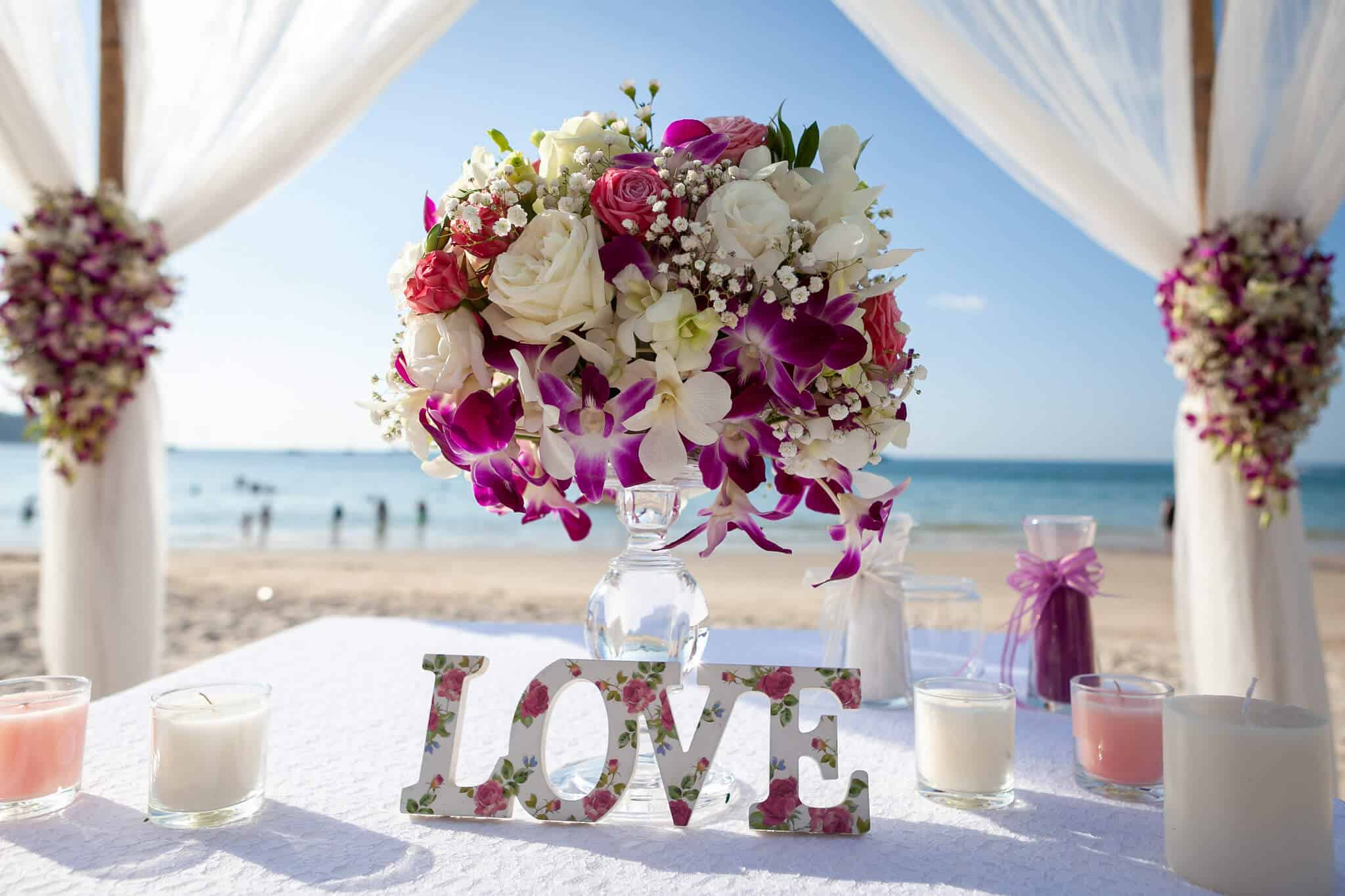 Standard Thailand Wedding Packages Options:
Personal wedding planner and onsite coordinator
Preparation of the bride and groom's wedding attire
Bouquet and Boutonnieres for the bridesmaid and groomsmen
Ceremony location and Ceremony decorations
Wedding/Event Services Required
Wedding/Event Venue options & booking
Western Celebrant
Religious Minister
Photography
Videography
Bride Hair & Makeup
Bridesmaid Hair & Makeup
Makeup Trial
Bamboo Flower Arch
Flower Arch (Full Flowers)
Flower Arch (Half Flowers)
Alter Flower Stands (2)
Acrylic Flower Arch
Bespoke Flower Arch (please add details below)
Wedding DJ & Sound
Wedding Cake
Fireworks
Thai Monks
Wedding Blessing
Ram Klong Yao ( Drums, Thai Dancers procession)
Thai Water Blessing (Beach or Villa)
Baby Elephant Photoshoot
Fire Dance Show
Traditional Thai Dancing Troop
Thai Menu
Western Menu
Menu BBQ Style
Menu Buffet Style
Menu Thai Family Sharing
Menu Served/Silver Service Style
Require help with Guest Accommodation
These are just some examples of options you should consider before we begin customizing our Thailand wedding packages to your specific preferences. We want to narrow down all the important details and provide you with the best opportunities to select your favorite venue from our hand-picked selections, along with your preferred colors, flowers, and styling.
"We had the best experience with Paul and the team at Unique Phuket Weddings. Being we are from Australia it was a big thing deciding on an exotic destination wedding and naturally, the thought was a bit daunting. We loved the fact that this business is literally a one-stop solution as Paul is a celebrant and wedding planner and his wife Sapparin is a florist. Right from our first interactions over email with Paul and Supparin we felt reassured and confident as they really listened to what we were wanting and confirmed the information back to us efficiently – Paul even assisted us in finding the perfect location for us to have our wedding having experience with many beautiful locations throughout Thailand. We absolutely wholeheartedly recommend them. Thank you guys for making our day so special x." ~ Sara D.
Thailand Wedding Packages
From the endless blue expanse of the Andaman Sea to the hills of Chiang Mai to the sand on the beaches in Samui, Thailand offers an impressive variety of locations and properties for you to choose from for the perfect wedding day.
Beach Wedding
Thailand beach weddings are one of our most popular ceremonies, not only due to the tropical beauty and flexibility they allow but also because of their affordability. All our Thailand beach wedding packages include all the necessities for an absolutely incredible beachfront ceremony. The hardest part of these weddings usually comes down to deciding which beach you like the most! So regardless of whether you plan on having a beach wedding in Krabi, Phuket, Samui or anywhere else, we can go over the options with you to help narrow down the best beach venues for your wedding day. With our extensive experience and professional connections throughout the country, we'll help create your dream beach wedding in Thailand.
Luxury Villa Wedding
When planning for a perfect wedding in Thailand, make sure you choose someone with all the right local insight and connections. Unique Phuket Wedding Planners has built honest and trusted relationships with all the top local luxury Villa and resort brands. Luxury Villa Weddings in Thailand are easily the largest and most extravagant ceremonies which means they will require a much higher budget compared to a smaller beach or hotel wedding. When it comes to planning a luxury villa wedding, you need someone that can not only make all the arrangements but also help work everything out with the Villa Management team. This often requires a Thai translator to ensure everything goes according to plan, and that's where Toom works her magic. This is where we come in and take care of everything for you! From a boutique resort to a secluded jungle villa, our clear and honest wedding planning approach will keep you and your partner informed and your wedding plans running smoothly.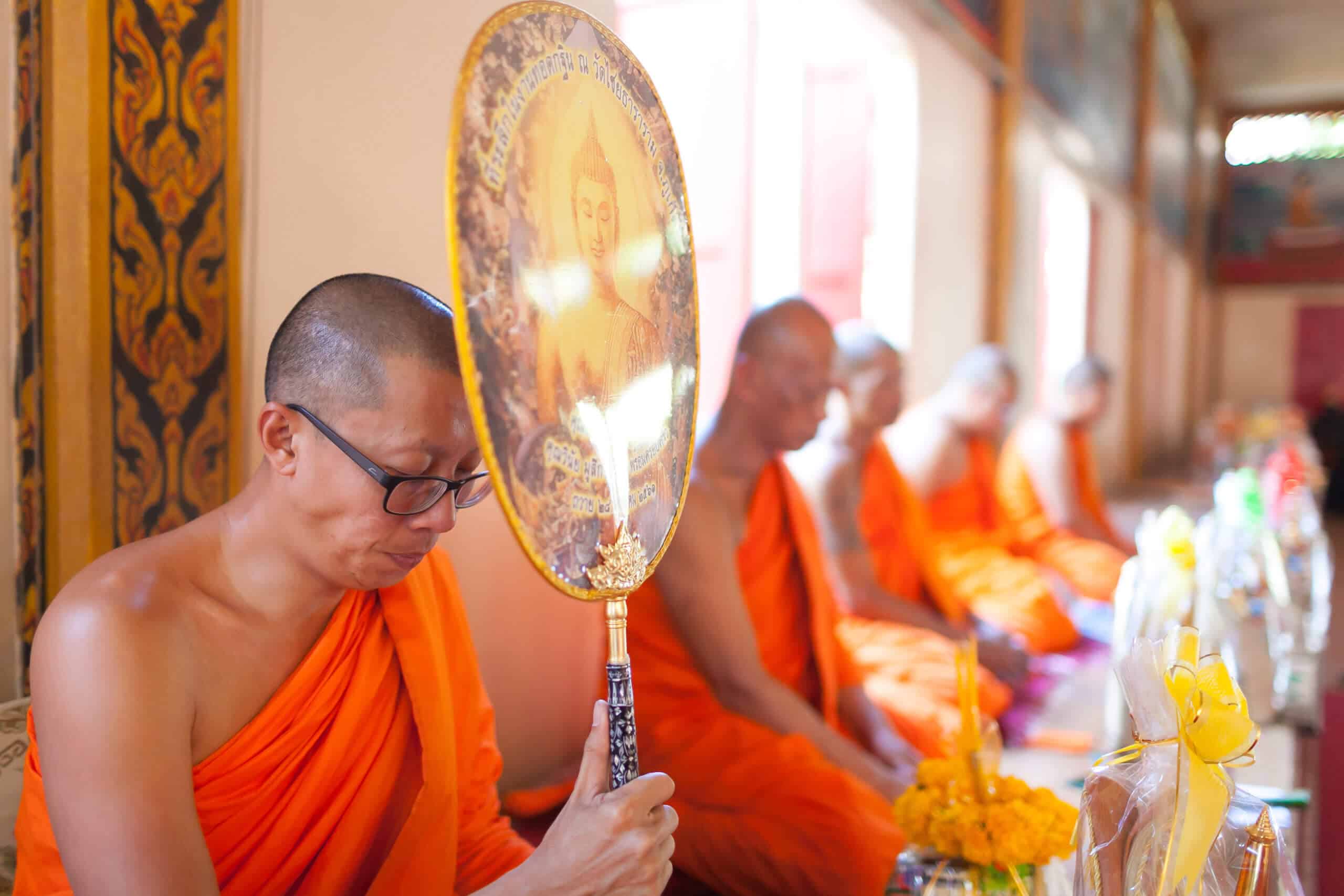 Traditional Thai Wedding
Having a traditional Thai wedding ceremony is a sure way to be both charming and romantic. Considering that this is the most special time in your life, a unique traditional Thai wedding ceremony is a perfect way to make these memories even more meaningful, especially if your significant other is Thai. There are sacred traditions you'll need to consider as well as specific colors and clothing required with any true traditional Thailand wedding packages. A Thai style wedding is comprised of various Buddhist religious ceremonies including culturally significant events like monks blessing your union, a Khan-Maak-Ek procession, and even a water ceremony. For a truly unique, cultural and spiritual wedding experience, you should consider a Traditional Thai Wedding.
LGBTQ Weddings in Thailand
We love performing same-sex marriage celebrations and will guide you through the entire process with the same level of passion, dedication, and respect as anyone else. Thailand is honestly one of the safest and most open-minded countries in the world when it comes to LGBTQ acceptance and rights. In fact, the bill for legalizing Same-Sex marriages in the last stage in their parliament to being accepted and nationally recognized. We are thrilled to work with our same-sex wedding couples looking for a friendly and welcoming wedding destination. We will help arrange all the best venues, suppliers and decorations for the most fabulous wedding. We know all the best places for a beautiful sandy beach wedding with spectacular views and sunsets to an extravagantly lavish luxury villa to create the perfect atmosphere for your ideal wedding. We simply don't hold back when it comes to planning our LGBTQ Thailand wedding packages customized to your every desire so make sure to Invite all your friends for a truly unforgettable once in a lifetime experience.
Resort or Hotel Wedding in Thailand
A resort or hotel can also be the perfect place for a unique and romantic wedding in Thailand. This can be all-inclusive where they provide room for your guest, location for the ceremony and even all the food/beverages can be included for a 20-80k resort venue fee. We can also arrange one on the beach so you have the best of both worlds. Resort and hotel weddings can be organized on a mid-range budget and are an excellent alternative to a villa but aren't as private. If you're having more than 20 people then it's also a great option since restrooms and other facilities are on-site. With plenty of natural, contemporary or Thai-Style locations to choose from, we can arrange the perfect Thailand wedding packages at a premium resort or hotel for you. If you're looking for an intimate and exotic destination to exchange your vows then Thailand is the perfect place.
Renewing Your Vows in Thailand
There's no better place to renew your vows that the beautiful tropical land of smiles known as Thailand. From the second you get off your plane you'll be treated with nothing but kindness and respect while we help you unfold the most wonderful vow renewals with your loved one. Maybe you want to give your partner the wedding you couldn't afford when you were younger, or maybe it's just time to rekindle the fire and show them how truly special they still are. Renewing your vows is a wonderful way to show someone how much they mean to you and we want to help make this experience as amazing and unforgettable as possible. Our Thailand vow renewal wedding packages can be completely customized to accommodate your every desire. So if you want a loud and luxurious event where you proclaim your undying love or a more quiet and personal vow renewal experience, contact the professionals at Unique Phuket Wedding Planners to get some ideas.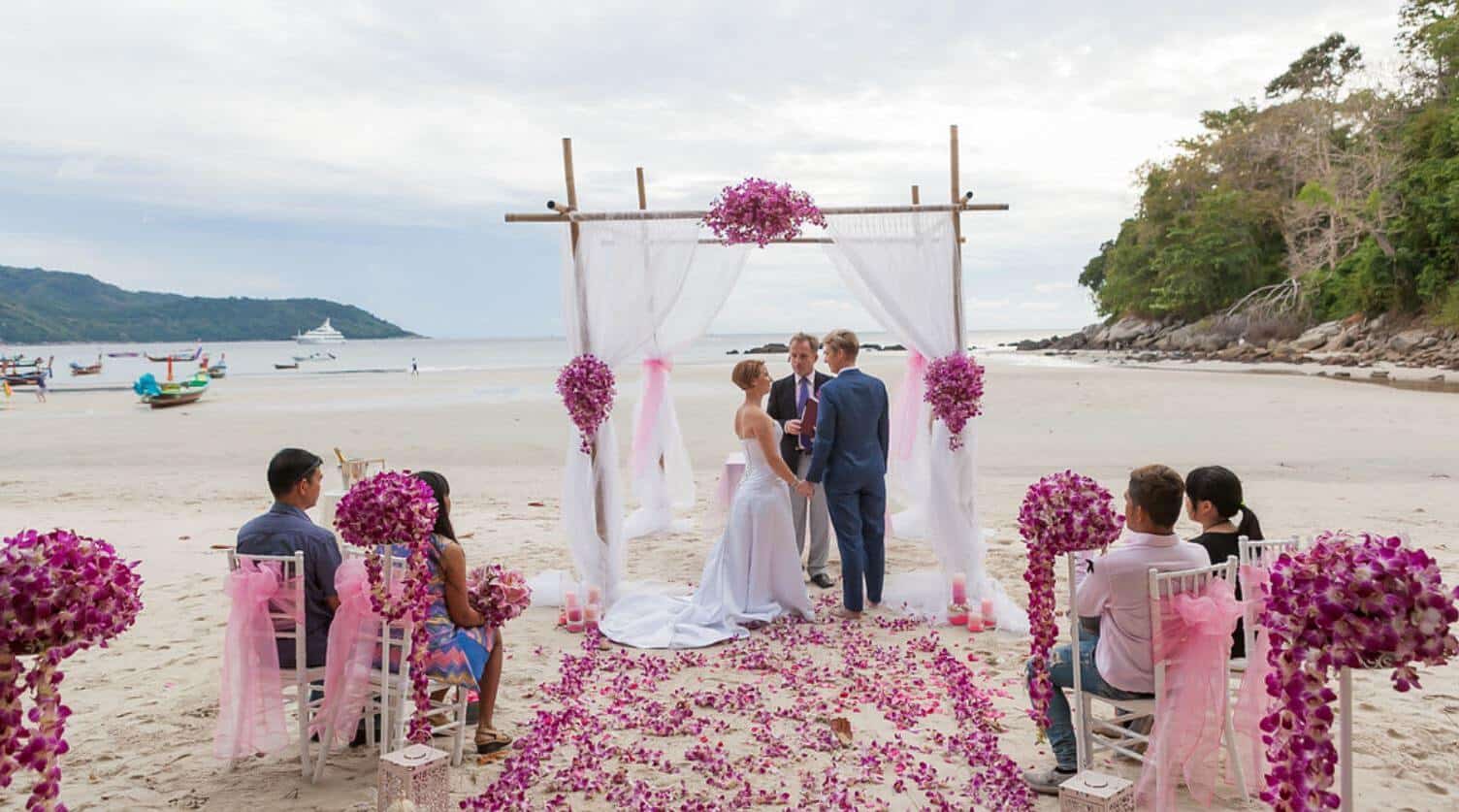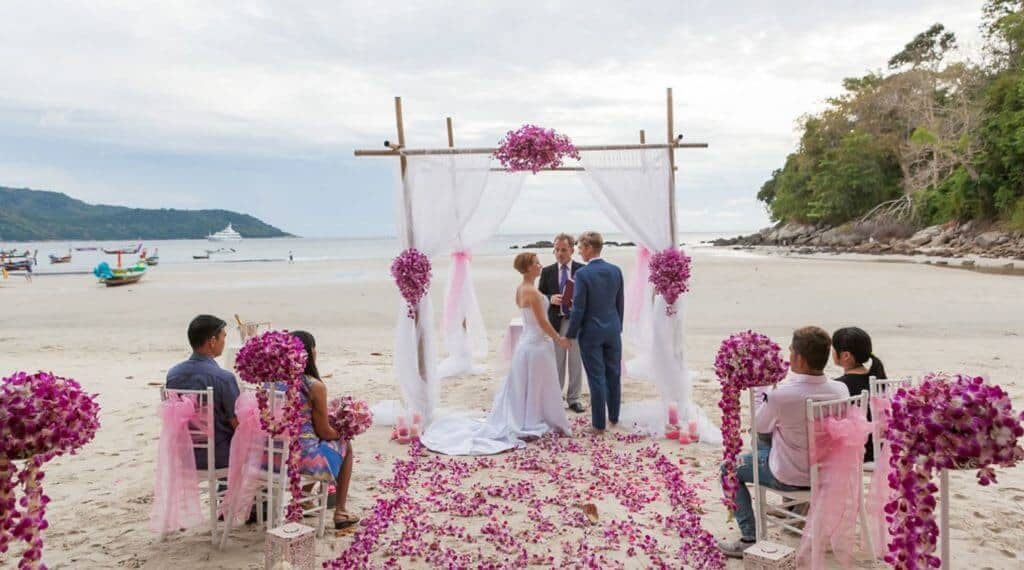 Honeymoon in Thailand
For those looking for a romantic honeymoon then look no further than coming to Thailand, with countless incredible beaches and luxurious resorts to choose from. We can get you and your partner living in the lap of luxury, drinking from coconuts while taking pictures with elephants if your heart desires. Having your honeymoon in Thailand is a sure thing when it comes to the unique variety of things Thailand has to offer. From the breathtaking beaches, delicious food, incredible people, and entertainment, there are few places in the world which can offer you more for less. So whether you want to spend your entire honeymoon at a resort on the beach or use it as a starting point for a journey through Southeast Asia, having your honeymoon in Thailand is always a good idea.
Thailand Wedding Locations
Other than narrowing down the dates, the next most important thing to consider with any of our Thailand wedding packages is the venue or location. We have comprehensive knowledge and experience working with the best resorts and luxury properties throughout Thailand and we will be happy to go over every location until you get what you want.
Bangkok
Koh Samui
Phuket
Koh Yao Noi
Koh Racha
Krabi
Koh Phi Phi
Koh Lanta
Koh Phangan
Koh Tao
Chiang Mai
Hua Hin
Koh Chan
Koh Samet
And more!
"From start to finish communications were clear and precise but best of all Paul and Supparin made it really easy for us. Any questions we had were answered quickly and they were really helpful throughout. They are a couple who have gone into this business with passion, their team was bigger than expected too! They had lots of people on hand to help with everything and you can see their attention to detail and advice on how to tweak things a little, to make the day better, was great. We had a great, hassle-free day on a lovely beach setting, our 3 sons (and the trouble toddlers can bring!) were handled brilliantly and made to feel a part of everything.
To end this clearly positive review, I'd like to say how impressed we were with Suapparin's handmade real flower decorations and buttonholes, they were outstanding! We really didn't expect them to be so detailed and professionally crafted as they were! " ~ Paul T
Thailand Wedding Packages Prices
We offer a variety of custom packages and will help manage your wedding expenses in Thailand according to your budget with a wide range of prices and options. The most inexpensive wedding is without a doubt our beach wedding, and for a more luxurious wedding, we would like to arrange a private villa wedding. The prices and options below are approximate, so you have an idea of ​​what you can expect with the typical Thailand wedding package prices and services or expectations that are different for each person. From our experience, the average all expenses included Phuket wedding package prices for our clients are anywhere from $3,000 USD for a small modest wedding up to $30,000 USD.
Getting Legally Married in Thailand
We pride ourselves in planning meticulously and also in being very transparent and straightforward. Our experienced and personalized approach to obtaining a legal marriage in Thailand for you is part of our everyday work so you can rest assured we will help make this multi-step process as painless as possible. The legal wedding process in Thailand includes multiple steps, including important documents and visits to your local embassy (unless you bring the paperwork from your home country), and also ​​including meeting with the local authorities. You should plan to visit your embassy in Bangkok for at least 10 business days before your wedding. The embassy will issue a certificate stating that you are free to marry so there will be no problems in Later when you try to be known in your home country
Each embassy has specific country rules and documentation requirements, which can be handled more easily with people like us who help you. We advise you to call the embassy first to inquire about their needs before visiting. Once we receive your certificate, we can take over until your legal wedding in Thailand is completed. We have prepared a step-by-step guide to help you have a better idea of ​​the process and requirements for legal marriages in Thailand. Don't worry, we will help handle everything so all you need to do is provide the necessary documents and saying "I DO" and we'll take care of the rest!
Pre-Wedding Plans
When it comes to planning the perfect party in Thailand for your pre-wedding plans, it's important to pick a professional that knows the lay of the land, has good connections and will also take the time to truly understand what you want. Planning a pre-wedding Thailand bachelor or bachelorette party is one of the top destination wedding choices for couples across the globe due to the wide variety of fun activities, beautiful beaches, warm weather, and exciting nightlife. Bachelor and bachelorette parties are quickly becoming a very popular and widely accepted pre-wedding event for couples from various cultural backgrounds. If you'd rather enjoy some relaxation instead, we can arrange a spa day for you and your friends where you can catch up while you get pampered, enjoy special Thai Massage and get prettied up. For a mixed crowd, a cocktail party or a themed event is always another popular option. We can also help arrange more self-enriching pre-wedding plans like some personal training, Thai cooking classes, yoga and more.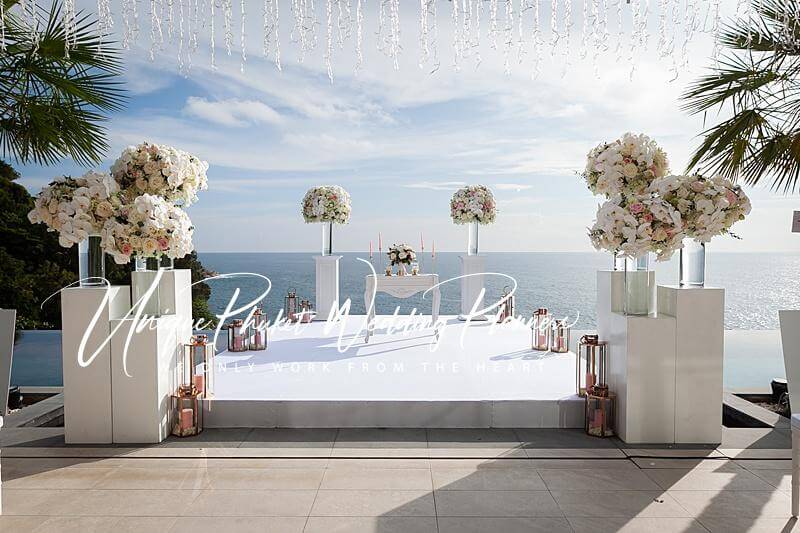 Wedding Ceremonies
Personalizing your wedding is our primary focus regardless of the kind of wedding ceremony, we follow through from beginning to end covering every detail. So whether you're planning on having a foreign style wedding, traditional Thai wedding, or something less religious, we will make sure everything is arranged perfectly. When it comes to a traditional Thai wedding ceremony there are plenty of things to consider from the Buddhist Monks to elephant rides down to the water blessing ceremony and traditional dance. We'll go through everything with you to make sure you're totally ready to say "I DO". We can even help you with your wedding vows, there's literally nothing we aren't willing to do for our newlyweds and soon-to-be!
Flowers and Decorations
We cater to all types of Weddings in Thailand and can deliver most ideas to ensure that beautiful and unique Wedding Flowers set up anywhere. Also included are handmade, individually designed Wedding Bouquets and Wedding Boutonnieres to complete the Wedding design. Supparin and her Team of Florists will work tirelessly on your Wedding Flowers for you so you can concentrate on other aspects of your Special Day. Luxury Villa and Exclusive Resorts are very popular wedding venues and the style and design of the Wedding Flowers have to adjust to the venue layout and style. I have gained invaluable experience over the years with Villa Wedding Flowers and I can assure you I will deliver beautiful flowers at a value for money price that will look stunning in a Villa venue. Here are some examples below and more pictures of my work at my Phuket Wedding Flowers Customer Gallery
"We cannot thank Unique wedding planners enough for organizing our private villa wedding, it really was the best day of our lives. After meeting a few wedding planners in Phuket we knew straight away that we were in good hands with Paul and Toom, it just felt like talking to old friends. Paul and Toom are both extremely professional, cheerful and honest. They were always so quick to respond to all our questions and demands and just couldn't do enough for us."
~ Anna B
Photographers and Videographers
Over the years arranging hundreds of weddings we have made excellent connections across the country with the best local and international photographers and videographers. We only work with the best professionals to ensure we capture every special moment from your wedding day. We can also arrange for photographers and videographers for pre and post-wedding shoots too if that's something you're interested in.
Thailand Wedding Packages
Paul and Supparin, from Unique Phuket Wedding Planners, are professional creators of beautiful tropical weddings in Thailand. Paul is the event planner and celebration of the wedding, while Supparin is a talented and professionally trained flower shop tour guide.
Unique Phuket Wedding Planners is a well-known local company and expert in perfect wedding planning. With years of experience helping hundreds of couples make their dream wedding come true, from small gatherings to large and extravagant events in Thailand. Passionate about what we do, we strive to ensure that all of our celebrations are wonderful. We work with the best in the business and set trends, instead of following them. What sets us apart is our planning and design services.
Right from the selection of the best venue for floral decorations, flowers or entertainment, we can handle it all with your best expectations. We strive for perfection for the days that you and your family will remember for many more years.
Together, they help couples from all over the world plan their dream destination wedding.
เรามีราคาไม่แพงโดยไม่สูญเสียความสง่างามและคุณภาพเพราะเราสามารถให้บริการส่วนใหญ่ในบ้าน
Just call or email us to see how we can make your special day stand out with our wedding services. We will arrange everything for you and help you create the best memories that will last forever.
0878957026
Wedding Services in Thailand
อีเมล: [email protected]
อีเมล: [email protected]
Facebook: @uniquephuket
อีเมล: [email protected]
Facebook: @phuketflowers
โทรศัพท์: + 66 817288269 หรือ + 66 878957026
Skype id: @uniquephuket
Twitter: @UniquePhuket
________________________________
Thailand Wedding Packages Resources: