So you're trying to plan the perfect Phuket Wedding Reception but don't know where to start? Let Unique Phuket Wedding Planners give you some advice from our years of experience organizing and planning a wedding event in Phuket. Maybe you're on the fence as to whether you want to host the wedding reception on the beach, at a resort, or some kind of restaurant with a bar. You may be wondering how expensive it will be, what to expect or the proper etiquette for this kind of scenario based on your choice of venue and activities. The bottom line is, you want to know what kinds of things you should be planning for your special destination wedding reception in Phuket right? Let's cover some of the basics below to help give you a better idea.
Marriage and Wedding Receptions in Phuket
There are many different reasons you may be considering a post destination reception. The first thing you need to consider is the "after-party". When you're talking about a Phuket Wedding Reception you need to consider what part of the island your resort is located or where you exchanged your vows in relation to where you plan on spending the night celebrating.
Things to Consider
Wedding receptions are a time to celebrate the newly married couple so it's important to consider your guests like your family and friends into the equation. When it comes to celebrating a wedding after you say your "I Do's", you'll want to factor in food, drinks, and fun! Now deciding on where to have your Phuket Wedding Reception party and what exactly that entails is typically dependent on three key points – affordability, expectations, location, and etiquette.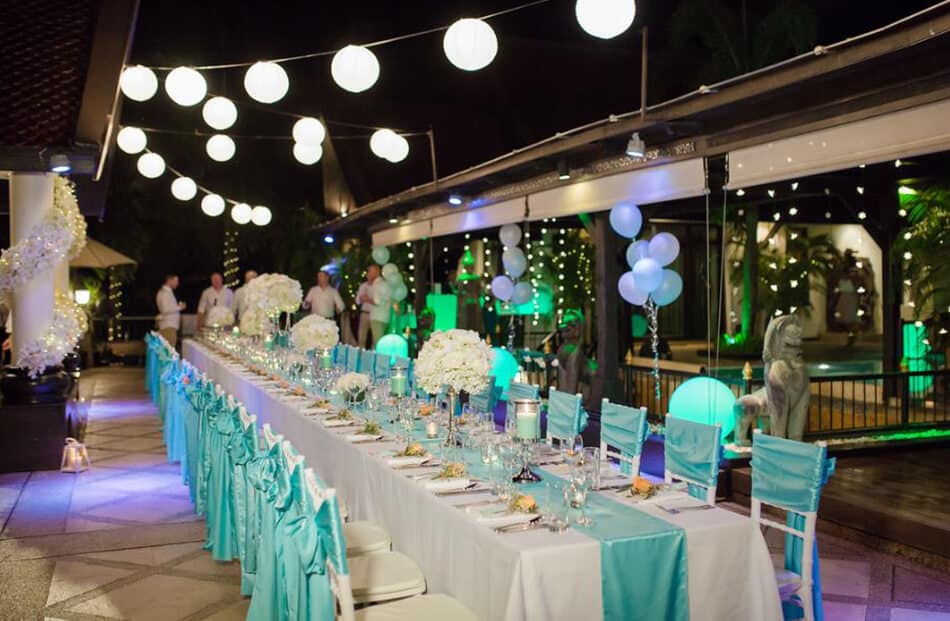 Affordability
For your Phuket Wedding Reception to go right, you first need to consider not only the amount of food you need for you guests but also how much you can afford. We always recommend a variety of staple-crowd pleasers as a safe option, but you can also add some more exotic options to add some more flair and make it more unique. Don't be afraid to embrace the culture you're in and try some new cuisine, you may even go home with a new favorite dish! So don't let the price of food dictate your decisions too much so your guests don't die of boredom.
You'll also want to take some things into consideration like your guests' allergies as some Thai dishes naturally contain things like peanuts or shellfish for example. If you have guests with specific dietary restrictions, we'll make sure to communicate with the chef onsite to create more accommodating menu items.
Self Hosting
It can be a good idea to self-host a post destination wedding ceremony in Phuket when some people may not be able to make it on time for your wedding but still want to celebrate with you.
Fortunately, there are plenty of Phuket Wedding Reception options for you to consider when it comes to self-hosting at the house or resorts you're staying at. When it comes to arranging things we can help make sure you have everything you need for either an intimate, formal, grand or casual wedding reception party. Some couples opt for a laid-back and more minimalist style party, while others prefer a formal, elaborate evening. Plan to include a note about the post-wedding reception along with your wedding invite, so that guests unable to attend can look forward to the post-wedding party.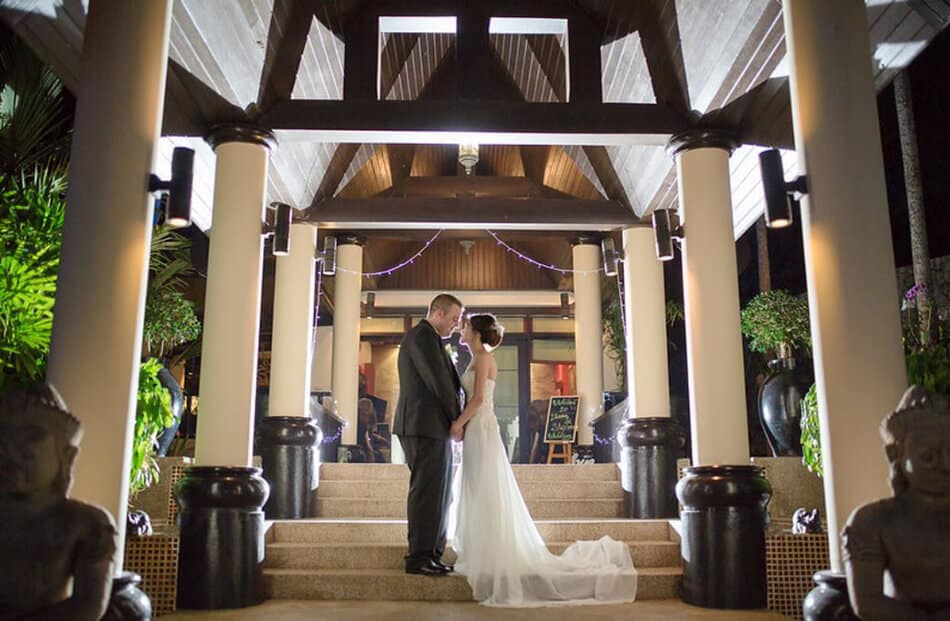 Affordability
Before you commit to a self-hosted Phuket Wedding Reception, you will want to make sure you have room in your budget for extra expenses. This is largely dictated by the size of your guest list, what you plan on offering in regards to food and drink, as well as if you plan on hiring entertainment or even a lavish Villa. A fair starting price point would be to expect to spend $10 per person or more, including food, drinks, and some simple decorations and a modest location.
Of course, you can always scale this up or down but even if you select a regular Thai style restaurant with adequate seating, you will be spending around this price per person.
If you're looking for a restaurant for your after party price will remain close to the $10/person mark. Going above and beyond this will significantly increase your budget for a higher-end or more interesting wedding venue reservation so make your choices wisely. We are always happy to go over all the fine details for and Phuket Wedding Reception we help organize and we always willing to attend in case you need help with anything else.
Expectations
Once you have a good idea of what you plan on providing, the next step is making sure to manage their expectations. This includes how they should expect to dress to what they can expect to eat or do when they come to your Phuket Wedding Reception party. As we've mentioned before, the main purpose of a post destination wedding reception is to celebrate the bride and groom. That being said, here are ideas for food, entertainment, and decor for any wedding reception in Phuket to get your guests in the party mood:
Food– Guests should expect some sort of food, drink, and wedding cake. This usually includes simple things like finger foods and snacks, or themed meals like tacos or Thai food. Catering can be surprisingly affordable so we can recommend some options for that also.
Drinks– Booze or no booze? A few bottles of wine, beers, and cocktails don't have to break the bank for everyone to have a good time. It's also a common practice for guests to bring some alcohol with them to add to the festivities.
Dessert– Traditional wedding cake and Thai Desserts are always a favorite and should be provided for any real Wedding Reception party.
Entertainment– You don't need a DJ or dancers but if you really wanna have a good time, it's definitely something you can consider. Otherwise, providing food and drink along with music everyone can tolerate is usually enough.
Decor– Whether you have a beach theme or something else, it's easy to throw up a few "Just Married" or "Mr. & Mrs." banners to really tie things into the occasion. Fresh festive flowers and fun decor are also always a nice touch!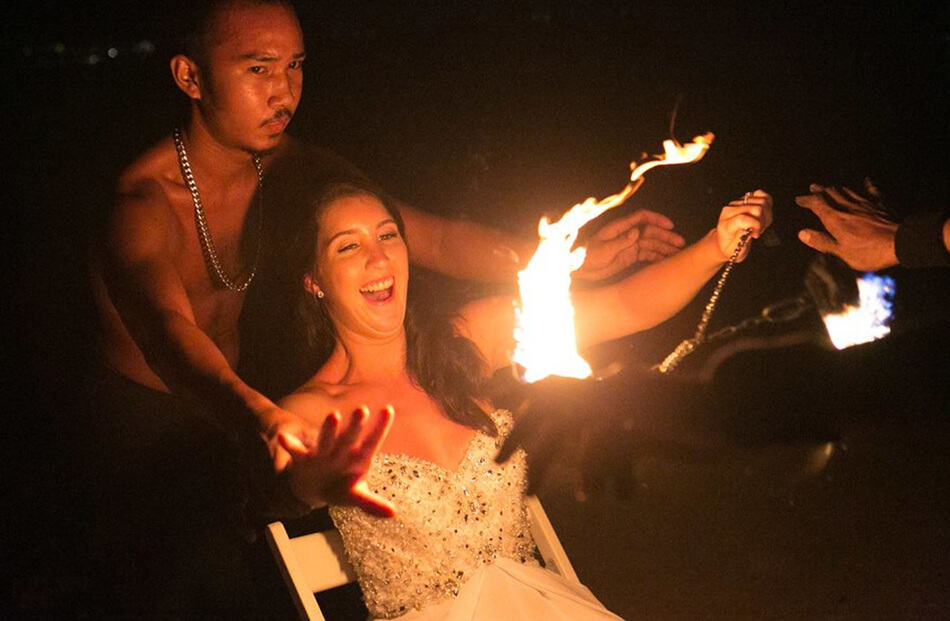 Etiquette
Make sure to give your guest list some serious thought as well as provide details about what you expect or would like to see your guests bring for your special Phuket Wedding Ceremony. Destination weddings are always going to be a fun and new experience for most people attending anyway, but if there are some special things from back home you would like to indulge in here in a faraway land then it's best to communicate that ahead of time.
Who you invite will also play a large role in regards to who will bring what. You can usually expect to receive a lot of gifts from your family but maybe your closest gal friends don't exactly have a ton of money to buy you something amazing while also taking off time from work and traveling half-way around the world to be there for you. Make sure to not make getting gifts more important than appreciating the people who take the time and put in the effort to be there for you on your special day. And last but not least, make sure and tell everyone "Thank You", or in Thai, "Kap Kun Krab!"?
Location
Whether you want to enjoy the gentle loll of rolling waves for your wedding symphony or experience a more authentic and private wedding in a more wooded area, selecting a reasonable location is important. If you want a loud and fun night out at the club or walking street then it might be a good idea to stay somewhere near Patong, or if you want something more relaxed you can stay further south new Rawai or Nai Harn.
Regardless of where you plan to have your Phuket Wedding Reception, we can help arrange plans to accommodate your guests for the right occasion. Unique Phuket Wedding Planners can help you plan the perfect wedding with traditional Thai essence as you embark on this new journey as a couple together. Regardless of the location, we can go over the best options for you based on what you want from this once in a lifetime event.
Unique Phuket Wedding Planners are a well established local company that specializes in planning the perfect Weddings. With years of experience helping hundreds of couples make their dream weddings come true from small intimate gatherings to large and lavish affairs in Phuket, Thailand. Passionate about what we do, we strive to ensure all our celebrations are exceptional. We work with the best in the business and together we set trends rather than follow them. What sets us apart is a customized planning and design service.
Right from selecting the best venues, decor, flowers, dance or entertainment we can handle it all with your best expectations in mind. We strive for perfection for the day that you and your family will remember for years to come.
Together, they help couples from all over the world plan the destination wedding of their dreams.
We are affordable without compromising on elegance & quality as we can provide most services in house
Just call or email us to see how we can make your special day even more unique with our tailored wedding services. We will take care of all the arrangements for you and help you make the best memories that will last a lifetime.
0878957026
Phuket Wedding Reception
email: [email protected]
email: [email protected]
Facebook:@uniquephuket
email: [email protected]
Facebook:@phuketflowers
Telephone: +66 817288269 or + 66 878957026
Skype ID: @UniquePhuket
Twitter: @UniquePhuket
________________________________
Additional Phuket Wedding Venues Resources: