If you're looking for an incredible tailor-made dream Phuket villa wedding for you and your Bride-to-be then contact Unique Phuket wedding planners. We'll do everything possible to provide the highest level of satisfaction with only the best-personalized wedding and organization services. Don't let your picture-perfect plans fall apart when you can have a beautiful and unforgettable wedding ceremony in Phuket Thailand. We won't let a single detail go overlooked and we'll carefully prepare everything from the food, Villa reservations, photographers and even your flights! We've helped make the most memorable experiences for hundreds of newlyweds and now it's your turn to make the most amazing memories which you and your family can cherish for the rest of your lives.
Villa Weddings in Phuket are easily the largest and most extravagant ceremonies which means they will require a much higher budget compared to a smaller beach or hotel wedding. Not only will you have to compensate for a large number of guests, but you'll need to also involve the Luxury Villa Management team as well. This is where we come in and take care of everything for you! There are a number of excellent small villa options for those of you who want a villa wedding on a smaller budget or we can also accommodate something more sumptuous and luxurious as well. Just contact us so we can send some proposals and more detailed options customized to your specific needs and desires.
Recommended Villa Venues
To plan your perfect villa destination wedding we would recommend at least 3 months for planning to organize everything. We recommend beginning your Phuket villa wedding plans at least 1 year in advance to give your guests enough time as well as to ensure you have enough time to lock down all the fine details. When it comes to dealing with the Villa Management team, we'll take care of everything for you outside of the typical 20% deposit for reserving the venue and dates you want. The final payment will need to be made 1 month prior to your arrival and we'll make sure everything is crystal clear and transparent for you.
As your local professional Phuket wedding planners, we'll walk you through the process for a stress-free experience. As your Villa Agents, we can quickly check availability and accept payments on your behalf so you can conveniently only have to make one transaction. The priority for planning and budget is determined by your Villa wedding venue choice. Please see our top recommended Phuket wedding villas below to help narrow down the options and decide who you want us to contact. Below are some ideal villas as your requirement based on high-season rates and availability to be confirmed so we can begin arranging your perfect wedding ceremony.
Villa Wedding Prices
The price for a typical 3-day wedding ceremony in Phuket can range from as little as $3,000 to as much as $30,000 or more. One of the most important factors that play into the overall price of your wedding is the location or venue you choose or is possible in your budget. This is also before any of the associated wedding costs including an event fee for a villa large enough for your number of guests. We strive to get everything our clients need for their special day and will always go above and beyond to arrange whatever you and your guests want.
We have created a simple set of initial questions to get your Phuket Villa Wedding Plans started; we can give you a quick budgetary estimate based on the answers you provide and will respond to you via email for your Wedding. The Wedding Questionnaire is on our Wedding Planning page and can also be accessed here.
Royal Thai Villas
Royal Thai Villas is the perfect place for a romantic destination villa wedding in a relaxed and luxurious atmosphere with natural surroundings in a more peaceful and private part of Phuket, Thailand. Experience the traditional way of life through our unique and original Thai architecture and a collection of antiques. Enjoy our villas equipped with their own kitchen, mini-bar, full amenities, big screen TV, WiFi. With 7 Villas, a spacious landscape, be one with nature by kite surfing, sailing, island hopping or just simply enjoy the peaceful and private beach right in front of your villa. Be treated by our team, making sure you are having a great time. Take a pause and relax in their serene blue pool with a drink in your hand!
ur top recommendation based on the rates and quality along with superb beachfront villas makes royal Thai Villas one of our favorite places. Therefore, Our recommendation as the rates are superb for a beachfront/villa resort, is Royal Thai Villas (https://www.royal-thai-villas-phuket.com/) The villas have 7 rooms so you can have plenty of privacy, plus as we're partners we can also use it as a venue only with a single night stay This is a great option for those who don't want to stretch their budget on the 3 night minimum of most other villas. It's beach side, private but as it's on the east side of the island, there is no sunset. This is a truly incredible venue at realistic prices for approx 45,000 THB per night for all 7 bedrooms. Plus an event fee of only 30,000 THB.
See our latest Royal Thai Villas Wedding Video: https://youtu.be/LjG1E9T-87M.
Coastal Escape Natai Beach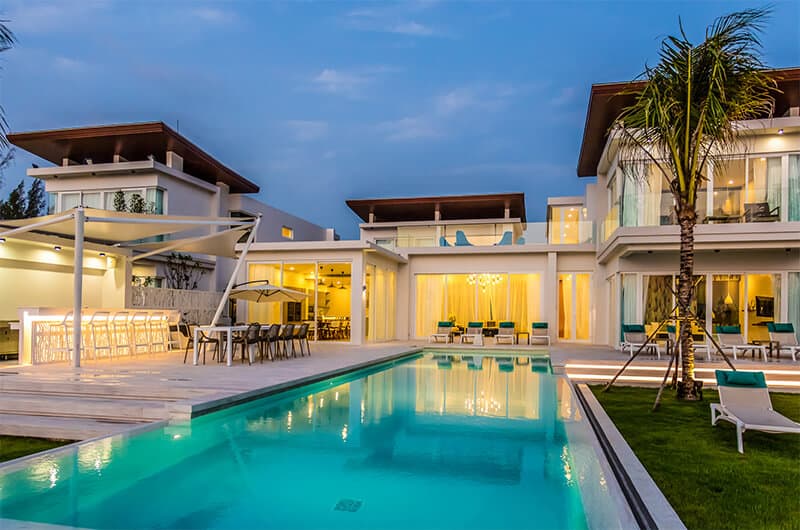 Imagine exchanging vows to the sound of the waves while the sunset lights up the sea and sky. Say "I do" under the sunset with soft sea-breeze while posing for your wedding pictures on a white-sand beach that captures the day's joy and sun-kissed romance. Then celebrate your nuptials at an elegant poolside party with your cherished family and friends. Contai Escape at Natai Beach is an absolutely stunning all-inclusive location for the perfect Phuket Villa Wedding.
Their Signature Wedding Package is ideal for larger sized weddings of 40 people or more and starts at 1 million Thai Baht https://coastalescape.com/natai/. This includes the full resort reserved for your closest family and friends for 3 nights. With a beautiful beach, breathtaking facilities and 4 Villas with 20 bedrooms, you are sure to have the best wedding imaginable.
As your Villa Agent and Wedding Planners, we can arrange this signature package with all the details listed below for your special day. We can check availability and ensure the best rates quickly while also holding the villa until you're ready to book.
Western wedding package for 40 guests
Wedding package includes:
Full resort for 3 nights (20 bedrooms) at Coastal Escape Natai including daily Breakfast
A personal wedding planner who will make your wedding dreams come true
Perfect Beach venue for your wedding ceremony
Welcome drink for guests before ceremony (non-alcoholic)
Tropical seasonal flower decoration (our flower standard: rose or orchid) 1. Flower arch / Gazebo 2. Two Flower stands 3. Flower petal on the bride walks way 4. Bridal bouquet & Groom corsage 5. Floral confetti, floral ring holder and seating arrangements
Wedding celebrant to conduct "Vow Exchange Ceremony and Ring Ceremony"
Professional hair styling & make up for the bride on the day
Sound system for ceremony
Professional DJ with sound system (4 hours)
Fire dance show (20 minutes)
A beautiful wedding cake in the flavor of your preference (5 pounds)
1 bottle of French Champagne for toasting
Dinner table set-up with flowers
East meets West BBQ buffet for a maximum of 40 guests
Honeymoon set up in your room on the wedding night
90 min Couple massage
Coastal Escape special gift for bride & groom
For these Phuket Villa Wedding arrangements above 40 guests, an additional surcharge of 2,990 Thai Baht will be included per person without accommodation.
Villa Aye
With jaw-dropping expansive views of the Andaman sea, Villa Aye is a spectacular setting for any wedding. Whether an intimate affair on the manicured lawn or an elaborate and more dramatic ceremony set over the infinity pool, your "I do's" will be captured amid the breathtaking backdrop of azure ocean and sky. The three-level 8 bedroom villas were designed by a leading Thai architect to capture the traditional heritage with contemporary designs making it stylish and sophisticated with a subtle charm. You can also enjoy commanding panoramic views of the Andaman sea with unique facilities for the ultimate experience.
With the ability to cater up to 150 guests and 8 bedrooms these beautiful Phuket wedding villas that can comfortably sleep 16 people make this an impressive wedding venue. The staff also provide exceptional services to treat you and your wedding guests like royalty. These villas can be reserved at a daily rate of $3,695 USD with an event fee for 50 guests of $2,500 USD. https://villaaye.com/. If you're planning on having your ceremony during the low season which starts in April, we can get the price down to around $2,850 USD a day.
Latest Villa Aye Wedding Video: https://youtu.be/eB0q50-qF18
Villa Santisuk
Villa Santisuk is a sensational Villa located in Kamala on a prestigious headland with stunning views over the bay and the Andaman Sea. This is a modern and stylish Phuket Villa that combines its beautiful tropical paradise setting with breathtaking views. This is a superb wedding venue option and they can cater to almost any size wedding. The 5 bedroom villas are well maintained and have great staff to take care of you and your guest's needs. With authentic Thai architecture and superb quality throughout its facilities, Santisuk offers affordable high-quality standards for an exceptional wedding ceremony.
It has a maximum capacity of 60 guests, with a lovely lawn and pool stage for limitless wedding decoration possibilities. With its high sea views and incredible infinity pool stage setup, designing the perfect wedding at this location is always ideal. There are two sandy beaches below the villa which can both be accessed on foot. Naka Beach can be reached through a jungle path and stairs while Yae Beach is accessed through the Resort at the beach entrance.
A wedding at Villa Santisuk is just under $1,850 USD per night and the event fee is only around $1200 USD. https://www.villabaansantisuk.com/. If you're open to having your wedding during the low season starting in May then the price can even go as low as $1,380 USD.
Latest Villa Santisuk Wedding Video: https://youtu.be/_O_AktTlIHA
Villa Aquila
From the infinity pool stretching to the horizon and an expansive property spanning 165 meters of rugged coastline, all around is natural serenity and uncompromised privacy, Villa Aquila is another top contender as a perfect Phuket Villa wedding venue. One of the things that make the property unique is how private and secluded it is. At night there is only one set of lights on a distant hill about half a kilometer away to the southeast.
This beautifully appointed property is the perfect blend of contemporary elegance with a distinctly Asian feel. The tropical jungle and all-around nature offer a sense of serenity and uncompromised privacy. The villa is also new & very well maintained to keep the luxury feel and has great staff to take care of all you and your guest's needs. The breathtaking design spans over 5 levels with 3 levels dedicated to the villa, as well as a lower garden and upper arrival area.
It has a capacity of 80 guests and with the 3 levels and pool stage, there are limitless wedding decoration possibilities. With plenty of space to entertain your guests along with an infinity pool and stunning sea views, Villa Aquila is sure to make unforgettable memories for years to come. The 7 Bedroom villa daily rate is $3,129 USD and the event fee is $2,150 USD. https://www.aquilaphuket.com/ During the low season starting in May we can get the price down to around only $2,310 USD.
Latest Video: https://youtu.be/tE8KFNEwzlM
Coconut Island Resort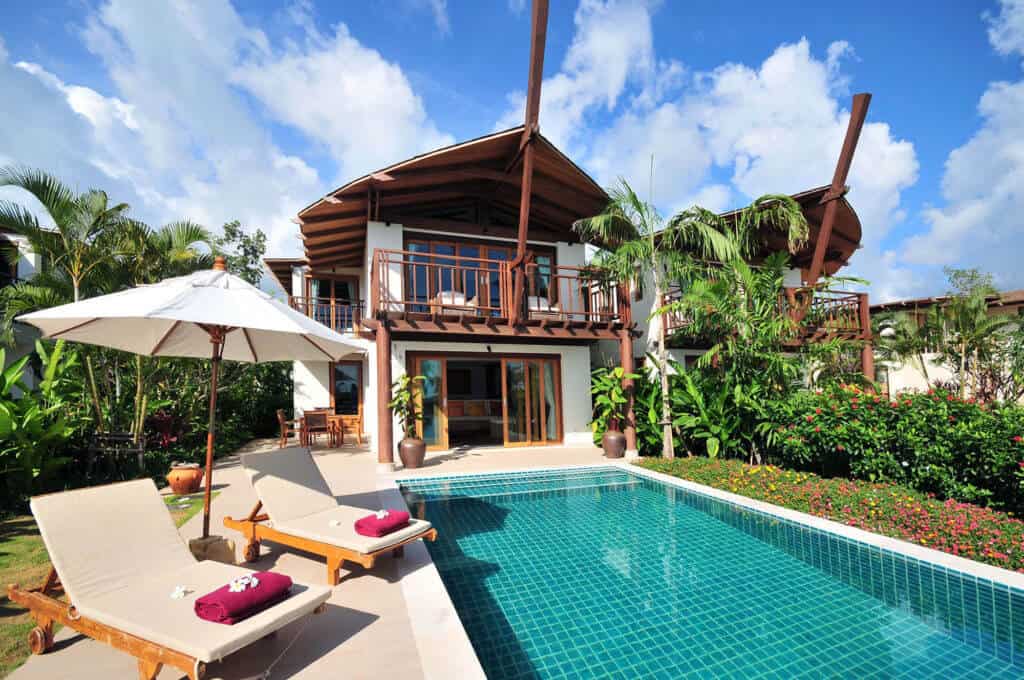 Discovered initially by shipwrecked explorers hundreds of years ago, Coconut Island Resort has always retained its sense of mystery and adventure, making it a unique Phuket Villa wedding venue. With jacuzzi suites, grand and pool VillasThe grand pool Villas have been designed to accommodate large wedding parties while encapsulating the privacy and luxury that has come to define The Village. Located just minutes from mainland Phuket, The Village on Coconut Island is the perfect Phuket Villa Wedding destination.
Despite the relaxed atmosphere at The Village, there is no need to slow down completely. They offer a selection of high-end restaurants and bars as well as numerous fun-filled activities for your guests including Mountain Biking, Sailing, Kayaking, Thai cooking courses, Spa treatments and boat trips to name just a few. When combining 5-star accommodation options with our unique selection of Island activities, their aim is simple; to give your guests the perfect blend of luxury, tranquility, and adventure.
The Beachfront Wedding Villas are ideal for newlyweds and require only a 2 night minimum at 30,000 Thai Baht a night plus 10,000 Thai Baht per guest or 880k for up to 70 people.
Villa Sand
Villa Sand is an enticing tropical escape for families and friends. With its expansive beachfront setting and bright open design making the perfect combination to allow for a memorable villa wedding. The 5 bedroom villas during high season are only $1250 USD per night, with an event fee of $2000 USD and can accommodate up to 60 guests. https://www.villa-sand.com/
Villa Wedding Services
Get hitched without a hitch with our unparalleled Phuket wedding services. We provide an exceptional array of personalized services that will surely bring fun and excitement to your wedding or can easily arrange the ideal solution for the following:
Venue choice and Accommodation
Wedding Invitations
Wedding menus
Reception Name Cards
Catering and Wedding Reception Menus
Wedding Flowers
Hair & Makeup
Wedding Officiant or Celebrant
Flights & Transfers
Guided private tours
As a Unique Phuket Wedding Planner, we can help also help with a special Beach Wedding, Vow Renewal, Elopement or luxury Villa Wedding ceremony for your special day.
Phuket Villa Wedding Planners
Paul and Supparin of Unique Phuket Wedding Planners are professional creators of beautiful, tropical weddings in the destination wedding hotspot Phuket. Paul is an event planner and wedding celebrant while Supparin is a talented, professionally-trained florist and certified tour guide.
Together, they help couples from all over the world plan the destination wedding of their dreams. We are affordable without compromising on elegance & quality as we can provide most services in house
Just call or email us to see how we can make your special day even more unique with our tailored wedding services. We will take care of all the arrangements for you and help you make the best memories that will last a lifetime.
0878957026
Additional Resources: