10 Phuket Destination Wedding Tips
One of the most appealing things about choosing a Phuket destination wedding location is that you basically get a two-for-one deal, meaning you'll get to enjoy an amazing honeymoon and wedding reception on the same trip. If you know you want to have your wedding on the biggest island in Thailand but have no idea how or where to start then contact Unique Phuket Wedding Planners. We know a thing or two about planning incredible weddings in Phuket for hundreds of couples from around the world. Throwing a destination wedding thousands of miles away from home doesn't mean you need to be there when you can have us do all the organizing for you according to your specific needs and desires.
Just let us know what you have in mind for your ideal Phuket Destination Wedding and we'll get back to you with all the important information. With years of local experience planning weddings in Phuket, we have all of your bases covered, from choosing the perfect venue to coordinating every last detail on the big day. Here are some tips to help you get started planning your perfect Phuket destination wedding. Regardless of where you are in the world, this free wedding advice will help anyone plan the best wedding abroad.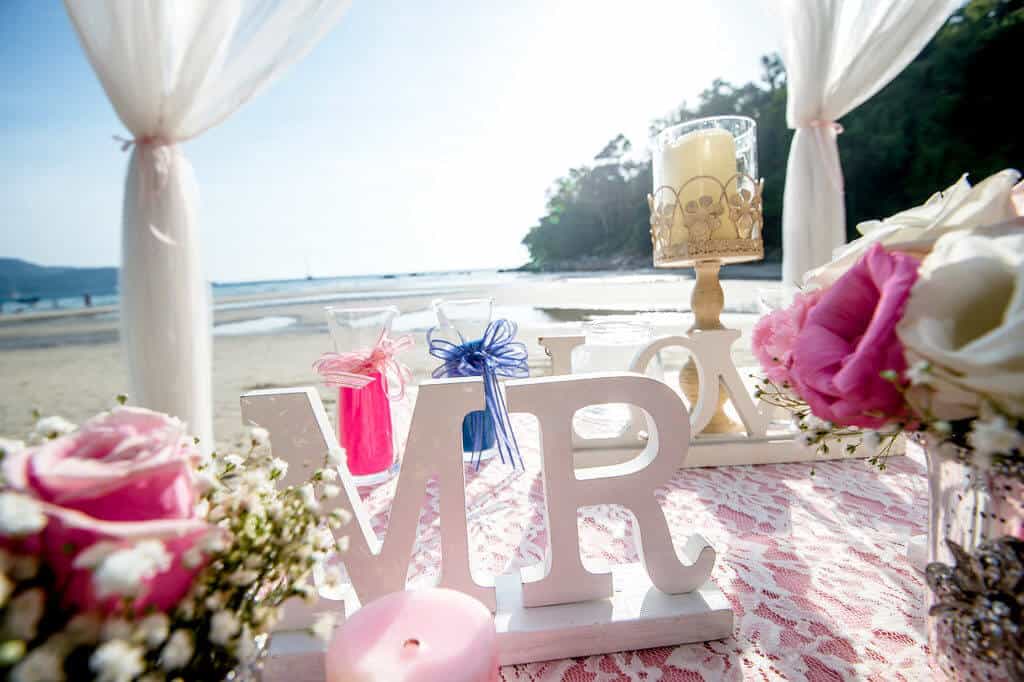 1. Location is Everything
If you want to have a private wedding which also has beach access and is a little off the beaten path from tourists then there is some considerable planning involved. Depending on how many extracurricular activities you want to enjoy while you're on the island as well as other important factors like food, seating, and on-site facilities, you'll want to compare the pros and cons of different locations.
2. Advance Notification for Your Guests
If you want your best man or favorite friends to be able to attend your wedding in Thailand then it's highly recommended to get those invitations out well in advance. We recommend all our weddings in Phuket to have no less than a 3 month's notice just to try and ensure the specific amenities and venues are available. Not to mention your guests' ability to take time off work, plan around the needs of their family or if they can even afford it.
3. Embrace Local Thai Decorations
You can save a considerable amount of money by incorporating local blooms into your budget instead of importing lavish and unnecessary expenses like flowers in the Netherlands when you can have beautiful bouquets and floral arrangements provided locally.
4. Think About Your Guests
Try to think about not only an affordable place for your guests to stay but also how close it is to where you're staying or where the ceremony will take place. Don't select a date before you know there's room available at a reasonable place for your guests.
5. Make Sure to Hire Professionals
Make sure to find a local wedding planner or coordinator that specializes in Phuket destination weddings. Working with an experienced professional like Unique Phuket Wedding Planners will not only ensure you won't have to overcome language barriers but can also guarantee you won't have to pay higher costs as a foreigner. Working with an established and reputable local business also means they'll know all the best areas, already have established connections within the hospitality industry and other wedding professionals. This is the best way to minimize problems and make sure you get everything you want for the perfect wedding in Phuket.
6. Visit in Advance if Possible
In an ideal situation, you will visit before you make your wedding plans so you're more familiar with the lay of the land and maybe even some specific areas you're interested in first hand. If you've already visited Phuket then that will make things a lot easier for everyone, but even if you haven't, working with the right wedding planners can easily overcome your lack of experience with all the best options for you and your loved one.
7. Picking the Perfect Vendors
Another benefit of picking a local professional to organize everything for you is that you will get the best-recommended companies from flowers to rentals and the top venue selections. When it comes to planning a Destination wedding in Phuket , the last thing you want to do is risk choosing some random person from social media or search results.
8. Budgeting Properly
Having someone represent you locally in Phuket will save you a fortune in expenses as they'll already know the acceptable price ranges for whatever amenities you want and also be able to negotiate on your behalf.
9. Packing for The Trip
Try and pack everything you wouldn't leave home without for a domestic holiday or important night out. Then make sure to also pack additional important items whose quality may not be up to your standards from another country, particularly if you're from a western country like the United States or the UK. If you end up in Thailand and then decide you want something different, shipping overseas is not only risky but also expensive, so always pack as much as possible into your checked luggage.
10. Destination Wedding Dress
If you're not planning on having your dress custom made here in Thailand then you'll want to make sure the fabric and materials are breathable for the hotter more humid climate here in the Land of Smiles. Another thing, if you're planning on bringing your dress with you, then we recommend carrying it on so you don't run the risk of it being lost or damaged.
Destination Wedding Planners in Phuket
Paul and Supparin of Unique Phuket Wedding Planners are professional creators of a beautiful, tropical Destination wedding in Phuket. Paul is an event planner and wedding celebrant while Supparin is a talented, professionally-trained florist and certified tour guide. Together, we help couples from all over the world plan the destination wedding of their dreams. We are affordable without compromising on elegance & quality as we can provide most services in house.
We have created a simple set of initial questions to get your Phuket Destination Wedding started; we can give you a quick budgetary estimate based on the answers you provide and will respond to you via email for your Wedding. The Wedding Questionnaire can be accessed here to help us plan your Phuket wedding costs. It's our ultimate goal to help you get everything you want to be arranged at the best Phuket wedding packages prices available.
Just contact us by phone or email us to see how we can make your special day even more unique with our tailored wedding services. We will take care of all the arrangements for you and help you make the best memories that will last a lifetime.
Phuket Destination Wedding Planners
email: [email protected]
Facebook:@uniquephuket
email: [email protected]
Facebook:@phuketflowers
Telephone: +66 817288269 or + 66 878957026
Skype ID: @UniquePhuket
Twitter: @UniquePhuket
________________________________
Additional Phuket Destination Wedding Resources: